While the potential of opening up your plumbing business to online reviews can often be daunting, it's something that can't be ignored. It's true that you never know for sure how customers feel about the services you offer. However, it's important to remember that people will review your business online regardless.
If you're hesitant to take the plunge and start engaging with customers on review sites like Yelp, consider this: Have you ever turned to the Internet before making a purchase or hiring a company? What did you search for online? If you are like most people, you probably looked up reviews for that product or business to see what other customers had to say.
Oftentimes, reviews found online can sway opinions. They can lead to new customers that you might not have otherwise had—or they can turn people away and give your business a bad reputation. As a plumbing business that probably relies heavily on word of mouth, reviews are a crucial aspect of your online presence.
Here are 3 reasons you should improve your plumbing business' online reviews:
Reviews Impact the Customer's First Impression
Customers tend to see reviews as a strong indicator of how well your business has performed in the past. If your business has mostly positive reviews, the review reader sees that you have satisfied customers and is probably more likely to call your business. Plus, if you have a higher star rating than a competitor on a site like Yelp, the user may automatically assume you provide better service. Think about it: If you had to choose between two similar businesses and one had a 3-star rating and the other had a 5-star rating, which would you choose? Probably the one with the higher rating.
Reviews Affect Your Organic & Paid Rankings in Search
Did you know your online reviews actually impact how visible your business is at the top of the search engine results page (SERP)? First, let's look at the local map results. When you Google a service in a specific city, you will see a map on the SERP with the top three locations. These business listings often display the number of reviews and a high star rating based on user experiences.
Here's an example of the local listings that appear in a search for "burbank plumber."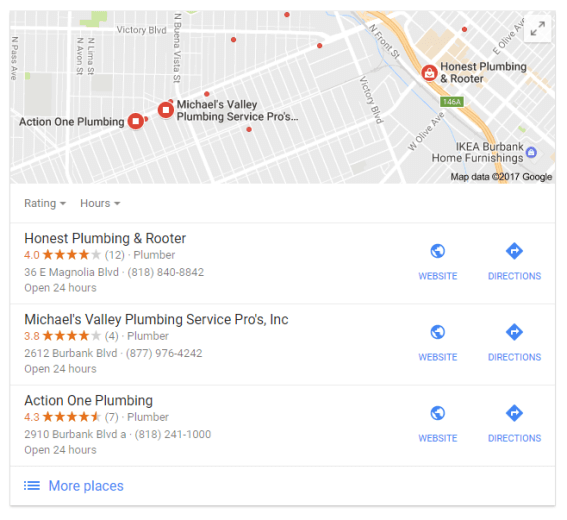 The more positive reviews your business has, the more likely it is that it can be featured in the top three map results—as reviews are an important ranking factor for your local SEO.
Now let's look at how your business ranks in the paid results. Google recently launched its Home Service ads (HSAs), which appear at the very top of the page in certain geographic markets. Here's an example for the same "burbank plumber" search.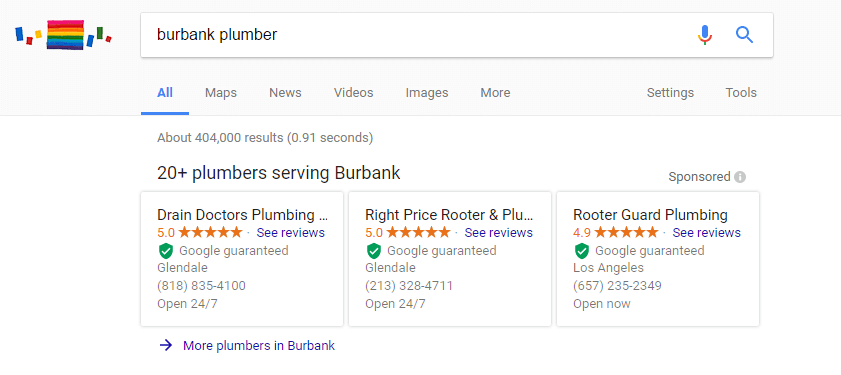 Just like with the local map results, online reviews are a crucial factor in which 3 businesses will be featured in the HSAs on the results page. Businesses with the highest volume of positive reviews have a greater competitive advantage. Even if Google has not yet launched HSAs for your service area, it's important to be prepared, as this may be rolled out in your area in the future!
Reviews Help Attract New Customers
Now we come to the ultimate goal of obtaining good reviews: building trust. Your online reviews show that you have handled numerous jobs successfully—and the potential customers reading your reviews can trust you to do the same for them. That added assurance often leads to new business, which can, in turn, become another outstanding review.
When you're improving your business' online presence, make an effort to obtain as many good reviews as possible. This will help you stand out from your competitors who have poor reviews or no reviews at all, and it will keep new jobs flowing in.
How to Improve Your Business' Online Reviews
Remember, it's vital that you engage with users who leave reviews for your plumbing business online. Respond to good reviews by thanking the user and wishing them well. Respond to bad reviews by trying to rectify the situation with the disgruntled customer. This shows others that you care about your customers and are willing to do whatever you can to make them happy.