Franchises
Run your best


franchise marketing
Scale your brand and franchisees' digital presence, drive more revenue and customers, and get clear about how marketing is impacting your bottom line.
PRoduct Solutions
Maximize your digital presence and drive more revenue
All the tools needed to acquire more customers through digital channels

Your customers' experience with your brand starts online. We blend digital marketing technology with brand and local marketing experts to help you reach and influence more customers to do business with your franchisees.

Leverage technology and AI to drive leads that turn into profitable revenue

Executing the right digital marketing and advertising campaigns across hundreds of locations is no small task. Scorpion leverages machine learning models to optimize organic and paid campaigns to target and deliver more high quality leads that convert to customers across all of your locations.

Know which marketing and advertising channels are producing revenue

You shouldn't have to guess about what's working across your digital marketing campaigns. We leverage technology to track all the touchpoints your prospects and customers have with your brand across all digital channels. From impressions, visits, calls, online forms, scheduled appointments, and text messaging; we do the heavy lifting for you and your franchise owners so you know what's working and what needs to be adjusted.
All of your franchise marketing, in one spot
Running a franchise business can be stressful. We help minimize the chaos by providing marketing and operation tools to help. Here's how we do it:
Market each location or territory individually and your brand as a whole
Create consistency between each and every location
Dive into detailed analytics to know how everything is performing.
If you're looking to add more franchisees, or you just need some help marketing the ones you already have, our experienced team can help ease the burden for your franchise business.
Testimonials
Your wins are our wins
We partner with you to create a strategy that works for your business, not anyone else's. Your ideal customers can find and choose you, again and again—and you get more of what you want out of your business. Every day.
"We lean on [Scorpion] to a significant extent. They're important to the operations of our company. They're important to our reputation, to our brand, to the success of our franchise owners. By far, Scorpion is our most important partnership across Gotcha Covered." Paul Linenberg President, Gotcha Covered

"Thank you for your insane and impressive work ethic, great insights, and always being one step ahead of us. It's been an absolute pleasure and privilege to work with you!" Shana Krisan Vice President of Marketing, Goldfish Swim School

"Scorpion's service is phenomenal. Ever since we started working with them, we've been able to maximize our recruitment efforts, and we've seen a consistent positive return on investment. We couldn't have achieved this level of growth so quickly without a hands-on partner like Scorpion." David Mesa Executive Vice President & Chief Development Officer, PJ's Coffee

The key difference with Scorpion is they talk about the future. They educate us on where the industry is going and where we need to be as a franchise. Michael Lohman CEO of Go Mini's, LLC and Multi-Unit Franchise Owner, Go Mini's

"Before we started working with Scorpion, a lot of our digital services were very fragmented." Jane Campbell Director of Marketing, Empower Brands
Ready to run your best marketing?
We're ready when you are to start scaling your franchise.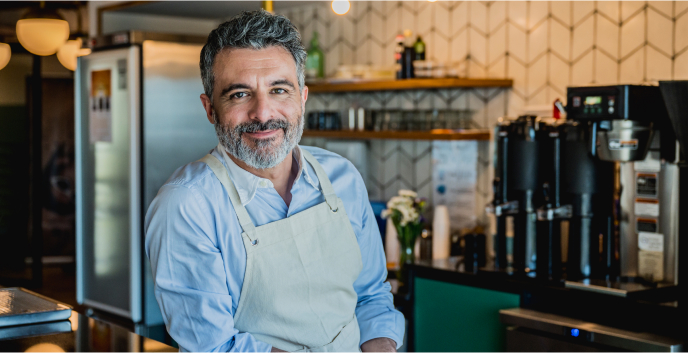 Learn More
How to get started with franchise marketing
Your business needs more than a hope of natural growth. You need to put forth active effort in marketing including developing your website, content, advertising, and SEO technique in order to grow your franchise. Here's how to get started.
Is website development important?
Franchises need a place for customers to land just as much as any other business. Medical centers, pet care, personal services, whatever your franchise falls under, a well-run website is the place to start with your marketing efforts.
Unfortunately, you can't stop. Your site needs to be maintained and updated. Make sure your website contains the proper contact information, the type of services you offer, where your branches are located, and what your franchise is about. Developing content, increasing digital advertising, and expanding your SEO efforts will follow. Determining your marketing budget may help decide how much can be put towards website development.
What is search engine optimization?
Search Engine Optimization (SEO) is a way to increase your website traffic and rank higher on search engine results. This is done by using keywords in your content, performing market research, and understanding what your audience is looking for, and answering it in your content.
People are constantly searching for questions and inquiries and that's what drives traffic for businesses, including franchises, and that's where your SEO efforts can make a difference. Not only does keyword optimization increase your ranking and visibility, but your site will also be seen before your competitors—which in turn affects your bottom line in a positive way.
Best practices for SEO efforts for franchises include making sure all your locations are listed in Google maps, use of location-based keywords, consistent branding for all your locations, and encouragement to customers to leave reviews for each location.
What is digital advertising?
Digital advertising consists of any and all content you put out on digital platforms. That includes social media ads, banners, popups, landing pages, email schemes, and commercials to name a few.
Paired with your content marketing, SEO efforts, and social media presence, digital advertising is an ideal way to grow each branch of your franchise. Localized strategy works well for franchises and allows each branding effort to focus on certain locations. Efforts include local paid search campaigns, localized display ads, and localized video campaigns. These can work well when you have multiple businesses to showcase.
Each branch of your location should be listed on Google My Business. Doing so will help with getting your business featured when people search for your product or services in the area one of your branches is in.
Do you need to worry about social media marketing?
A full-funnel marketing strategy includes an active presence on social media and that includes franchises. Whether you have two or ten locations, you need to take advantage of the awareness for your brand you can build on platforms.
When you include social media in your marketing strategy, you're giving your franchise a chance to have organic brand awareness, increase sales, and gain more leads by communicating with potential customers. Social media posts are often where people ask questions about the business or a product, and by engaging with them, you build brand trust and better your chances for lead generation.
Many franchisees choose to be fun or playful with their posts. Others are serious and informative. Whatever approach you choose for your franchise, your messaging needs to be consistent for all your locations since it represents the entire brand. Combine your social media engagement strategy with digital advertising efforts so you're hitting your target audience from all sides.
What is included with content marketing?
Content marketing is online resources you put out for audience consumption. Essentially, that includes information such as blog posts, eBooks, podcast episodes, videos, or anything that can be considered as digital material.
This type of marketing allows you to establish your brand as a trusted resource, build upon search engine optimization, increase website traffic and referral rates, and social media engagement. As a franchise, your content development should go hand in hand with the services you offer. Health and Fitness franchises can publish various blog posts about healthy habits or how-to training videos. Pet services can provide podcast posts about how to care for different pets or the latest in vet medical breakthroughs. The opportunities are endless with what kind of content your franchise can put out.
Before jumping into production, it's important to first start off with strategy. You want to make sure you provide content that people will actually benefit from. That begins with learning what your targeted audience is searching for and answering those questions in your material. It also involves developing a content calendar so your posts are consistent and organized and also utilizing SEO keywords as you go.