Search Engine Ranking
Rank higher, faster with

Ranking.AI
Our team of ranking experts use artificial intelligence, the right content, and in-depth knowledge of the latest SEO techniques to help you rank faster and more reliably than ever before.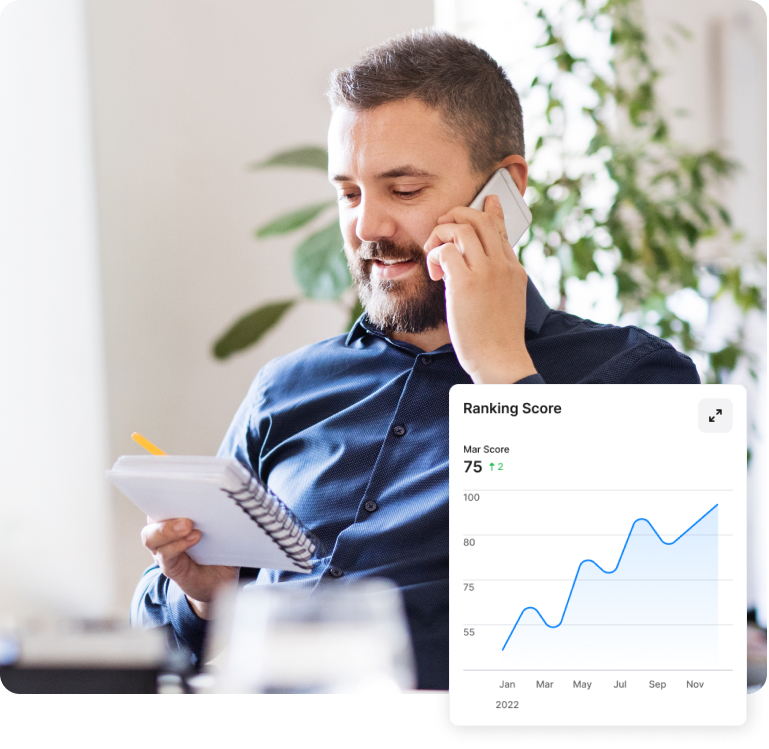 Features
Get more organic search leads
Custom strategies

With Ranking.AI, your ranking strategy is personalized to you. We use machine learning to identify how we can improve, and then our ranking experts execute.

Focused on your industry

From our machine-learning technology to our team of ranking specialists, we are zeroed in on your industry. We know what it takes to succeed there.

Driven by data, not gut feelings

Every action we take is backed by Ranking.AI, a proprietary marketing AI that has analyzed 40,000+ data points for every keyword you want to rank better.
Data-Driven Ranking Solutions
Combining the power of artificial intelligence with the proven expertise of ranking specialists.
If you want your business to succeed online, you need to rank better—but that's easier said than done. With search engines that are constantly changing and a highly competitive landscape that's always adapting, it can seem impossible to keep your business at the top of the pack.
With Scorpion Ranking, that's a problem of the past. We've merged decades of industry expertise and teams of ranking specialists with our proprietary marketing artificial intelligence known as Ranking.AI to create the best seo ranking tool and team on the market.
The result? An industry-leading solution for ranking better.
With Scorpion Ranking, your ranking strategy is driven by a powerful AI that has analyzed more than 40,000 different data points for every single keyword that you want to rank—analyzing what's working in your market, what your competitors are doing, and what opportunities you have to rise to the top.
That data is then given to our team of ranking specialists who take their years of industry knowledge to execute the work on your behalf. Once these strategies are defined and created, we relentlessly track the results to see what impact each step had on your rankings, and we feed the data right back into the machine.
Then, we begin again.
The end result is a process that's constantly learning, adapting, and improving to keep your website competitive. While other agencies and competitors are chasing the latest algorithm changes or making their best guess, we know what's going to move the needle for you. No hoping for the best. No false promises.
Just reliable solutions to grow your traffic faster and improve your visibility online.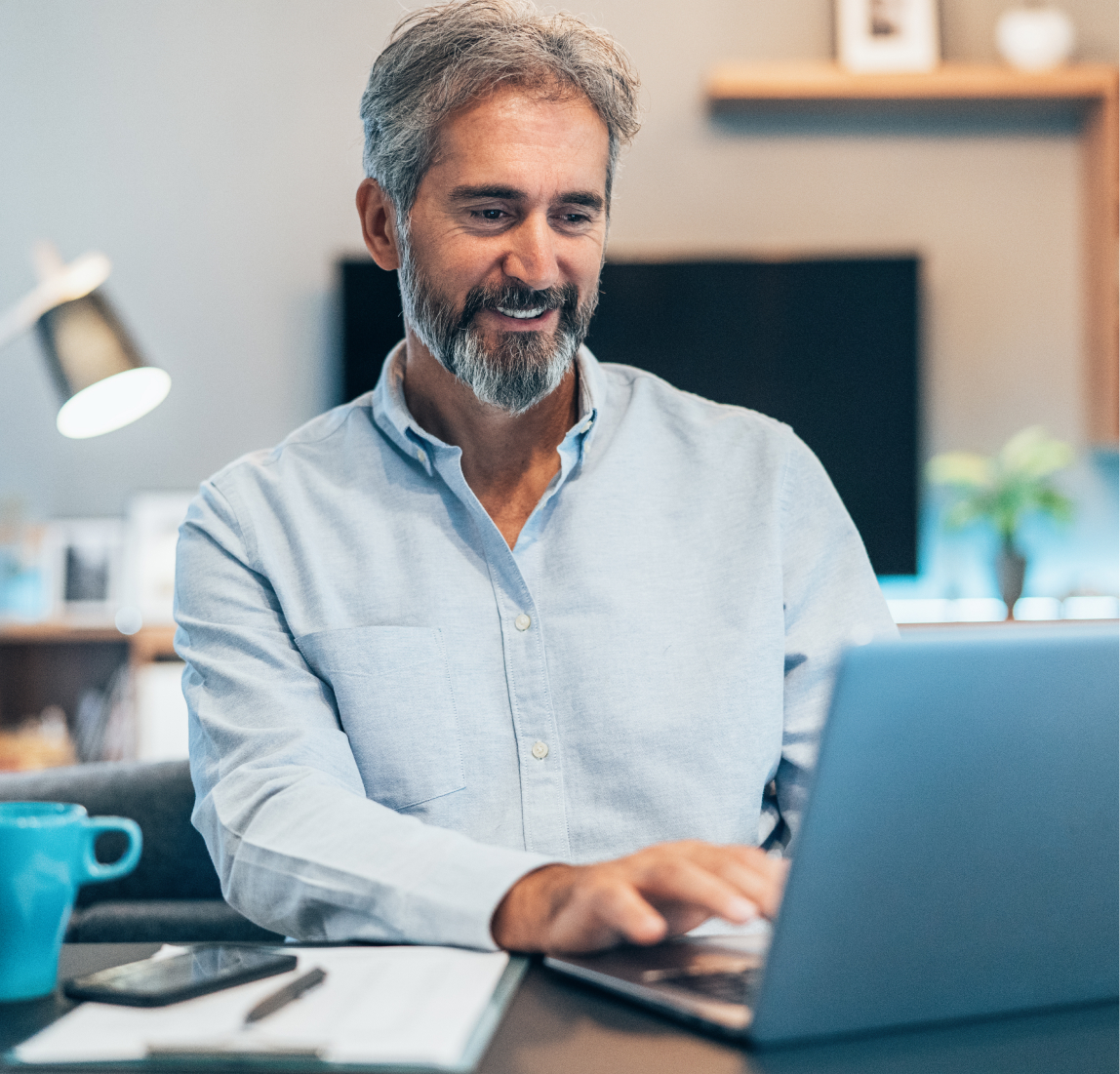 ""When I hear Scorpion, I think about click it and it's done. I really can't equate it to any other company that I've done business with. They get it.""

Tim Flynn

Winters Home Services
Solution Details
SEO strategies that produce real results.
Never wonder what's working. Never fall a step behind. Get unmatched intel that delivers results.
"No matter where I go, I run into someone who recognizes me from my online marketing—whether that's someone at the grocery store or my Uber driver. I take that as a sign that my local branding is working—and it's clear to see from the volume of calls and cases I get each month." Ashkan Yekrangi Attorney, Yekrangi & Associates
Contact
Rank better with Ranking.AI
Power your SEO rankings with Scorpion and see the difference that Ranking.AI can make. Grow your traffic, increase your visibility, and get your phone ringing with our highly-targeted, data-driven, constantly-evolving approach to SEO.
FAQ
Have questions? We can help.
How does Scorpion improve my SEO?

Ranking.AI technology from Scorpion analyzes hundreds of thousands of data points per keyword, showing us almost instantly what we need to do to get your business ranking higher without guessing. As we build your pages, Ranking.AI continues to monitor search engine rankings, alerts us when we need to pivot our strategy, and helps us understand algorithm changes. Your team of Scorpion experts uses Ranking.AI to create a strategy that fits your business goals, not anyone else's.

How is Scorpion Ranking different from other SEO services?

Where other agencies guess or hope for the best, we power all of our SEO services with Ranking.AI, which helps us precisely pinpoint what we need to do to improve your website. We then pair this machine learning with a team of ranking experts who know your industry and business—executing the strategies we know will make the biggest impact for you. Then, each month, we take what we did and how you're performing, and share the details with you!

How long will it take for me to start ranking?

The answer will be different for every business! Rankings are highly dependent not only on your industry but also on the competitiveness of your local market. Additionally, factors such as how long your business has been around and how well-established you are in the area can impact the speed of results. That being said, our AI is designed to optimize your budget and your market by introducing strategies that balance ranking difficulty and growth potential—helping you get quick ranking wins along the way to accomplishing your more competitive long-term goals.


What kind of SEO strategies will get used?

Our team blends a variety of SEO strategies to help you rank better. Examples include on-page optimization, content development, link and citation building, technical SEO, and more. We know that a lot goes into ranking well, which is why we target the strategies that address your website's specific needs, opportunities in your market, and the work we know will make the biggest impact.

What is SEO?

SEO, or Search Engine Optimization, is the practice of optimizing web content so it appears at the top of Google search results. As Google is the most-used search engine on the market today, SEO is vital for growth of a business. Its goal is to make sure that people who are searching online can find your content easily and quickly. Companies must ensure all elements of their sites are optimized for maximum visibility and this includes page titles, meta descriptions, headings and other elements. Consistently using SEO techniques can help to not only rank higher in search engines but also increase brand awareness and reach more potential customers.

What is an SEO audit?

An SEO audit, or search engine optimization audit, is a detailed analysis of a website's seo performance. A thorough audit examines a website from bottom to top to identify areas in need of improvement. It not only covers seo components like content, meta tags and titles, but also how the site appears in Google searches. By leveraging seo best practice standards and ensuring these practices are followed on a website, an seo audit can help a business get more visibility on popular search engines such as Google, ultimately leading to higher rankings for targeted keywords and better performance overall.

Lucky for you we have seo audit experts at Scorpion to help you get started. 

What are some common SEO mistakes?

Search engine optimization (SEO) is a great way to generate exposure for your business online. However, there are some common seo mistakes that can easily be made if you don't take the time to understand how search engines like Google work. From not properly optimizing your webpage titles and meta descriptions, or not submitting an updated sitemap periodically, many seo strategies can be quickly forgotten-- resulting in decreased website visibility. Additionally, failing to analyze your current seo status can prevent progress from being made, as it's important to stay up-to-date with Google regulations and trends. The good news is that reviewing the seo basics and understanding the most overlooked seo techniques should help any business listing succeed in generating traffic through search engine optimization.
Learn More
How to get started with search engine marketing
How to incorporate search engine ranking in your content
It's one thing to want to incorporate SEO tactics in your marketing plan; it's another to have a place to put your keywords. Before you can get far with search engine ranking, you need to build up your content.
Content is online material that your audience can access and usually takes the form of blog posts, emails, social media posts, eBooks, or newsletters. This type of content should live on your website and also be featured on your social media platforms and email schemes. Search engine sites like Google are notorious for only ranking your site if you provide valuable content for the reader.
Start with adding quality content to your site. SEO keyword data can help you understand what your target audience is looking for and use those subjects as topics. Place your keywords in headlines and subheadings and avoid stuffing. Stuffing here is defined as peppering your content with keywords so that it ranks high and not the delicious cubed bread dish you serve at dinner. Smart algorithms like what Google uses can identify keyword stuffing and won't reward you with a rank.
How off-page SEO works
Off-page SEO is just as important as on-page SEO. While on-page SEO deals with the front-end strategies to get your page traffic (quality content, keyword optimization, andmeta tags), off-page SEO is efforts off your page.
In a nutshell, off-page SEO is where you take your marketing strategies to different sources to rank well with search engines and bring traffic to your site. To do so, you use other sites to build brand awarenessthrough reposts and backlinks.
This all comes back to content. If you have good content, other sites will link to those posts and may even allow guest blogging. All that effort will build up to a healthy off-page SEO foundation. From there, search engines will start identifying your site as credible, authoritative, and relevant.
What to avoid in SEO marketing strategies
Google has a lot of smart people working for them. And even smarter algorithms. That means it doesn't take much for them to identify a page that's trying to trick their system into ranking their site well, even if it doesn't have the content to back it up. A lot of times, search engines like Google may penalize your site from ranking in the future.
A few tricks to avoid include duplicating your content, keyword stuffing, and invisible text. Duplicating your content means reusing the same keyword or phrase over and over again in one piece rather than devoting several pieces to the topic. We've already covered stuffing (not the delicious kind), and invisible text is essentially chalking up your footer with keywords but making the font the same color as the background.
Remember Search Engine Ranking strategies can bring a lot of return on investment, but it's going to take time and effort. Build up quality content, use SEO keywords wisely, and work on backlinking and you'll see your site on the first page in no time.
The Scorpion Ranking SEO Ranking Tool Powered by AI
Scorpion Ranking is powered by software called Ranking.AI that helps us identify exactly what client websites need to improve to rank better, and which strategies will work best for generating those improvements. Ranking.AI generated 5x more traffic than Strategies selected by professional SEOs, making it an extremely effective SEO ranking tool for small businesses.