Review Monitoring
Keep track of your online

reputation
How you show up online determines who shows up at your business. We help you track and engage with every customer review on all the websites that matter.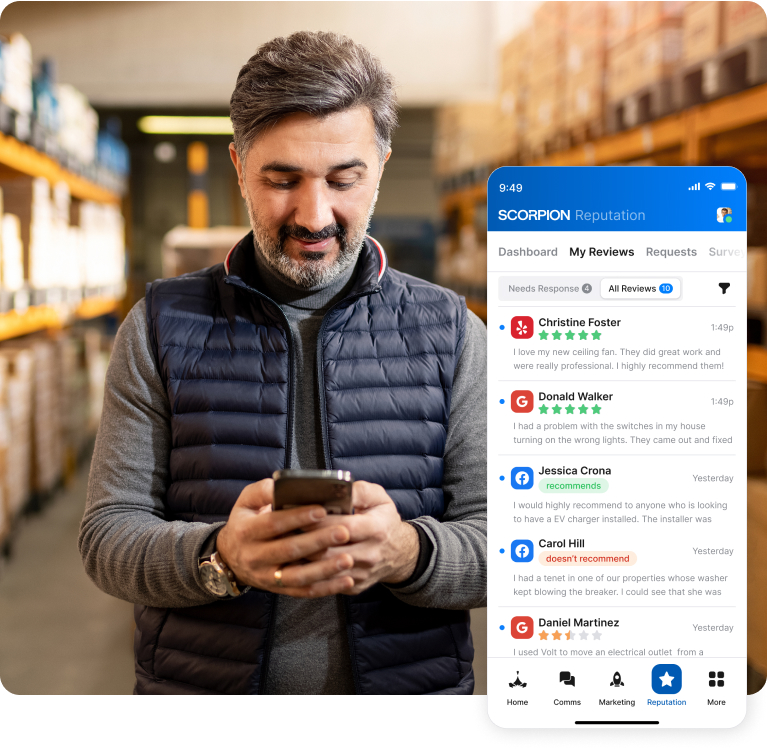 improve your reputation
What people are saying about you matters
80%of people trust online reviews as much as personal recommendations
93%of people read online reviews before purchasing
97%of people read reviews online to search for local businesses
Features
Stay on top of your reputation
Instantly know what's being said

Consolidate and manage all your reviews on Google, Facebook,  and more from one centralized location instead of frequently logging into multiple sites.

Stand out where it matters

Reviews and ratings on Google and other sites greatly impact the number of people that find and select local businesses like yours. Engage with customers to see how you're doing and to drive an excellent customer experience!

Always-on reputation monitoring

We help you monitor your reputation, automate responses to positive reviews, and notify you when you get a negative review so you can respond quickly and efficiently.
Know Your Reputation
Your business' reputation is too important to leave to chance
What people are saying about you and your business affects more than just a star rating—and it reflects more than just your relationship with one customer. Your online reputation has a long-reaching impact. Whether people are talking about you on Yelp, leaving reviews on Google, or not saying anything at all on Facebook, it matters.
To stay ahead, it's crucial that you know what's going on across all of the major review sites —and even more important to be actively involved in it. But as a busy business owner, it's tough enough to spot-check your reviews, let alone stay on top of them all.
Not anymore.
With Scorpion's Reputation Monitoring technology, we make it simple to manage your overall online reputation from the same place you manage leads, control your advertising, and more. It starts by connecting all of the accounts you care about and where people are talking about you online. Your reviews are then pulled into a single dashboard for you to manage, monitor, and review on a regular basis.
But it doesn't stop there.
We then equip you with reports to see how your reviews are trending and how you're stacking up against the competition. We let you automate responses to positive reviews and notify you instantly whenever a negative review comes in. We even make it easy for you to drive better engagement and feedback with your customers after a service.
The end result is you always know what's happening with your reputation.
You can be in the driver's seat, keeping your finger on the pulse of what's being said and helping ensure your brand continues to grow online.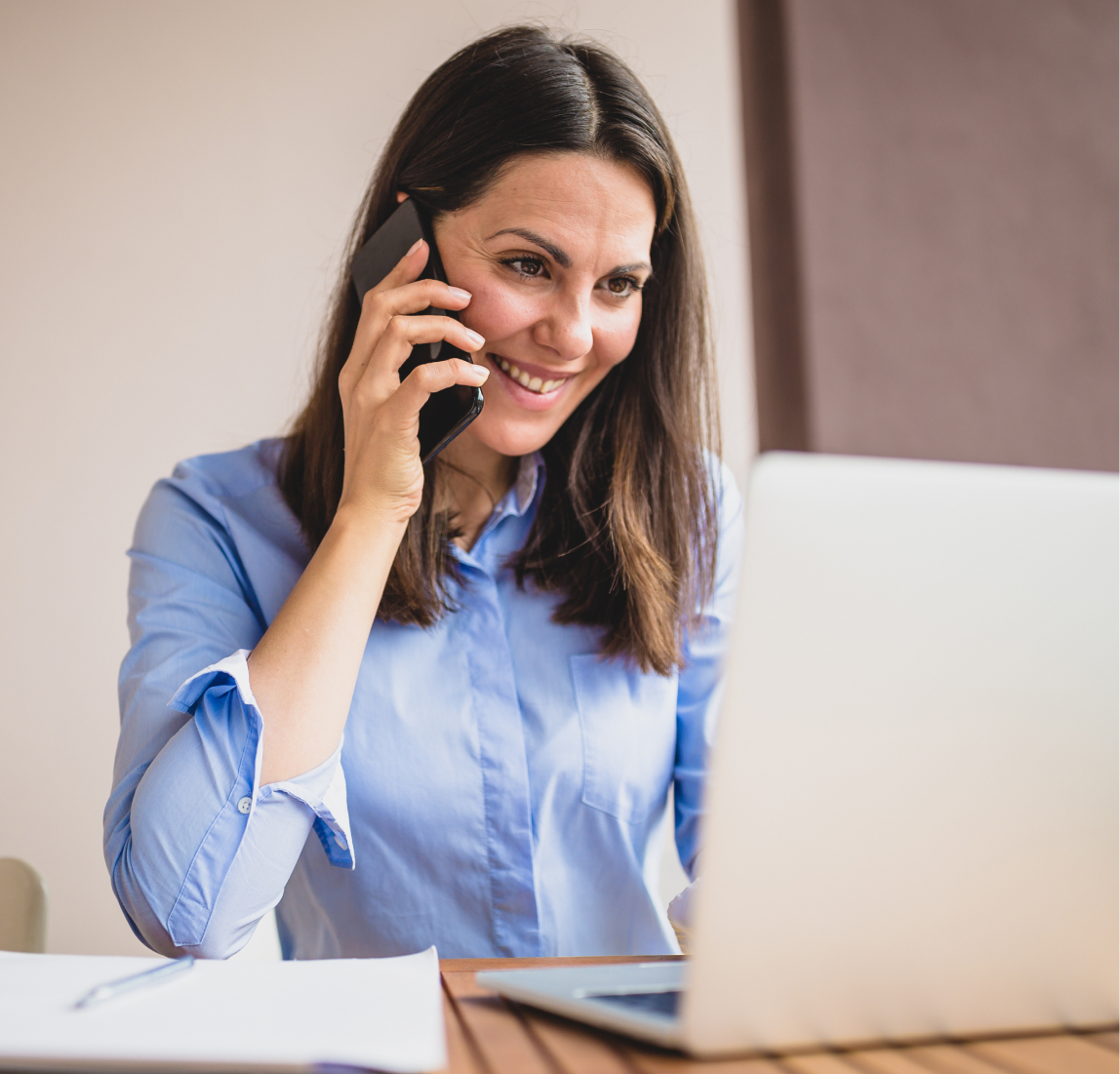 "When I hear Scorpion I think about one click and its done. I really can't equate it to another company I've done business with. They get it."

Tim Flynn

Winters Home Services
Solution Details
More than just review monitoring
"We have been thrilled to work with the Scorpion team. They are the best at what they do. And because of them, we will be able to better protect our clients' rights." Jason Itkin Founder, Arnold & Itkin LLP
Contact
Start improving your reputation now
Your reputation isn't something you can set and forget. It's something that needs constant attention to keep it growing and trending in the right direction! With Scorpion, we make it easy. Let us do the heavy lifting for you.
Which review sites can I use to monitor my online reputation?

We let you connect multiple accounts for reviewing your reputation! Not only can your monitor reviews on Google Business Profile and Facebook, but we also monitor places such as Angie's List, Nextdoor, YellowPages, and more. It's easier than ever to keep track of what's being said across the Internet.

Can I respond to reviews through Scorpion?

Absolutely! We'll even do you one better and let you automate responses to positive reviews, freeing up your team to focus on other things. Want a personal touch for all reviews? We notify you when a new one comes in so that you can immediately respond to whatever has been said.

Can I monitor my reputation from my phone?

Yes, you can! Not only can you access Reputation from your desktop, but you can use the Scorpion App to stay on top of your reputation from wherever you are—letting you monitor the latest reviews, check out reports on how things are trending, reply to customers, and even follow up with customers after a service.

How do I get reviews online?

In today's digital age, garnering reviews online is crucial in building your brand's reputation and increasing its credibility. To get those much-needed testimonials, start by offering exceptional service or products that leave your customers delighted and eager to share their experiences. Actively encourage happy clients to leave reviews on popular platforms like Google, Yelp, or even your website. To make this process easier for them, send a friendly follow-up email with direct links to review sites, politely asking for their valuable feedback. Remember, engaging with customers on these forums – responding graciously to negative critiques, appreciating positive ones, and addressing any concerns – will show genuine attentiveness to their opinions and foster an ongoing relationship, which paves the way for a steady stream of future reviews. Keep in mind, consistency, and patience are key; success doesn't happen overnight, but with sustained effort, your online reputation will flourish.
Learn More
What is review management?
Review management is the process of keeping a close watch on the reviews that customers leave on your business website. Good review management requires you to develop and implement strategies for responding to reviews, resolving customers' issues, and identifying and removing
Tips for review management
Identify the review sites most important to your business
Google and Yelp are the biggest review sites. But, you also need a solid presence on industry-specific websites. For example, if you own a home service business, you should monitor your business on Thumbtack. You want to be found where your customers are looking for the services that your business provides.
Claim your business on your preferred review sites
Claim your business on your chosen review sites to gain control of your business page and reputation on those sites.
Respond to reviews promptly
Customers expect businesses to respond to reviews promptly, whether the review is positive or negative. The Scorpion review platform can alert you when customers leave reviews on your website and business pages, and you can respond on the Scorpion mobile app from your devices.
Identify fake reviews and request their removal
Don't be afraid of negative reviews. People expect to see negative reviews on your business website. What's more important is how you respond to them. Fake reviews are entirely different. They can hurt your business, even the positive ones. Learn to identify them and request their removal from the review site.
Leverage a review management platform
Using a review management platform makes it easier to stay on top of the reviews you get. Some, like Scorpion, will help you manage 70+ review sites from a single place.
What are Google reviews?
Google reviews are those left by people who have visited a location listed on Google. These reviews appear on Google Search, Google Maps, and Google My Business listings.
Google is still the biggest review site. Most consumers will research your business on Google before visiting your website.
Having a good number of positive, recent reviews on your Google My Business page will help build trust with potential customers and improve your local search engine optimization (SEO) ranking.
What are Yelp reviews?
Yelp reviews are online reviews left by Yelp users who use the platform to find businesses they need. Next to Google, Yelp is the second biggest review site in the U.S.
As of 2020, over 220 million reviews have been published on the review site. That's enough reason to become proactive in managing your business Yelp reviews.
Monitoring your business reviews
Scorpion has all the functionalities you need to take charge of your review management across multiple platforms. If you want to ensure that you are keeping track of all of the reviews of your business that matter, reach out to us today.