Mobile App
Stay connected

on the go
Our mobile app puts you in full control of your business any time, any place. Run advertising, text customers, view progress, and more—no matter where you are.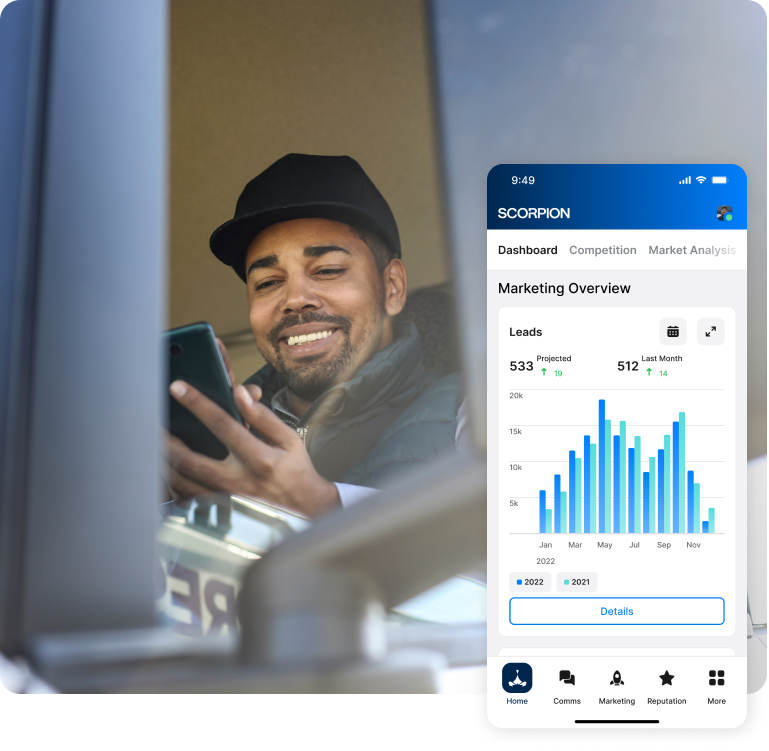 Features
Run your business from anywhere
Always stay in the know

Don't let the inconvenience of having to get on a computer stop you from monitoring the constant motion of your company. We build and manage your mobile app to help you keep a pulse on your customer engagements and business growth.

Marketing at your fingertips

With our mobile app, you can view your dashboards, create campaigns, send messages, and monitor advertising efforts.

Smaller screen, same big picture

Get an overview of how your business is performing, connect with customers instantly, and keep your eye on your goals—all from the dashboard on our mobile app.
Business on the go
Get to work, even on the job
Running a small business can be a busy, hectic job. From visiting job sites to connecting with customers and checking on employees, you may rarely find yourself at your actual business. That's why Scorpion developed a mobile app that lets you stay connected with your business no matter where you are.
With the Scorpion mobile app, you can easily check lead flow, engage with reviews, and view your dashboards to see how your business is performing in real-time.
Our app provides you with all the necessary tools to help you accomplish your daily tasks and even make informed business decisions on the go.
But. at Scorpion, we don't just offer technology solutions, we also provide exceptional guidance from marketing professionals. Our team of experts is always available to answer your questions and provide advice on marketing channels or responding to reviews. We're dedicated to being a true partner in your business's success.
Whether you need help with marketing strategies or just want to discuss your future business plans, we're here to serve and support you. With the Scorpion mobile app and our expert team, you can be confident that your business is always in good hands.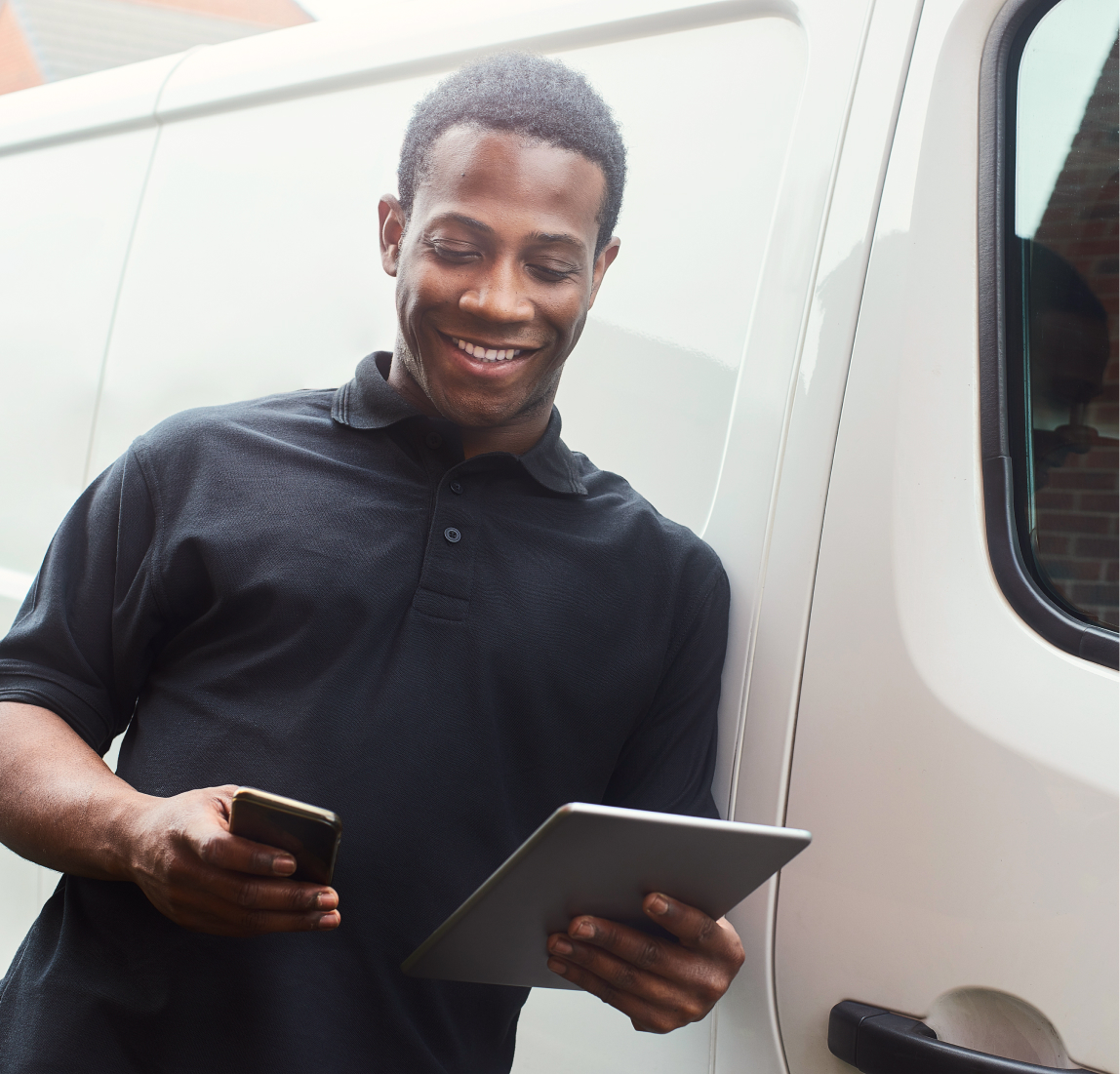 "Scorpion has affected my business, which in turn has affected my life, in a way that I couldn't have imagined. I couldn't say anything more positive about Scorpion. They are the best."

Margo Gannes

Partner, Gannes & Musico, LLP
Solution Details
The best mobile app for your business
"No matter where I go, I run into someone who recognizes me from my online marketing—whether that's someone at the grocery store or my Uber driver. I take that as a sign that my local branding is working—and it's clear to see from the volume of calls and cases I get each month." Ashkan Yekrangi Attorney, Yekrangi & Associates
Contact
Get connected on the go
We partner with you to create a strategy that works for your business, not anyone else's. Your customers then find you and choose you, again and again—and you get more of what you want out of your business. Every day.
What is a business mobile app?

A business mobile app is an application you can download onto your device to give you access to your business analytics, dashboards, communication tools, and accounts specifically for your company. Our app gives you access to our unique dashboard so you can get real time information about your strategies, such as campaigns, lead flow, and ad spend.

Why do I need a business mobile app?

As a busy business owner, it's not always possible to be glued to your desk. Part of your job means you're on the go, and your marketing should be able to come with you. Our mobile app allows you to check and react to the health of your advertising, review management, leads, and more. We keep you connected to how your marketing is going, and with our mobile app, you can have it all in the palm of your hand. 
Learn More
How to get started with mobile app optimization
What can you do with a mobile business app?
Life is a balancing act. Just ask the server carrying six plates of pancakes and two bottles of syrup. But that's not where balance ends. More than ever, business owners are learning how to divide their time at work and home in a healthy way. With a business mobile app, you have the power to monitor how your company is doing without having to fire up your computer or drive to the office.
A business mobile app like Scorpion's brings the office to your phone so you can make a quick marketing decision, approve an email, or even see how your last social media post is doing without sacrificing where you are in the moment. Business owners, especially in the small business phase, may find it hard to take time for themselves or their personal life. With a business mobile app, you won't need to choose. Take the business with you in the palm of your hand.
How to get started with the right mobile app
When you start to decide which business mobile app to use, consider what you want your app to be able to do. For example, an app such as Wave can assist with the financial aspect, or Buffer helps monitor social media platforms. If you're looking to access your entire marketing platform, an app such as The Scorpion Mobile App would meet those needs.
Other questions to consider is how many people do you want to have access to this app? Which app will provide the most value in the long run? Are you looking for a free app or one that can do more but requires payment?
At the end of the day, whichever app you choose should be a benefit and not a hindrance to you in your efforts to make your business grow.
Tips on what to look for in a mobile app
If you're like the rest of us, you've done your share of browsing and selecting apps, especially for your personal devices. Your journey into selecting the right app for your business won't be too different. Will it be the same as downloading a puzzle-building app that keeps you entertained as you zone out? Not quite, but the satisfaction should be the same.
As mentioned above, you need to consider what you want this app to provide. A good mobile business app provides you with excellent usability, solid performance, customization options, accessibility, fast response times, and works well on mobile. Take advantage of reviews to gauge if an app will work well for you.
The support behind the app will also make a difference. Does the app come with strong customer service support? Do you get the help you need if you're struggling with using your app? Your app should work for you, not the other way around.