Plumbing
The best

plumbing marketing
We create a standout marketing strategy designed for your plumbing business. Get more customers, keep your schedule full, and get paid faster with the right tools, technology, and support for you and your techs.
My marketing team at Scorpion doesn't just build my campaigns and call it a day. They make sure to get me set up with the best strategy for reaching my long-term business goals. Scott Reisack Owner, EZ Flow Plumbing
Product Solutions
There's no business like yours. Let's make it known.
Get more leads on social media

We'll create content for your social media channels and implement a social media strategy that attracts customers and leads right to your business.

Rank higher in search results

Our SEO team, and our technology, stays up-to-date with the latest changes to help you outrank your competition on Google, Yahoo, and Bing.

Track your marketing progress

With our technology, you have instant access to your marketing dashboards so you can track your progress and see your marketing work for you.
Increase your leads
Simplify your plumbing marketing
Working with Scorpion means your marketing strategy was designed with plumbers in mind. We'll help you set your goals, choose the right channels, and establish your messaging, all while you focus on serving your customers and growing.
How? We provide everything you need, from website development to content creation and social media advertising to get more of the customers you want.
To start, we make sure you have a well-designed and user-friendly website to attract and win over new customers. We'll help you rank higher on search engines by creating valuable content for your site that will bring in traffic and more customers.
By utilizing our marketing skills and SEO best practices, you'll be in a position where potential customers are calling you. Plus, we focus on monitoring your reputation which can stimulate interest and grow trust with your audience.
Your plumbing business gets put at the forefront of digital platforms, including social media and search engines, and that's essential to grow in this day and age. Our digital advertising plan can raise brand awareness, boost growth, and increase revenue.
With all your marketing in one place, you can focus on real growth.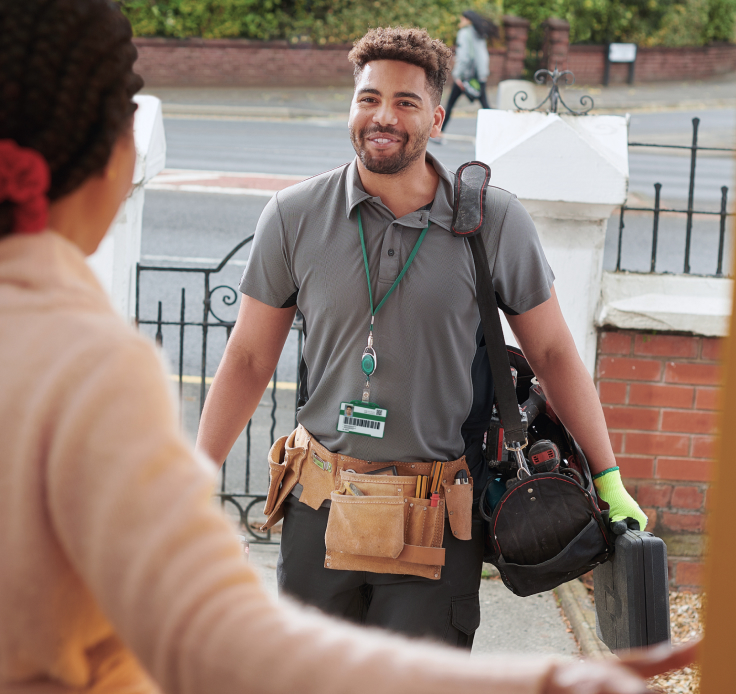 "I sleep good at night, knowing that I have them in my back pocket. They take care of things without me having to second guess myself."

Amy & Chad Hart

Owner, Continental Plumbing Services, LLC
Who We Help
Businesses we help
We help thousands of businesses across North America reach their goals. Learn more from the list below.
Testimonials
Your wins are our wins
We partner with you to create a marketing strategy that works for your business, not anyone else's. Your customers find and choose you, again and again. And you get more of what you want out of your business. Every day.
"Working with Scorpion is infinitely better than what I was doing before, which was just shotgunning money just to keep my phone ringing. There was no strategy." Tim Flynn Owner & CEO, Winters Home Services

My marketing team at Scorpion doesn't just build my campaigns and call it a day. They make sure to get me set up with the best strategy for reaching my long-term business goals. Scott Reisack Owner, EZ Flow Plumbing

"The fact that I'm not even thinking about what needs to be done for my marketing on a day-to-day basis is HUGE for me. There are so many responsibilities I'm constantly juggling. When it comes to marketing, I know it's being handled, so I don't have to worry about it." Shane Mays Co-owner, Leafs-U-Green Landscape Services

"Since working with Scorpion, we've had nothing but record-breaking revenue months... We always hear back from our rep within 10 to 15 minutes." Erika Schneider Co-Owner, A-TEMP Heating, Cooling, & Electrical

"Finally, a Marketing partner that I feel good about. One that has exceeded their promises and provided daily attention to our marketing channels...I couldn't be happier with my marketing strategies!" Dean Morgan Owner, Discount Service Electric
Learn More
How to get started with plumbing marketing
Like the intricate world of pipes, sewers, and drains, there's more that goes on behind the scenes in marketing than just the results. It's important to address all marketing openings and leave nothing behind. After all, there's nothing worse than a clogged system. In this section, you will get a better understanding of the nitty-gritty work behind what can make marketing so effective for your plumbing business and how you can get started.
Is website development important?
Similar to finding a person on social media before meeting them for the first time, customers want a place to look and get to know your business before engaging with you. Your plumbing website provides that jumping off point for them.
A good plumbing website contains vital information first such as your location, your area of expertise, where you service, and how to get in touch with you. Other factors include client testimonials, reviews, cost estimations, and informative content that the client will find helpful.
Your plumbing home page will also be the backbone of all your marketing efforts. A well-designed and user-friendly site is the first stepping stone for winning new clients and first impressions matter, even if they're made online.
What is search engine optimization?
Search Engine Optimization, known less formally as SEO, is one of the main ways your website is ranked in answer to search engine inquiries. When you use certain keywords on your site, search engines like Google target those keywords and rank you higher according to the information being sought.
SEO efforts can be as successful as having your business site pop up when someone searches for plumbers in your area or quoting your answer to when to replace faucet cartridges as a featured snippet.
Plumbing companies have been kept alive by word-of-mouth clients and loyal customers, but with so many people using the internet to find the home services help they're looking for, you need to rank high in Google in order to keep your client list growing.

That includes understanding the user's intent, getting your business at the top of the list, and speaking from a place of authority and trust. Utilizing marketing skills and SEO best practices will put you in a position where clients are calling you. Focus on providing plumbing keywords on your website to naturally build your SEO presence.
What is digital advertising?
Digital advertising has become even more of a necessity than physical advertising with customers seeking home services help online—including plumbing. When targeted to the right people, digital advertising can raise brand awareness, boost growth, and provide a roadmap to marketing efforts.
Your business gets put at the forefront of digital platforms, including social media and search engines and that's essential to grow your business in this day and age. Because your plumbing business is limited to who you can provide services for, it's important that your ad efforts and money aren't wasted on a global reach.
For example, you would not want your Instagram ads showing up for people in Canada if your business is based in Illinois. Using best practices for digital advertising, such as narrowing down buyer personas, is the best way for your advertising efforts to equal the bang for your buck. Start small with placements such as Google ads or local ad partners.
Do you need to worry about social media marketing?
We know what you're thinking. A backed-up septic tank isn't material for a viral video, but being on social media is now one of the basic foundations of building your business. Plumbers have a unique advantage of providing educational posts along with promotional material and it's something you should take advantage of if you're not already.
Social media provides you with a unique platform to actively engage with current and potential clients and build trust and loyalty. Many plumbing businesses have joined Youtube to create and promote educational videos, including "how to's" while costing very little to make. As always, start off small and create content that would be beneficial to potential customers, while also promoting your business and where you provide service. The more you engage with your audience, the more of a household name you will become.
What is included with content marketing?
Content marketing is the bulk of the information you put out. That includes case studies, blog posts, podcast posts, eBooks, videos, anything that can be attributed to online material. This is also where a lot of your SEO efforts will take place.
Similar to the educational videos you could put out going over typical home plumbing fixes, content marketing is your place to stimulate interest in your brand and grow audience trust. Social media and content marketing work hand in hand and the two segments should complement each other. Content marketing as a whole is your chance to show your expertise in the plumbing field, build client trust, and increase your bookings. Even if your published material is short, or your videos brief, you are still putting yourself in a good position to start ranking on search engines.