Forget About BERT and Keep Writing for Humans
In October 2019, Google released BERT — an update that seemed to spark equal amounts of hype and misinformation in the SEO community.
The BERT update allows Google to better understand search queries through natural language processing, or "NLP".
Google stated that BERT is particularly useful for interpreting the context of conversational queries, such as ones in which prepositions like "to" and "for" are important.
The query "what is the best type of rose," for example, yields this result: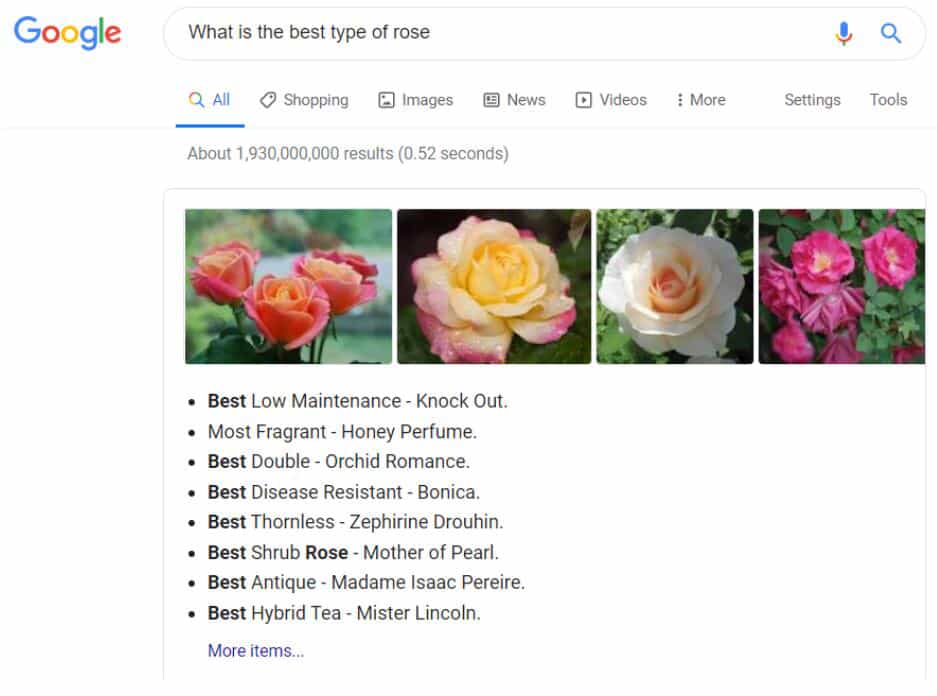 When you add the phrase, "to drink" at the end, the algorithm understands that the intent has changed, even though the query still doesn't technically spell out "rosé" correctly: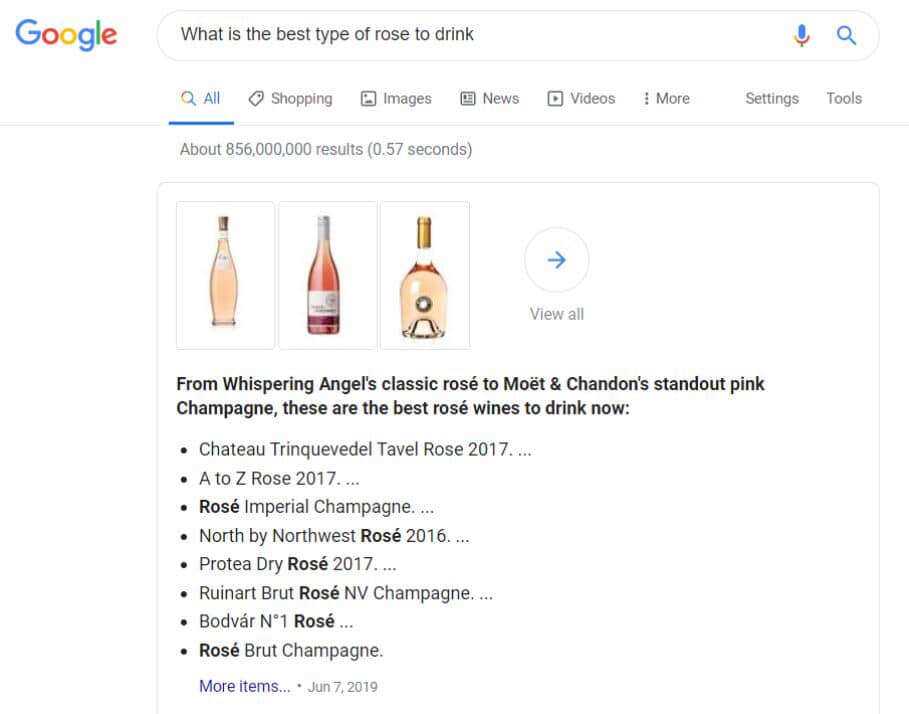 If you're like most people, you aren't a language processing expert - and that's okay. (Even most SEO specialists probably aren't experts in this area, either!)
Here's what SEOs and marketers can take away from the BERT update in a nutshell:
Don't overthink BERT.
You can't optimize for BERT, so don't try.
Building content for users (not algorithms) is still mission-critical.
You don't need to understand NLP or how BERT works to generate insightful SEO content ideas.
In a way, BERT reminds us to focus on understanding our audience, how they search, and what they're searching for.
The objectives of content and SEO haven't changed since BERT's release: Focus on building content that satisfies search intent by helping users get the answers they need. One sure-fire way of doing this is through content ideas generated by users.
Here are a few methods to accomplish this:
1) Use Google's "People also ask" data
Yep, that little "People also ask" box with question dropdowns is data — and Google is giving it to you for free!
Once you have a starting point (aim for a common question associated with your page topic), check out the seeded questions in the "People also ask" box. Depending on how well Google interpreted your query, these questions may be great topics to include on your site.
If you aren't sure what query you should type into Google to start looking for related questions, pop your topic into Answer the Public for inspiration.
Example: If you're writing about car accident claims, one of the questions you could answer is "Should I talk to the other driver's insurance company?"
It's a great question, but what if the page answers these related queries as well?
Keep in mind that you don't (necessarily) need a separate content section for each question.
Sometimes, each of the questions and their related dropdowns merit a unique paragraph or two of information. Other times, they don't.
As you look for new topics to strengthen your page, ask yourself if each question is exhaustive enough to merit a new page of content, a new section of content, or a simple phrase on your site. You may find you can make your content more rich with information by answering several semantically related questions at the same time.
As SEO expert Courtney Cox Wakefield points out, this is also a great way to target voice search.
2) Get content ideas from the "Q&A" section of Google My Business
If your website is for a local or service-based business, you can find inspiration for user-focused content in the Q&A section of your business profile. You can also check out competitor listings for additional content ideas.
The Q&A section is located on Google My Business (GMB) listings under the business information: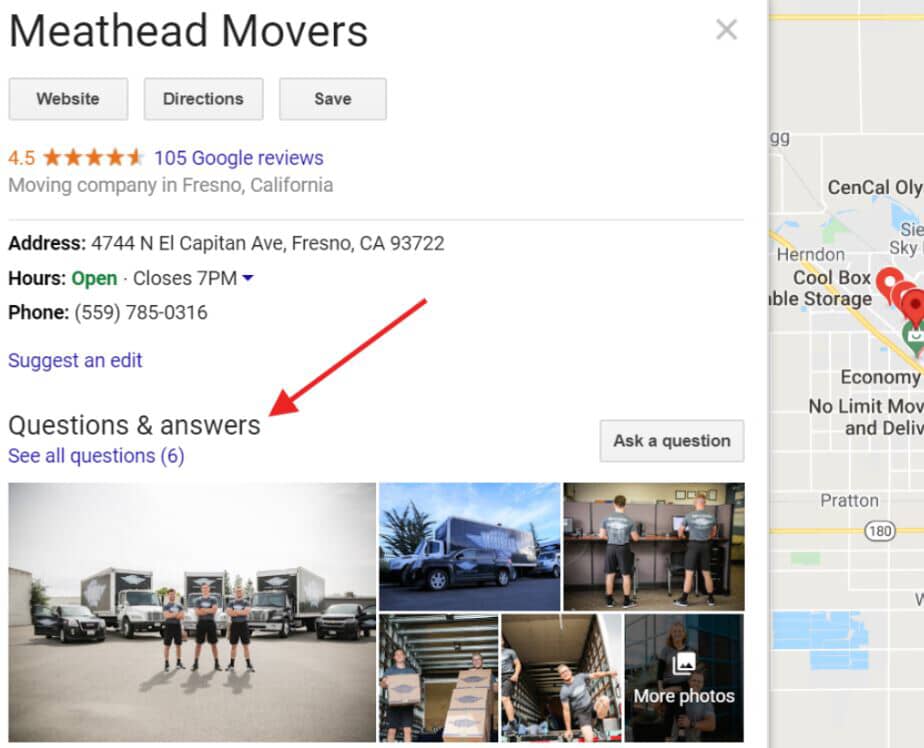 (Note: The questions will appear under the business products if those are listed as well. Either way, they aren't hard to find.)
In short, the "questions & answers" section is an open forum where community members and business owners can ask or answer any questions about any business.
Often, questions will relate directly to the business — such as its hours, parking, cost, etc.
If you're a moving company, for instance, you'll probably see a lot of questions about hourly fees and whether or not your business is equipped to move a specific item (a piano, for instance).
Occasionally, these questions aren't specific to the business, but to the service it offers.
On the other hand, in the healthcare industry, the Q&A section is usually rife with questions from real people about their health (symptoms, at-home treatment, how to request medical records, when to see a doctor, etc). If you're writing content for a healthcare organization, you could address these questions - especially if you see more than one person asking about the same thing.
3) Get content ideas from YouTube, Reddit, & Twitter
Just like the GMB "questions & answers" section, YouTube, Reddit, & Twitter are also excellent sources of information to inform your user-centric content strategy.
The goal is understanding what information people need and fulfilling it, and what better place to look than some of the most trafficked open forums on the internet?
Just like the Q&As, YouTube, Reddit and Twitter require a little digging and a lot of patience, but the payoff is an understanding of what information people need and, most likely, aren't able to find anywhere else online. Here are a few tips:
Follow hashtags on Twitter related to your business or content topics. People may use them to ask common questions or look for recommendations.

Follow industry influencers on Twitter and keep an eye on the questions people ask them.

Find popular videos on YouTube and read the comments. What types of questions are people asking? What information do they need that other sources couldn't provide?

Find a YouTube video related to the topic you're exploring. Check out the related videos and searches for even more ideas!

Subscribe to related subreddits to see what types of questions users submit.
The /askaplumber subreddit could be a great resource for plumbing SEO content ideas, for instance: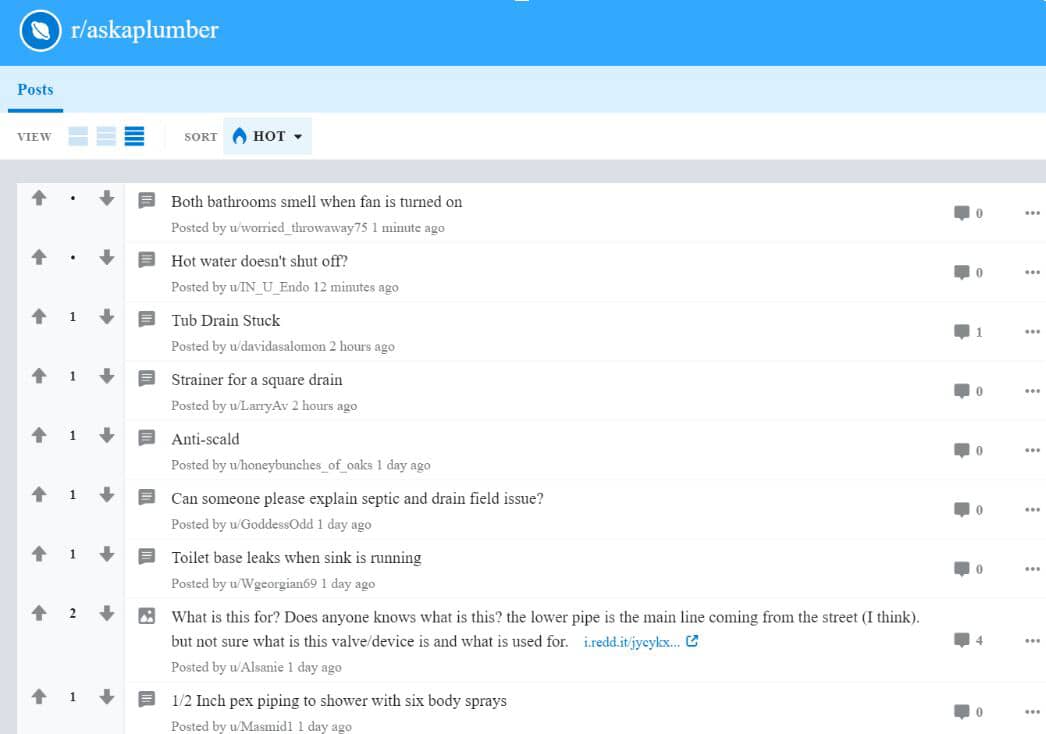 How to Choose Which Topics to Write About First
Finding new topics to address on your webpage is only the first step; you'll need to determine where to start. There are many ways to do this, but here are two of the simplest ones:
Prioritize topics that generate the most activity. If you see the same questions cropping up across multiple platforms (Twitter, People also ask, etc.), it's a safe bet that the topic has enough interest to merit some content on your website.

Prioritize topics with low-quality SERPs. Do a quick search of your topic or question. Is the first page chock-full of content that satisfies the query? If so, keep searching until you find a SERP that doesn't satisfy the query. That's your starting point.
Still curious about BERT?
If you're interested in learning more about the nitty-gritty details of language processing and what BERT does exactly, there are plenty of resources online — like this Whiteboard Friday video from Moz that explains what BERT is, what it can and can't do, and how it became so smart.
For more expert insights, stay tuned on our blog! Our team at Scorpion stays up-to-date on the latest digital marketing news and trends that can help you grow your business.