Roofing
The best

roofing marketing
Get a great website, content that converts, improved rankings, and more. We deliver more leads, build your brand, and even improve your reputation.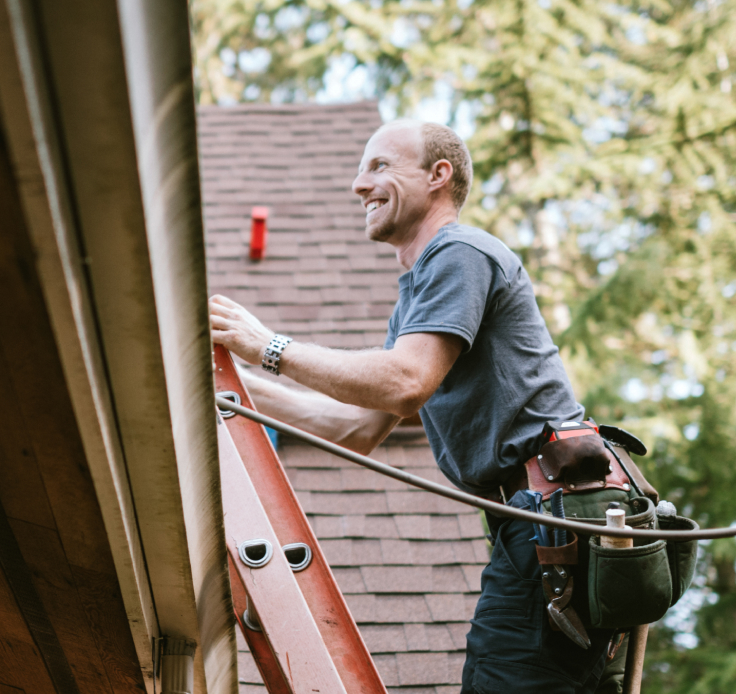 "I LOVE this product—it's BRILLIANT. It's like I get to take my mind off of marketing. There is a professional team on our side who is always available to help and I can put my energies into other things. You guys are OUTRAGEOUSLY WONDERFUL!" Mark Webb Delta Commercial Roofing, Inc., Delta Commercial Roofing, Inc.
Product Solutions
There's no business like yours. Let's make it known.
Build your online presence

Use our marketing expertise and team to create your marketing strategy and assets, so you can focus on running your best roofing business

Attract more leads

We'll bring in more leads with paid advertising and other marketing channels, while our technology will help you keep track of all your new prospects.

Grow your revenue

Our digital marketing strategy will help get your phones ringing so you can close more sales and grow your revenue.
roofing marketing
Raise the roof on your marketing
By choosing Scorpion, you're getting a marketing playbook designed with you in mind—a plan to build your online presence, attract more leads, and grow your revenue.
We take the time to understand your roofing business and tailor a marketing strategy that fits your specific needs. Our comprehensive approach includes everything from asset creation, to search engine optimization, to paid advertising, to marketing automation so you can focus on running your business while we handle the marketing.
By optimizing your website, creating engaging content, and leveraging advertising channels, we ensure your roofing business ranks higher on search engines and becomes more visible in your community. We then pair those lead generation tactics with real-time reporting to help you know exactly how your campaigns are performing.
We also help build your reputation online by helping you monitor your reviews and testimonials, highlighting your amazing work on social media and your website.
Ultimately, our goal is to help you reach yours.
We'll get your phones ringing so you can close more sales and grow your revenue.
"When I hear Scorpion I think about one click and its done. I really can't equate it to another company I've done business with. They get it."

Tim Flynn

Winters Home Services
Who We Help
Home Services businesses we help
We help thousands of businesses across North America reach their goals. Learn more from the list below.
Testimonials
Your wins are our wins
We partner with you to create a strategy that works for your business, not anyone else's. Your ideal customers can find and choose you, again and again—and you get more of what you want out of your business. Every day.
"The fact that I'm not even thinking about what needs to be done for my marketing on a day-to-day basis is HUGE for me. There are so many responsibilities I'm constantly juggling. When it comes to marketing, I know it's being handled, so I don't have to worry about it." Shane Mays Co-owner, Leafs-U-Green Landscape Services

"Working with Scorpion is infinitely better than what I was doing before, which was just shotgunning money just to keep my phone ringing. There was no strategy." Tim Flynn Owner & CEO, Winters Home Services

My marketing team at Scorpion doesn't just build my campaigns and call it a day. They make sure to get me set up with the best strategy for reaching my long-term business goals. Scott Reisack Owner, EZ Flow Plumbing

"Since working with Scorpion, we've had nothing but record-breaking revenue months... We always hear back from our rep within 10 to 15 minutes." Erika Schneider Co-Owner, A-TEMP Heating, Cooling, & Electrical

"Finally, a Marketing partner that I feel good about. One that has exceeded their promises and provided daily attention to our marketing channels...I couldn't be happier with my marketing strategies!" Dean Morgan Owner, Discount Service Electric
Learn More
How to get started with roofing marketing
Similar to starting a roofing project at a client's home, your marketing efforts need to have a solid foundation. That means starting with some of the key strategies in the marketing funnel that will drive the results you want home. Here is a breakdown of how to get started.
Is website development important?
For any type of home services, you need a well-maintained website for customers to view your work, find your prices and contact you for a quote. Roofing companies are no different. When you start your marketing journey, the first step is to take a look at your existing website. If you don't have one, now is the time to make it.
Your website needs to include vital information your customers will want to know about your roofing business. That includes who owns the company, what kind of licenses or certification do the technicians or company hold, who are your technicians, how do you stand out from your competitors.
You'll also want to include a full breakdown of the type of roofing services you provide. What kind of material customers can select from, where to get an online estimation, and what kind of warranties or guarantees you offer with each job. As you build your client list, request recommendations, and reviews that can be viewed on your site. Maintain your website by always having up-to-date information about the company, including contact information and services available.
What is search engine optimization?
Search Engine Optimization is a marketing technique where you use keyword targets on your website. The result? When people search for roofers near them, your site will be the first thing to show up on the results page.
Search Engine Optimization (SEO) may sound difficult to get a grasp on, but it can be very straightforward to get started. The most important point to remember is you want to answer roofing questions in your content. To start, make sure your location is correct on your site and your Google My Business page. Next, use common roofing terms in the content you put out (more about that later).
Finally, use online tools such as Google Analytics to find out what other roofing terms are popular to search for so you can make your SEO efforts a lot more targeted.
What is digital advertising?
Digital advertising is your way of taking an ad out in the paper or renting a billboard in a busy city, except half the price and customer reach is better. You've probably encountered dozens of digital ads and the day isn't even over yet.
Ads come in all shapes and sizes, but usually take the forms of social media ads, banners, popups, landing pages, emails, commercials, and so forth. Digital advertising gets your name out there and in front of the people looking for your services. Because your roofing business most likely deals with a local area, focused efforts such as Local Service ads can help you reach your target audience without the need for a big budget.
Do you need to worry about social media marketing?
Social media is an ideal place for roofers to show off their expertise (with pictures and videos), engage with their audience, educate the public to build brand trust, and spread your brand awareness around with little cost to the company.
Home services businesses have a unique advantage at being able to provide informative material for audiences to learn from. Consider starting a Youtube channel on how to care for your roof or fix common problems that don't require a technician or how to hang holiday lights. Or an Instagram account highlighting your crew and their best work.
No matter how you choose to engage your business on social media, make sure your brand language is consistent on all platforms. Consistency is key to getting people familiar with your business and that includes roofing companies like yours.
What is included with content marketing?
Content marketing is when your company puts out information or resources in the form of online material. If your website contains content such as eBooks, blog posts, newsletters, how-to guides, infographics, videos, podcast posts, or anything else that can be accessed online by the general public.
This is where your SEO keyword efforts will come into play. By having a content library, you're setting your website up to get more hits, more web traffic, and more features by search engines such as Google. Google's algorithms use crawling technology to find sources that answer search engine inquiries. If your website has a lot of information that meets the search criteria, your brand will be seen more often and established as an expert.
Your roofing company can meet the same criteria. As mentioned earlier in the social media marketing section, you can cover content that homeowners and businesses need to know about roofing. If there are common questions that customers are always asking, that can be the topic of a blog post or video. If you don't feel comfortable creating the content yourself,third-party experts can be brought in to help. With the help of content strategy, planning out your approach, and utilizing SEO keywords, you can develop a valuable content library that will put you ahead of your competitors.