Do you know what Google's Questions and Answers feature is?
If you don't, you're not alone...
More than 25% of businesses don't know about (and don't use) Google's Q&A Feature, which means they're not answering questions from current and potential customers on their Google My Business profile.
Why does that matter?
Because when questions from customers go unanswered on Google, the identity and health of your business gets put at-risk.
What Is Google's Questions & Answers Feature?
It's a question and answer tool for Google My Business profiles.
And it looks like this: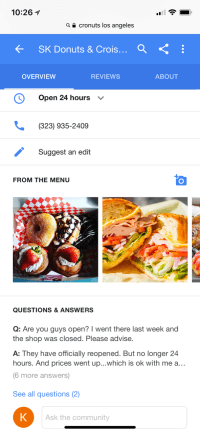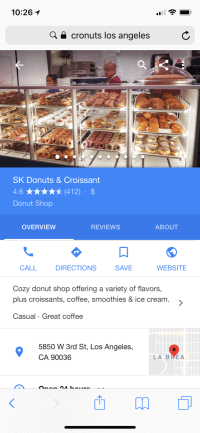 And Google users can ask your business a question directly, OR—and this is key—they can ask the Google community at large.
Ignore Google Q&A and You Will Lose Business
Imagine you're looking for a Donut Shop in Los Angeles that sells Cronuts.
You type in "Cronuts Los Angeles" into Google and a few donut shops pop up. You separate the well-reviewed shops from the bad (anything under four-stars gets vetoed) and you pick the best-reviewed location that's close to you.
You scan the pictures and they look great but alas, you don't see any cronuts.
You visit the shop's webpage to see if they have cronuts on their menu but you can't find them.
At this point you've got a decision to make:
Find another shop or ask and find out.
You call but can't get anyone on the phone.
So, you ask your question directly through the Question and Answer feature on Google.
"Do you sell cronuts?"
Ten minutes go by before a response comes in from a Google Local Guide.
Their answer?—a definitive "no."
Then another response comes in from a random Google user—"I don't think so."
One "no" and one "I don't know" is enough for you—you cross that donut shop off your list and start looking at other options.
But here's the rub...the donut shop actually sells cronuts!
In fact, they sell some of the best cronuts in all of Southern California.
Of course, you'll never know that, because the shop failed to respond to your question on Google Q&A...
This type of exchange happens all the time: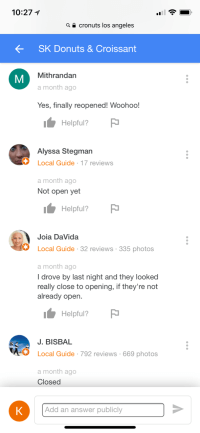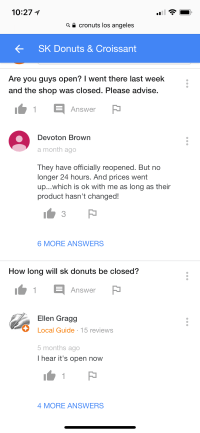 In fact, it's probably happening right now with your business, and it's costing you customers!
But that's not the worst part...
Random People Can Post Incorrect Information About Your Business
In the aforementioned example, a Google Local Guide and a random Google user claimed the donut shop it question did not sell cronuts.
But, as it turned out, the shop did sell cronuts.
How could two nameless individuals unaffiliated with the donut shop post incorrect information online about it?
Because Google allows them to.
People who've never been your customer…
People who are disgruntled with your business or spiteful…
Can leave reviews or post information that will carry as much weight as a review or post from someone who's your business' biggest fan.
Which is why it's vital to reply to questions about your business immediately.
If only replying was that easy...
Google doesn't make it easy to know when someone asks your business a question online.
Your Google My Business dashboard won't tell you.
The only way to tell when someone's asked a question on your business profile is to have Google Maps notifications set on an Android Phone or Tablet.
What if I don't have an Android device?
If you haven't already, claim your Google My Business profile. Do it now, we'll wait.

If you don't have an Android phone:

Set up a system to monitor your listing's questions on a consistent basis (at least once an hour if your business is popular locally).

OR

Hire an online reputation management company to monitor it for you—outsourcing this small (albeit important) task can be worth its weight in gold.
What do I do if I have an Android device?
Congratulations. You can monitor your business's engagement through the Google Maps app.

Download the Google Maps app

Find your business

Enable PUSH NOTIFICATIONS for updates and questions to your listing.
This will send any new questions or answers directly to your phone. You'll need to do this for multiple listings if you've got more than one location, and be careful with swiping away the pop-up notifications. If you miss them, you won't get another reminder.
Final Thoughts
Google's Questions and Answers feature is great for the user experience. It gives your prospective customers direct access to your business and greatly improves the overall customer service experience.
If you want to utilize this tool for max potential, you have to respond quickly and accurately. If you neglect it, you'll end up with strangers speaking for your business, and they won't always have your best interest at heart.
If you want to protect your business's brand image without wasting time on Google give us a call at (866) 344-8852 or visit us a Scorpion.co.