If you're a business owner, your goal is simple…
Get local customers through the door or on the phone.
But to get more local customers, you have to build stronger local connections.
How do you do that?
By building your fan base.
As a local business, the loyal fan is your ideal customer; someone who regularly engages with your business (by paying for your products or services), and talks about your company (your customer service, your product/service costs, your latest deals, etc.) with the local community.
Instead of trying to reinvent the wheel, take a long look at the business of professional sports—an industry that relies on the strength of its local connections like no other. Every day, pro sports franchises (and their marketing teams) work to not only attract new local fans, but keep their existing fans happy and engaged whether their favorite team is winning or losing.
Here are 5 things you can learn from pro sports teams about building stronger local connections.
1. Make it fun for customers to engage with your brand.
Ask your customers past and present to engage with your business in a fun, exciting, and entertaining way.
The Minnesota Vikings have an Instagram group where fans take pictures of Vikings helmets in the cities where the team is playing.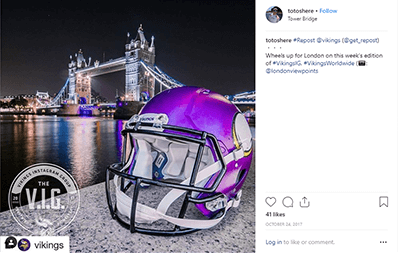 The Houston Rockets have their fans submit original artwork in a hashtag campaign called #FanArtFriday.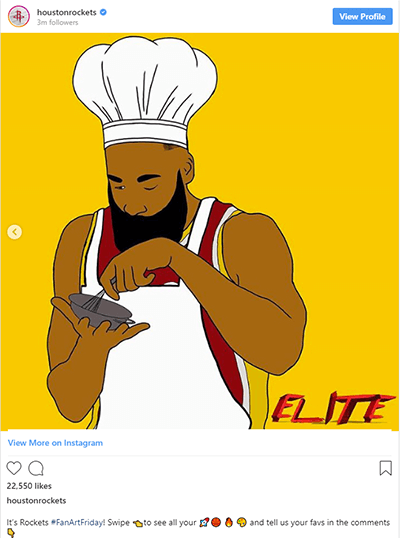 The point is to get creative, and more importantly, get your customers involved in the fun.
So, if you own a salon, ask your fans to submit a photo of their most creative hairstyle.
Or if you run a pet grooming business, create a contest for them to lip-sync "Who Let the Dogs Out?" and include a visible hashtag (#WhoLetTheDogsOutBattle).
…You get the idea, right?
2. Show a new side of your business
After each game, the Atlanta Hawks conduct Facebook live interviews with star players taking questions directly from fans, giving the members of the Atlanta community direct access to the team, building interest and loyalty at the same time.
As a business, your customers will often find what they don't know interesting, so give them a glance at what your job looks like behind the curtain by showing off how you test your products, all the details that go into creating a VIP customer experience, and other details about your day-to-day operations.
3. Be timely and topical
When it comes to timeliness, the Baltimore Ravens are in a league of their own. The team uses a real-time photo workflow to post in-game pictures to social media, a tactic that gives fans a deeper connection to the team and allows them to keep tabs on big plays, even when they aren't watching the game.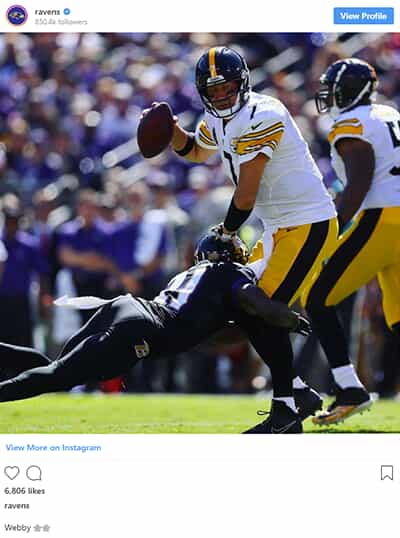 During the solar eclipse of 2017, the Cincinnati Reds, Colorado Rockies, and Cleveland Indians took full advantage of the eclipse talk and launched a GIF-based karaoke session involving Bonnie Tyler's 80s classic "Total Eclipse of the Heart."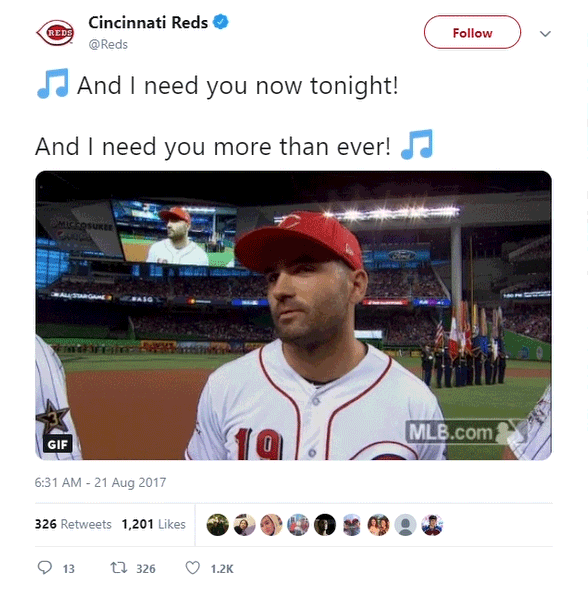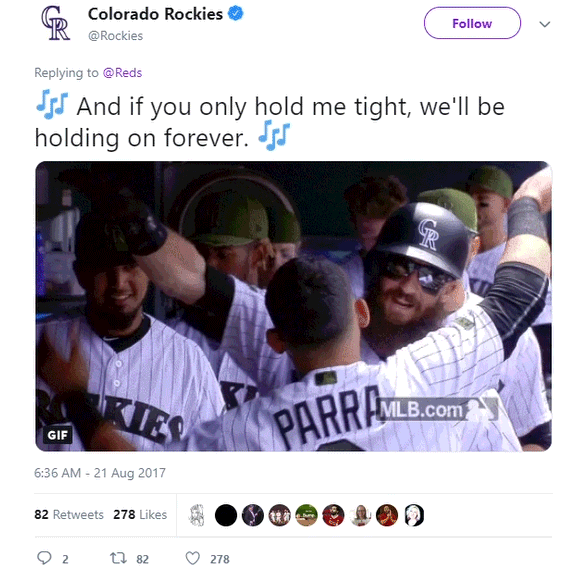 The bottom line is, if you want to draw attention to your business on social media (and build a stronger connection with the local community) you need to be timely and topical.
The things you post—blogs, images, videos, or quizzes—should be relevant to local or world events. Build off the momentum of what the local population is already talking about and make your business relatable.
Your goal is to join the conversation, not disrupt it, so try to avoid sounding like you're turning a current event into a sales pitch.
4. Stay aligned with your brand
How do you communicate with your customers? Are you playful and casual? Are you serious and informative? Whatever your business' personality, stick to it in your social media marketing.
The Portland Trail Blazers are hilarious and they know it. They joke around constantly on their Twitter page, sharing GIFs that bring their sense of humor into the spotlight.
The key takeaway here is authenticity.
Decide how you want your business to be portrayed, and stick with that brand tone and messaging. With a consistent brand image, customers will know what to expect, which will make it easier for them to connect with your business.
5. Have fun
Social media was created to entertain and engage. So, unless you're CNN, don't focus your social media posts strictly on news updates and advertisements. Be fun. Be innovative. Be different.
On January 5th, 2017, the Colorado Rockies challenged the Cincinnati Reds to a snowball fight.
Publicly.
On Twitter.
And when fans woke up that morning and checked their Twitter feed, they were given a humorous sparring session involving their favorite teams.
Here's what happened…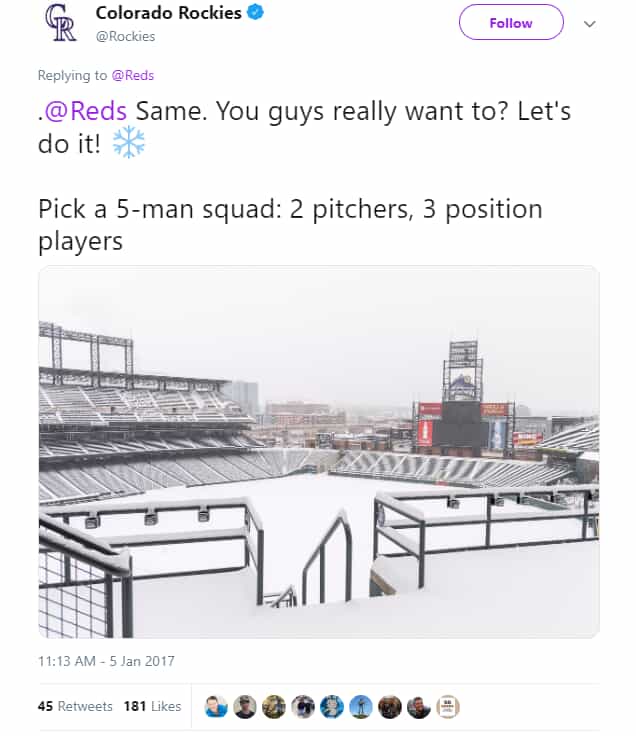 For another example of playful ribbing, look at the Carolina Panthers who took advantage of an Earth Day post by the Jacksonville Jaguars to poke a little fun at the team's expense.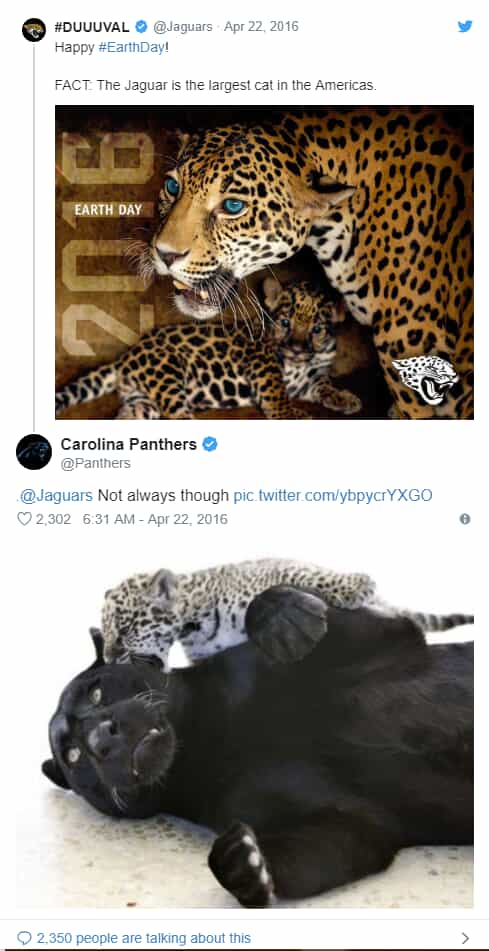 For your business, taking the time to add a little entertainment value can go a long way in capturing the attention and loyalty of customers.
So, feel free to offer a humorous take on your industry, create a contest for your social media followers to participate in, or show the personal side of your staff.
Remember, the goal isn't to get likes—it's to get customers to like your business enough to pick up the phone and call. If you can do that consistently, you'll create a dedicated local fan base.
Interested in getting more out of your current marketing strategy?
Call (866) 344-8852 or send us a message for more information.