Want to ensure you're one of the first law firms people find when they're searching Google?—Then you won't want to miss out on...
Local Services Ads (LSAs).
These ads are the #1 thing prospective clients see in Google's search results. They come before pay-per-click (PPC) ads, organic search results...EVERYTHING.
Here's what legal LSAs they look like: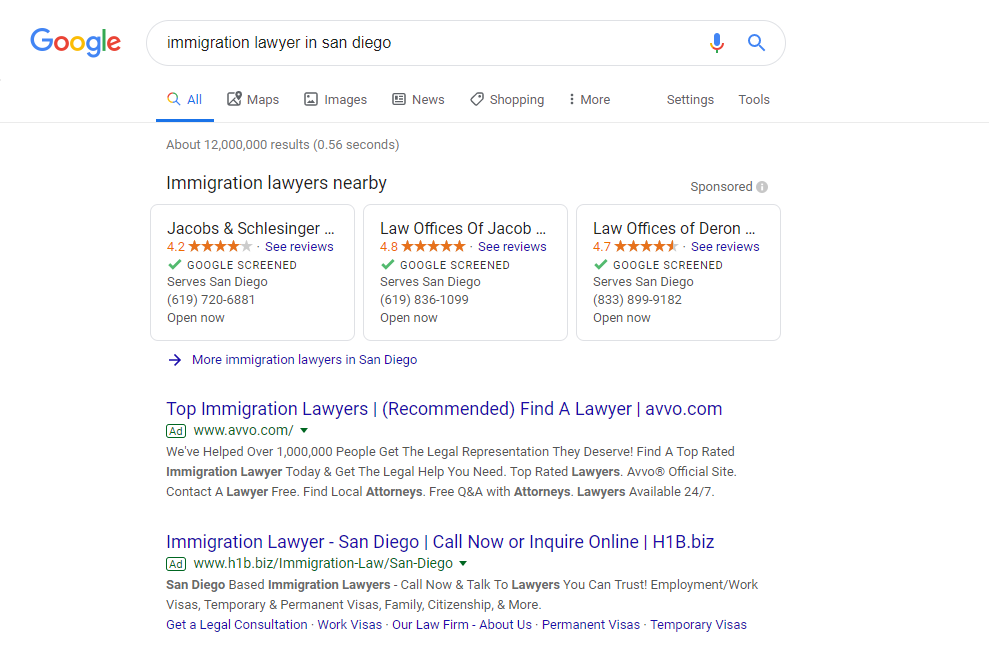 And here's what you need to know about these ads:
They're only available to law firms that have been pre-vetted and -verified by Google, and the ads will signify this status with a special "Google Screened" badge.
They lead to a page with helpful information people can use to assess a firm (services, verification of passed background checks, reviews, etc.), helping them decide if they want to call the practice.
With click-to-call functionality, prospects can contact the firm straight through the ad, making it easier for them to take action right then and there.
The law firm pays a flat fee for each call instead of each click, giving them greater control over their advertising costs and allowing them to pay only when they generate a lead.
LSAs a fast way to find a trusted, local attorney
Legal LSAs determine ad placement based on factors like proximity and online reputation in order to give potential clients access to the best attorneys in their area.
As Google rolls out this new advertising channel to more legal fields and markets, consumers across the nation will start viewing LSAs as a go-to resource for finding local attorneys they know they can trust.
Consumers have already been seeing LSAs for home services businesses over the past couple of years, so many people already identify them as a fast and easy way to find a reputable service provider.
Google's LSAs are currently only available to estate and immigration lawyers in San Diego and Houston, but this could quickly change in the near future!
Why your firm should act NOW
As the world's largest search engine and the leading platform law firms use to increase their visibility online, Google tends to launch advertising initiatives that become the golden standard for modern-day legal marketing.
As a result, thousands of attorneys will be jumping on this opportunity to maximize their exposure through LSAs—and you don't want your firm to get left behind.
If your law firm is already eligible for these types of ads, you should start your verification process with Google immediately so you can begin launching an LSA campaign and secure your firm's position at the top of the results page.
Or, if you aren't eligible yet, LSAs are at least worth looking into so you're ahead of the game when Google decides to expand the program to your practice area and local market.
Scorpion is a Local Services Partner, which means we're designated by Google to help law firms like yours get the ball rolling with LSAs. We're also a digital marketing agency that has specialized in law firm advertising for 18 years, so you can trust that we understand your industry.
If you want to know more about how your firm can generate more leads and new cases with LSAs, call us at (866) 344-8852 or message us here.