Who should your solar company be targeting: people who are just starting to learn about solar or educated consumers who are ready to make a purchase? It's a trick question. The answer is both.
While it is vital to get in front of consumers when they are actively searching for solar companies in their local areas, it is also important to be visible earlier in the game, when potential customers are just starting the beginning stages of their research. You never know what piece of educational content is going to push a consumer to action—such as a homeowner who was always on the fence about solar because of the misconception that it was too expensive.
Unfortunately, many companies only focus on the lowest-hanging fruit—consumers who are ready to make a purchasing decision. This leaves out a vast audience of consumers who may have converted into new customers, resulting in a major loss in potential revenue.
This is why it is so important for your solar company to have a presence at every level of the sales process. The sales funnel helps to identify different stages of the buyer's journey.
There are many interpretations of the sales funnel, but this basic version covers the essentials: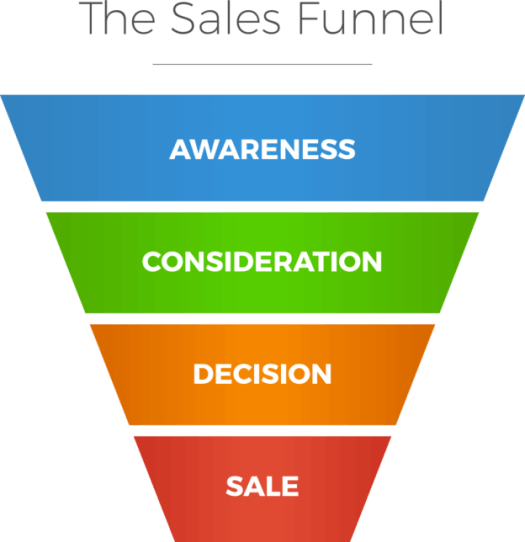 Awareness
At the top of the funnel exists potential customers who are at the very beginning stages of panel (or service) research. This is a broad audience, but their commitment level is low. At this stage, the prospect isn't interested in a hard sell—he or she just wants to know more about how solar works and is interested in having a few initial questions answered. An individual at this stage may not even be sure he or she wants solar and is using the research to make that decision.
This is the stage where educational content is vital. Think blog posts, articles, shared content on social media, and videos that break down the basics of solar. The key focus of this content is to educate your audience about what solar energy is, how it can address their needs (lower their utility bills), and what steps they need to take to get started(from the initial consultation to the installation of solar panels).
Expert Tip: In addition to optimizing your content with keywords related to solar panels and installations, you should use keywords that address your potential audience's needs and pain points. For example, a homeowner who is looking to cut down their energy costs might search for terms such as "lower utility bills" and "energy savings."
Consideration
Eventually, your prospects will get more serious about the buying decision. They'll start researching information that will aid them in the purchasing process, such as information about the different types of solar panels available and the types of rebates and incentives they can benefit from.
They will also start conducting online searches for specific solar products and companies in their local area. They'll browse through different vendors' websites, read product and company reviews, and even click on ads that catch their interest. If you're lucky, the potential customer will remember your solar business' name from previous content they read, and your company will be one of the first they consider.
Consumers who are in this stage are comparing their options, so it is important to give them specifics about your products and services and why they stand out from what is being offered by your competitors.
Decision
At this lower-funnel stage, the audience is smaller, but the commitment level is much higher, as the user has a higher intent to purchase. The prospect, in this case, will respond more easily to more direct, sales-focused marketing. For example, the prospect will be more likely to respond to offers for free quotes, consultations, and demos which can be provided through online ads, the company's website, the company's social media platforms, etc. In these scenarios, the potential customer wants the company to get straight to the point about what it is selling and what makes it better than the competition. This final stage leads to the point of purchase.
Is your solar business present at each level of the sales funnel?
Scorpion Can Help Your Solar Company Get the Sale
At Scorpion, we believe that companies like yours need a well-rounded solar marketing strategy so they can maximize their presence at each level of the sales funnel and the buyer's journey. This is why we provide our clients with a vast array of services, from content development and social media marketing to website design and paid search advertising. We work to help you educate your target audience and build your company's online reputation so you can make the best impression possible on potential customers, no matter where they are in the sales process.
Scorpion has a team of award-winning web designers and Internet marketing experts who are ready to help you take your business to the next level. We would love to talk with you about how Scorpion can improve your solar marketing initiatives and generate a higher volume of qualified leads. Don't hesitate to contact us for more information!