Your customers spend A LOT of time on their smartphones (an average of 17 hours a week to be exact), and they use those smartphones to surf the Internet more than they use computers or tablets.
Which means the mobile-readiness of your website (and your digital presence in general) is critical to the future of your home services business.
With that in mind, here are three things your home services business can do to get ahead in an age of constant connectivity…
Focus on smartphones and tablets first, then desktops
Did you know…
The average home services customer spends 5.9 hours a day browsing the web, scrolling through social media, watching videos, or playing games?
Or that 3.3 of those hours are spent exclusively on smartphones and tablets?
Google does.
More often than not, customers are looking at your website on a mobile device. That means if you want to capture more business, you'll need to optimize your website to emphasize viewing on these devices.
Recently, Google's taken a mobile-first approach when determining its rankings, which means to rank higher, you'll need to optimize your website to be mobile-responsive—i.e., Your website needs to look great and be functional if your customer accesses it on a smartphone or tablet.
If you don't, it could mean a significant decline in search rankings for your business and a reduction in leads overall.
Create messaging that speaks to explicit needs
Imagine this scenario:
It's Sunday, and a young mother is getting ready for a dinner party.
While busy in the kitchen, her 3-year-old son comes out of the bathroom crying—he's flushed Play-Doh down the toilet and the bathroom's flooding.
Panicked, she goes for the plunger. Nothing. Her guests are going to arrive in just a few hours and she needs a plumber NOW.
So, she does what any modern homeowner would do—she pulls out her phone and searches for a plumber...This is what she finds: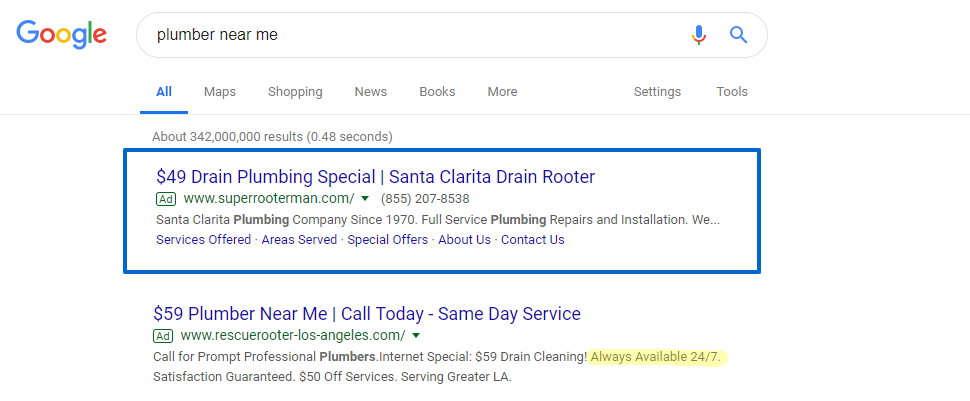 At the top of the page are two paid ads.
The first ad speaks to her location (i.e., Santa Clarita) but, doesn't speak about any immediate-response or 24/7 services, so she ignores it.
In the second ad, she spots what she's looking for:
24-hour service.
The second ad gives her a clear price and a promise of same-day service, so she goes with that company.
Build a digital presence that reflects the quality of your business
In the age of constant connection—where your customers may access your business through your website, directory listings, social media accounts, and other digital mediums—you want to make sure that everything customers find is an accurate representation of your business.
Does the contact information on your website match the contact information on your Yelp page?
Does your website look professional, reliable, and of high quality?
Does the logo on your company's Facebook page match the logo used on your company's website?
You want ALL aspects of your digital presence to be uniform in their depiction of your quality, service, and professionalism—that's how you create trust. If you can do that, it'll mean more jobs and revenue for your business.
In case you missed it, here are the other chapters from our blog series:
To learn MORE about changing consumer trends and marketing for home services businesses, be sure to REQUEST YOUR FREE COPY of The State of Internet Marketing 2019 book by clicking here.
Want to learn how to get more jobs and revenue for your business?