How customers find you…
Question 1: What do you research when you're looking for a mover?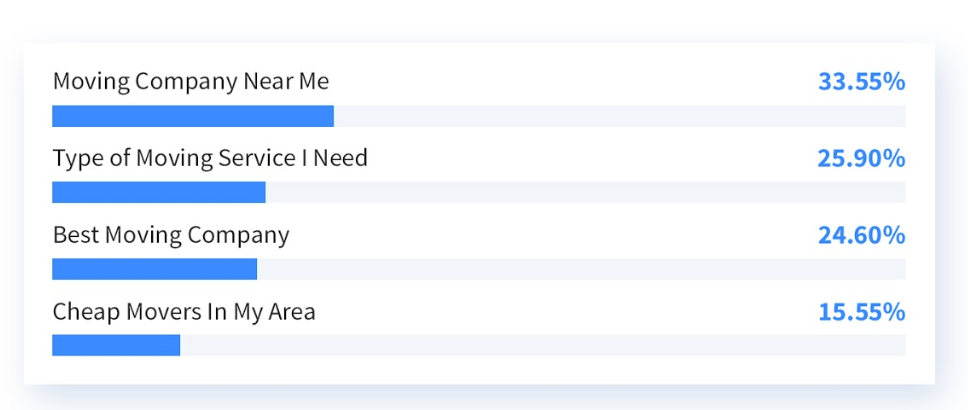 The Result:
Homeowners are predominantly looking for local moving companies—businesses operating inside and around their hometown—above all else.
The Takeaway:
Locality is important to customers.
They need to feel like a business is around the corner, even if it's not. They also want a qualified moving company that can deliver on the exact services they need, while maintaining a quality of work that's backed by social proof (considered "the best").
To capitalize on these expectations, use search engine optimization (SEO) and pay-per-click (PPC) advertising to hone in on keywords that touch on locality ("moving company in [city]"), service ("commercial moving"), and quality ("best moving company in [city]").
Question 2: If a mover says they'll contact you in an hour, do you call another company?

The Result:
More than half of potential customers will move on if a business can't get back to them soon enough.
The Takeaway:
Don't miss calls—doing so will cost jobs. Set up an in-house intake process that answers calls, qualifies them, and converts them into scheduled appointments. If there isn't an in-office assistant to facilitate this process, consider working with a professional call center service.
Question 3: What's the first thing you would look for on a mover's website?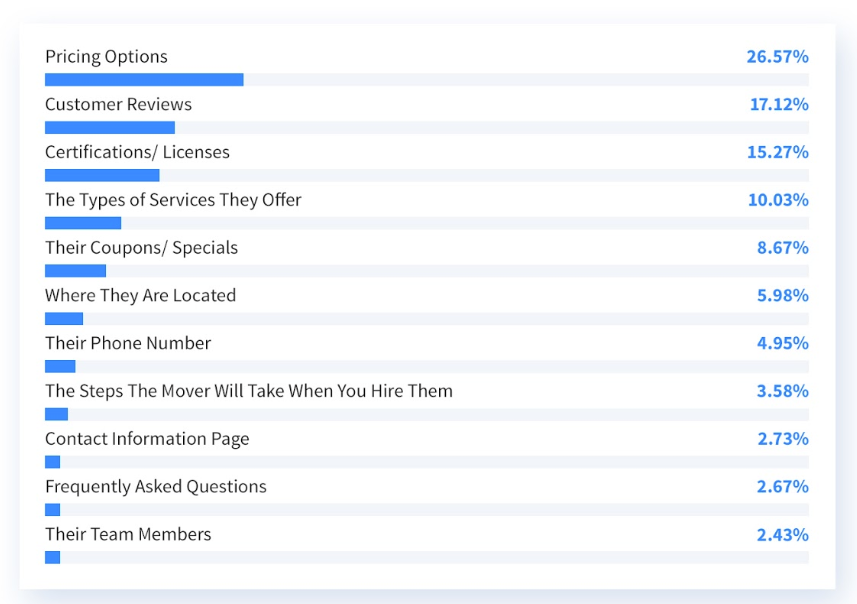 The Result:
For more than 26% of customers, visible pricing options hold significant influence, followed by customer reviews (17%), and business certifications/licenses (15%).
The Takeaway:
Don't hide prices. Be transparent and up-front, and if prices can't be posted directly, make it easy for customers to get a quote through call or email.
Question 4: How would you prefer to contact your mover?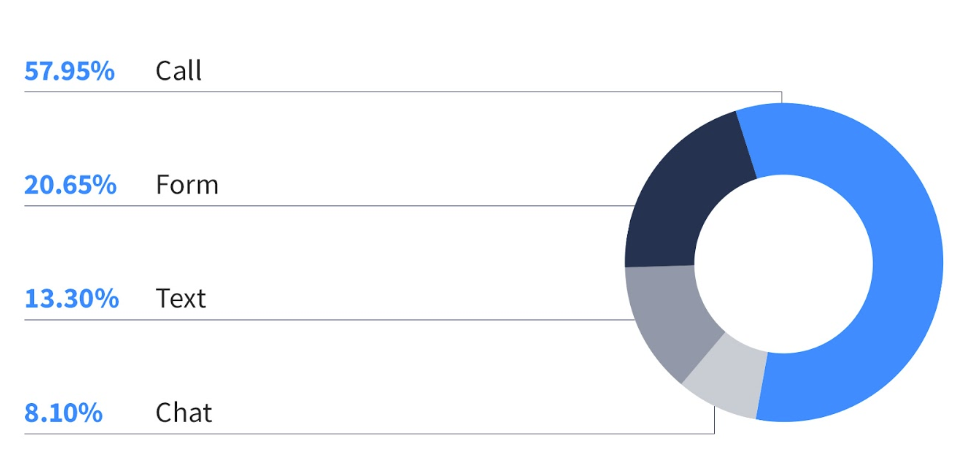 The Result:
58% of customers prefer to communicate by phone.
The Takeaway:
Display main contact numbers prominently throughout a website and optimize it for mobile to allow click-to-call actions. Make it easy for potential customers to call and business will soar.
Here's what customers like to see...
Question 5: What message theme would appeal to you most when searching for a mover?

The Result:
Nearly two-thirds of customers want to see a moving business that's licensed, insured, and reliable.
The Takeaway:
List all relevant licenses, insurance, and certifications. Provide testimonials from happy customers, and showcase work quality through well-crafted photography and video.
Question 6: If you had to choose one promotion, which one would you want?

The Result:
40% of customers want $50 off their next move.
The Takeaway:
Anything free or discounted will appeal to customers.
These offers not only attract more business but will help separate a moving business from its competition. When offering any type of deal or special, make it a prominent feature on the homepage and paid advertising campaigns.
Question 7: Of the following images, which one would appeal most to you on a moving company's website?

The Result:
The most appealing image on a moving website will be the movers themselves.
The Takeaway:
Give customers a look at staff members by creating employee bio pages, a picture of company trucks through hosted images, and happy families prominently displayed on the homepage. This attention to customer comfort inspires trust that leads customers to call.
Question 8: What is most important to you when hiring a moving company?

The Result:
When hiring a moving company, customers want:
Affordable pricing
Positive online reviews of the company
Service/damage guarantee policies
The Takeaway:
Customers want quality work at affordable prices. They want to know that their belongings will reach their destination in one piece and that if something gets damaged or lost, it'll be covered.
Question 9: How many moving companies would you contact and discuss your needs with before hiring one?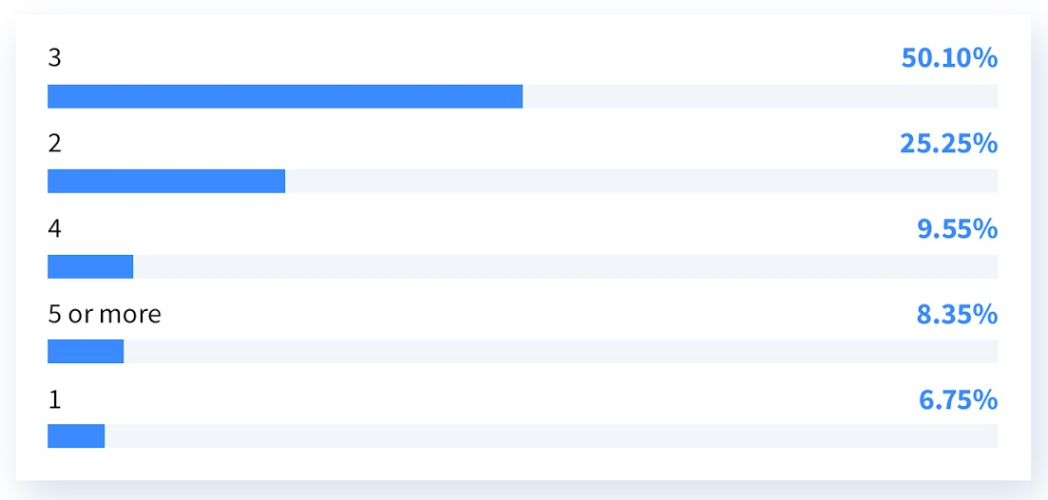 The Result:
50% of customers look at other moving companies before hiring one.
The Takeaway:
Moving competition is high, so, create a website that's visually superior to competitors. To accomplish this, a moving website should feature compelling images, videos, and copy that push visitors towards action: picking up the phone and calling.
This is what guides their final decision...
Question 10: What would sway you to hire one moving company over another?

The Result:
Price, professionalism, and service guarantees are critical to this consumer segment.
The Takeaway:
Web design should feature discount offers, licenses and certifications, and any other applicable work/damage guarantees to capture customer attention and inspire further action.

Question 11: What would prevent you from hiring a moving company?

The Result:
The largest obstacles to a customer doing business with a moving company are safety concerns and the cost of service.
The Takeaway:
To address the fear of damage or loss, leverage online reviews, and testimonials to create assurance and trust in prospects. To handle cost issues, feature discounts, and free offers while utilizing images of all staff, trucks, and previous work. These actions will promote the company's quality and service, and give customers the confidence to call.
If you're a moving company looking to pick up more job requests, you're in the right place.
Call (866) 616-0824 or reach out to us directly online for more information.