Are you struggling to get your medical practice ranking well in search engines like Google and Bing? If so, then it's time to revisit your search engine optimization (SEO) strategy.
When done right, SEO allows your website to appear in the top organic (unpaid) search results, making it more likely that people will visit your site and potentially become new patients. In turn, when your SEO is done incorrectly, your practice is difficult to find on the search engine results page and prospective patients see your competitors instead.
To help you uncover potential obstacles that are preventing your practice from getting the exposure it deserves, we decided to share the top three SEO mistakes we typically see within the medical industry, as well as what you can do to resolve those issues.
Mistake #1: Slow Page Speed
Did you know that most people are only willing to wait three seconds for a web page to load on their smartphone before they'll leave (or "bounce") to another site? And the more time it takes for your page to load, the probability of people leaving becomes higher and higher:
And not only that, page speed directly affects your rankings in online search. In 2018, Google adjusted its algorithm, officially making page speed a ranking factor for mobile search results. You can test your page speed using Google's PageSpeed Insights tool.
Combine this algorithm change with the fact that Google now uses mobile-first indexing (which means they now prioritize the mobile version of a website over the desktop version when evaluating sites), and your page speed is now more important than ever.
How to make your pages load faster
If you want to improve your rankings in organic search, you will need to increase your average page load time. There are numerous factors that go into page speed, but here are a few of the top tactics to consider:
Compress large files on your site
Optimize images to be in the right file size and format
Properly format and shorten the code on your site
Cut down the number of page redirects
Switch to a faster domain name system (DNS) provider
Make sure to find someone who has technical SEO expertise to assist you with your efforts in increasing your average speed index for your website.
Mistake #2: Website "Not Secure"
Have you ever visited a website and seen a browser warning that the site is "Not Secure"?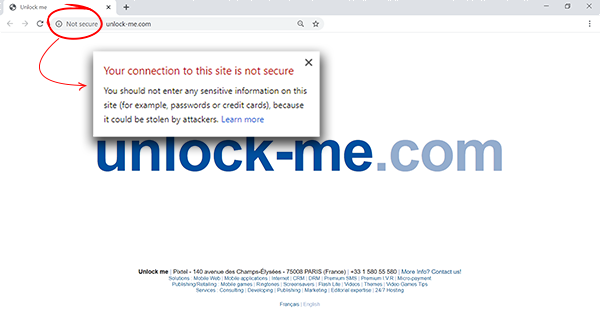 That's because the site does not have a secure connection. One of the most common indicators of a website having a secure connection is if the URL that appears at the top of the browser begins with "HTTPS" instead of "HTTP."
HTTPS ensures that data in transit between the web server and the browser are encrypted, ensuring that personal information transferred through the site is properly protected. (For those who care to know, HTTPS stands for "Hypertext Transfer Protocol Secure.") Google Chrome has become more proactive in rolling out these "Not Secure" warnings on non-HTTPS websites in recent years, which has created greater urgency for businesses (including medical practices) to buckle down on their website security.
So, what's the big deal about these warnings? First, they make your online visitors question the security and legitimacy of your website. One study found that 64% of people say they would leave a site instantly upon seeing a "Not Secure" warning, and 46% said that they would not enter their names or financial information into the site.
Second, your website security impacts your SEO. The presence of an HTTPS domain is actually a ranking signal for Google, which means it's another element that Google considers when deciding whether your website is reputable enough to feature in the top search results. Therefore, using encryption on your website is good for both visitors and your practice's visibility in online search.
How to make your website secure
To move your website over to HTTPS, you must obtain a Transport Layer Security (TLS) certificate for your domain. TLS is a security protocol that enables websites to transfer data securely between their servers and web browsers. With a TLS certificate, you demonstrate that your website is up-to-date on the latest standards of data encryption, therefore providing greater privacy and data security for your users. Once you have this certificate, the "Not Secure" warnings will no longer appear on your website.
Any company that you work with that builds and maintains your practice's website should be able to secure a TLS certificate on your behalf and be proactive in setting this up for you.
Mistake #3: Copied Content
When search engines like Google match their users with information on the Internet, they look for the most authoritative sources that offer fresh and original content. As a result, when those search engines come across content that appears to be copied from another page or website, this raises confusion (and sometimes even a red flag), which can negatively affect search rankings.
This is why duplicate content is problematic for your medical practice's website. Here are a few ways you can end up with copied content:
Whoever wrote your website content (whether that was a freelance writer, a marketing agency, or someone in-house) may have relied too heavily on other sites when referencing information, copying large chunks of text verbatim or nearly verbatim.
You or your marketing team may have double-dipped from your own content. Double-dipping is easy to do when you need to feature the same type of information on multiple pages or multiple websites that are owned by your practice (such as the About Us page on two different websites you own).
Your team wrote original content, but someone else copied from your website. While you can report those sites and take steps to get their content removed, it's usually faster and easier just to rewrite your pages.
Whether your content creators did these things intentionally or unintentionally, the fact is that duplicate content is a major problem for your practice because it can lower your search rankings and visibility in online search.
How to get rid of your copied content
If you want to correct the problem, you will first need to complete an audit of your site and identify all pages with duplicate content. (CopyScape is a great tool to use.) Once you have identified all the pages with copied content, make sure to rewrite them so they are original. 
Getting the help you need with your SEO
These are just a few of the many SEO issues your practice should avoid. With search engines like Google having more than 200 ranking factors, SEO is incredibly complex and therefore requires the expertise of a skilled professional.
If you want to learn more about how you can improve your search rankings and attract more patients to your practice, give us a call! We would be happy to answer any questions you have and provide some helpful insights wherever we can.