This is what happens every minute on the Internet: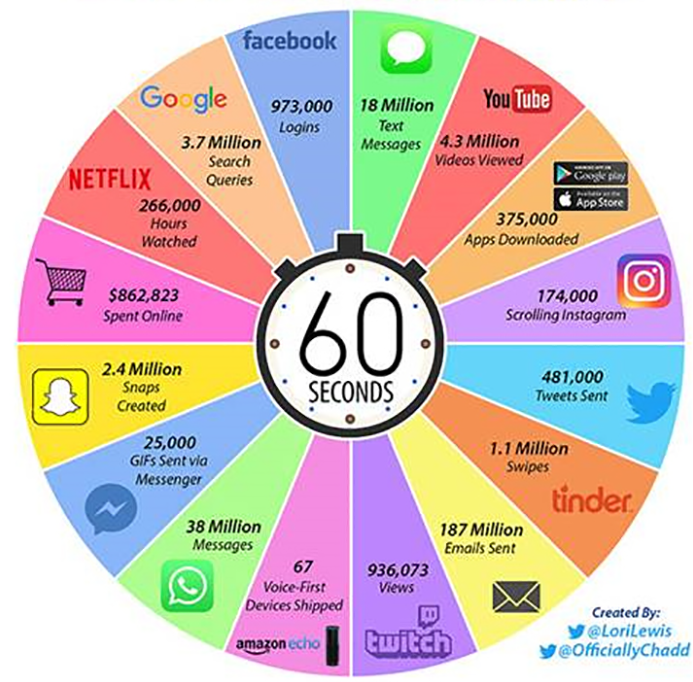 Here's why you should care:
Because this is where your customers live.
And if you want to reach them, you'll need to put your brand in front of them on as many platforms as possible then couple it with a strong and consistent message.
This is called "multichannel marketing." And today, it's used by every industry juggernaut from Nike to Apple as a leading approach to modern marketing and building brand awareness.
And given the fact that capturing consumer attention is harder now, and search engine pay-per-click ads are becoming more competitive and expensive than ever before, multichannel marketing is more than good practice, it's an outright necessity for franchise businesses looking to thrive and expand.
Thankfully, it doesn't take much to get started, so, here are the 8 Essential Tactics to Expand Your Franchise Marketing Success...
1. A Well-Crafted and Modern Site
Rogue sites are the ENEMY of a seamless franchise experience, which is why (and if there's one core rule in multichannel marketing it's this) a franchise must have a unified website from the main corporate site down to each individual franchisee location because doing so is the only way to maintain brand integrity and a singular customer experience.
Here are a few questions to consider:
Is your website mobile-responsive?
Is it linked in/to your social media platforms?
Is it functional in design and inspire on-page conversion?
As the primary piece of your multichannel marketing strategy, your website should be helpful in the information it provides, and give your visitors the ease to make contact with you directly.
2. Content Marketing
Content marketing is critical for one reason above all—it keeps your franchise top-of-mind with consumers.
By delivering high-value content to consumers free of charge, franchises cement their authority as industry experts and thought leaders—authority that leads to more sales long-term. In sharing content, be sure to utilize platforms like Instagram and Facebook, as they can add dramatic visibility to your content and your brand.
3. Local Awareness Campaign
Locality is everything when we're talking about brick and mortar sales. Your customers need to know that you're not just the best option, but also the closest. To accomplish this, leverage social platforms like the Google Display Network (GDN), YouTube, and Gmail, to deliver branded ads that are targeted to specific geographic regions (for example, a city or neighborhood). This will keep your brand top of mind of prospective customers and on the platforms they frequent most.
4. Online Reputation Management
When 97% of consumers read reviews, you know they're a big deal. If you want to encourage new business while maintaining the integrity of your brand, setting up a vigilant online reputation management system is key. Not only will proactive monitoring help you avoid negative marks on your brand's record, but will foster greater customer service as you simultaneously champion your biggest supporters and convert your harshest critics.
5. Facebook Advertising
Facebook is the most dominant social media platform in the world. And if you want to get your brand in front of a highly specific audience, Facebook and its ad targeting options are second to none. With Facebook, you're positioning your brand right where your customers are most attentive, engaged, and comfortable—and bonus: the average user spends nearly an hour a day on it.
6. Gmail Targeting
Gmail is the most popular email service on the planet. Which makes it one of the best places to put your brand if you know to take advantage of Gmail targeting. Leveraging its new "Promotions" tab within its desktop inbox view, the ad delivery platform allows you to send emails directly to the inbox of Google account holders who are filtered based on their Internet activity—all without needing your prospective customer's emails.
7. Remarketing
Have you ever looked for a product on Amazon, found it, added it to your wish-list, then left the site, only to see an ad for the same product pop up on a different website? That's remarketing. In the case of Amazon, they've placed a highly specific cookie in your browser that will remind you about the product and continue to keep it top-of-mind..
Depending on the purchase, sometimes we need to be exposed to a brand multiple times in order to feel the self-assurance that it's okay to buy. Not only will remarketing work to create multiple touch points for your brand, but it'll help boost sales while keeping your brand top of mind in new prospects.
8. Pay-Per-Click Advertising
A classic. A tried and true arm of multichannel marketing and general brand awareness. Pay-per-click advertising (PPC) is still the most direct door to customers looking for your product or service NOW. It's a pass to the front of the line in digital search and a pipeline of high-intent searchers that are being shown your franchise's ad on the first page of Google—and often at the very top. The key to remember here is that whether your prospects are actively clicking through your ad or not, they're still seeing it. And when it comes to top-of-the-page visibility in Google search, beating that kind of brand exposure is a heck of a tall order.