Google's latest updates have changed how local services ads (LSA) are displayed and ranked, paving the way for businesses to leverage message leads.
As a result of these changes, Scorpion has introduced new functionality that allows for the activation of message leads within LSAs for its clients. With this new solution, Scorpion clients can maintain a competitive edge in the evolving LSA landscape and have an advantage in promptly responding to prospects and customers.
Updates to Google Local Services Ads
Google has recently made some changes to its LSAs that are worth exploring. These updates have significant implications for businesses that rely on LSAs to attract customers. Here are a few ways Google's latest changes may impact your business.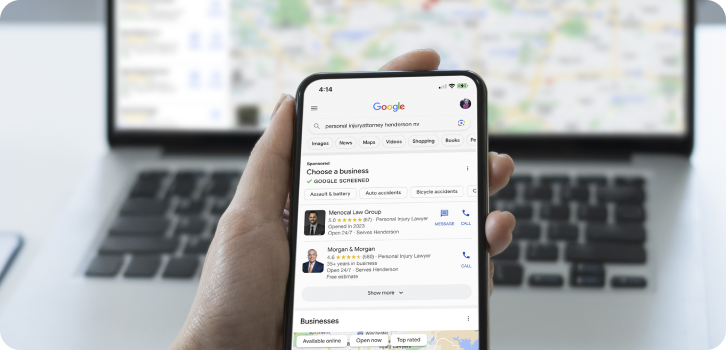 Fewer LSA Results Appear to Searchers
One of the most notable changes that Google has made is reducing the number of results that appear on search engine result pages (SERPs). Previously, over 50 LSA results would be displayed. However, now only 20 results are shown.
This is a significant reduction and may have a big impact on how your business attracts customers.
So why the change? Google is prioritizing companies that offer message leads; or in other words, businesses that communicate with potential customers through messaging will have the advantage over competitors.
Additionally, Google is encouraging consumers to connect with more than one business in their search. While that gives customers expanded options, standing out among your competitors is more important than ever before. Implementing effective marketing strategies will be crucial in order to stay ahead of the competition and attract potential customers.
Fewer "Top Listings" Will Appear for Searchers
Turns out Google agrees that three's a crowd. Businesses have an even slimmer chance of ranking in the Local 3-pack now that it's been reduced to a 2-pack. This change is currently being tested by Google but is expected to become a standard in the near future.
As Google continues to make changes and test new features, it will be important for your business to stay updated and adapt your marketing strategies accordingly. That's where a team of experts like Scorpion can make a difference. We help you stay informed and implement effective strategies so that businesses like yours can continue to benefit from Google's Local Services Ads.
Get A Competitive Edge in Digital Marketing
Scorpion's clients can now benefit from faster response times as all communication threads are consolidated within the Communications Suite platform. This provides a unified view for each potential lead, making it easier for your business to manage interactions with interested customers.
Additionally, Scorpion's new solution boosts responsiveness scores for clients by sending an auto-response to any message leads they receive. This helps increase LSA exposure since consumers searching on Google will be able to see average response times displayed as part of the ad.
Google ratings aren't the only reason a business should adopt a quick response time. A recent study has shown that leads are 100 times more likely to respond and 21 times more likely to convert when they are contacted within five minutes. The Communications Suite guarantees immediate contact with your leads, which can be life-changing for your business.
Once the initial response is shared, incoming leads are then directed to Scorpion's Communications Suite, where clients will be notified of the interaction and can continue the conversation and optimize lead flow.
Even better, the Communications Suite was designed with the small business owners in mind. Not only is it capable of tackling the hurdles this latest LSA update may bring to your business growth, but it also provides a way to streamline all your communication channels in one accessible location. This eliminates the need to log in to multiple dashboards and enables you to efficiently manage various forms of communication, including texts, emails, phone calls, chats, reviews, and even appointment requests. You can also directly message leads through your LSAs using this powerful suite.

For one home services business owner, the Communications Suite has been invaluable.
"It has allowed me to stay in touch with contacts because everyone can communicate in one spot. We can have a whole chat exchange back and forth without playing phone tag, and I can get so much more accomplished each day." 
At Scorpion, we stay up-to-date and ahead of the constantly changing digital landscape so you can stay ahead of your competition. Contact us today to get started and learn more about how Scorpion can help you.