Download Now: Free Business Plan Template
‌The first step of being a business owner and creating a company is to develop a comprehensive business plan. We aren't talking about your doodles of growth that you scribbled on a napkin or thought about while mowing the lawn, but an actual written out plan to build on. A business plan that outlines how it will operate, as well as what overarching goals will guide its growth in the future. Building one from the ground up requires focus, patience, and careful foresight. What's more, those that are well-crafted should provide a thorough summary of the products or services you intend to sell, the demographic you're targeting, and your expected profit margins. This may also include benchmarks you hope to meet along with the estimated timelines to achieve these goals.
‌Putting together a good business plan now will be a foundational piece for you to refer back to during challenging times and to build on when you are growing. Additionally, an attractive and complete business plan can help to grow your business with money from a bank or an outside investor and to better reach your target market.
‌In this article, we'll review some key components to any successful business plan to help you create a detailed model of your company. We'll also examine a few sample business plans that can take a lot of guesswork out of the equation.
What is a Business Plan?
A business plan can help shape who you are and how you grow
A business plan is a written summary of how you want to run your company and what goals you have to help you get there. While banks and other potential investors in your business rely on reviewing them to decide whether they want to give you money for growth or not, they can also help the owners of a company define their vision and objectives. While their contents vary with some people preferring to do a SWOT analysis (strengths, weaknesses, opportunities, threats), they typically include the following 4 sections.
Business Plan Executive Summary
‌The cornerstone of any business plan is an executive summary section that touches on the basics of your company. Essentially, it explains what products or services you will provide, the customers your company will serve, and the overall goals of your business. This is the first thing anyone you decide to share it with will see, so take your time to make this section truly engaging and unique.
‌Ideal Customers and Competition
This section is used to clearly describe how your products or services will fulfill the needs of a specific customer and community. Go into detail regarding how the business you are focusing on has changed over time and what unique offering sets your business apart. Other information included here should cover your projected market share and the kind of competition you expect to face. Explain what makes your business different from others in your industry and why customers will choose your products or services instead of someone else's.
You can also include a market analysis in this part to really understand what you are up against when it comes to getting new customers and growing your business with your marketing plan and financial plan.
‌Marketing Plan
Marketing strategy is a key piece of any business plan
‌Here, you'll want to decide how you intend to reach your customers through social media, content marketing, advertising, and other forms of marketing. The marketing section of your business plan should have clear, achievable goals. Depending on your current size of business, those could be as simple as getting a website up all the way down to how much web traffic and leads you want each month. goals This portion is also an excellent place to examine marketing trends in your business area, including examples of brands you may want to become, or how you want to talk with your customers in your marketing.
A marketing plan should include several pieces of marketing strategy including;
Google My Business Profile
Your Google My Business profile is where you highlight how to find your company and what you do. It will show up in the Google search engine when people look for services like yours. It will also be where people will see Google reviews of your business. It's important to keep your Google My Business up to date and to always be responding to reviews. Having a good customer experience as a part of your business plan will ensure that people see your business is trustworthy and worth calling.
Search Engine Optimization (SEO)
A long-term investment for your marketing plan is SEO. Chances are high you have either heard of SEO from someone or are already investing money here. It can definitely feel like a black box at times, mostly because it doesn't usually show immediate leads or revenue. At the heart of SEO strategy is continually creating content for a blog on your website or adding pages to your website that are focused around keywords that people search for. It can be complicated and take some time, so worth looking at partners like Scorpion to help you with SEO.
Website Management
Your website is the center of your marketing for your business plan. Its important to have the right website management plan to keep things moving in the right direction. At a bare minimum you should have a nice website design and have multiple ways that people can contact you. There are also great tools like livechat and online scheduling that may be worth investing in.
Paid Advertising
There are a lot of places that you can invest time in paid advertising for your business plan. It can also be a key source of immediate lead generation for your business. It can definitely be complicated. If you want to learn more about strategies for paid advertising, check out this paid advertising guide that you can bring into your business plan.
‌Financial Summary
‌Another important piece of any business plan is a thorough financial summary of all expenses and income related to your company. If you are an existing business you may already be tracking a lot of this information and can write down some of this. If you are a new business than it may be broken into money you have personally, from family/friends, or from a bank to start your business and how you expect to spend that to grow. The financial portion is especially relevant for banks or other people who may want to invest money to help grow your business. If you have an existing business and are looking to grow, potential banks or investors will look at several key areas in your financial summary, including:
Projected income
Projected expenses
Debt-to-income ratio
Money coming in
Desired form of financing (bank, outside investor, family/friends)
Income statement
Financial forecast
Cash flow statements‌
‌Many business plans divide these 4 sections into further-defined categories that cover topics of interest like business structure, market opportunity, or long-term objectives. The plan will change depending on your business and goals. Once it's completed, it should create a definitive picture of your company from top to bottom, leaving very little up to the imagination.
Don't forget to update!
Many businesses will review plans in quarters or smaller bite size pieces vs. a whole year. It can be good to setup quarterly goals associated with your key business initiatives to make it stronger and make adjustments. You may find that some strategies aren't working and need a new view. 
Having small goals associated with your plan and reviewing those goals often (and the data that comes with it) will set you up for long term business plan success. 
How to Build a Successful Business Plan
Before you get started on your own business plan, let's go over a couple of tips on how to build a business plan that sets your company up for success. Remember that the goal of your business plan is usually to secure funding and come up with the strategy necessary to get started.
The main thing investors will do is look for holes in your plan. They want a bulletproof plan for success (or as bulletproof as it can get). This means you need to be as detailed as possible. Answer any questions an investor might have. Look at every area that could fail and come up with different plans and strategies for how your business would survive. The main goal is to have a solid foundation for operating your business.
Next, be sure you address your unique value proposition. Why is your company different than competitors? How will you position your brand in the industry? If you don't know your target audience and why people will buy from you instead of a competitor, then your business plan won't be successful.
Your business plan will explain why your business is a good idea both strategically in the industry and financially. The goal is to legitimize your company before getting started.
‌To save time with your business plan, it may help to use a template from various online sources. Many are available online that allow you to create what you want with minimal effort. Here are 11 of the best examples for 2023. 
‌‌Business Plan Examples and Templates
Using a business plan template can help you do more
It can be overwhelming to think of building a plan from scratch. Thankfully, You can find several ready-made templates for restaurants, repair stores, bars, and hotels at the Business Plan Shop. They're simple and easy to customize to your liking as well. Once completed, you can download them to a Word document or PDF file. While these business plan example templates are available free of charge during a 7-day trial period, the website requires a subscription fee for continued use.


‌There are over 100 different business plan templates available at Upmetrics, each specially crafted for industries like restaurants, retail stores, media companies, or healthcare providers. Within every category are numerous subcategories to further refine your plan so as to meet your needs. They also come prefilled with information depicting a fictional company that's easy to edit and download in PDF format.


Like the previous example, Venngage offers numerous samples with information about a fictional company for reference. To cover the basics, try the simple business plan example. It includes engaging graphics between sections to separate walls of text. This is easily adaptable to suit virtually any business across a range of industries.‌


‌‌The Small Business Administration provides a comprehensive guide for crafting a traditional business plan which explains every step of the process. You can download a template of a finished fictional example as a Word document so you can see how it's done. Just rewrite the content in each section to suit your industry, business model, and goals.‌


‌This template from Score is perfect for new companies entering the marketplace. It's available to download as a Word document, and it also comes with insightful tips for writing content in each section. Its concise organizational structure makes it very user-friendly and easily adaptable to many industries.‌


‌‌This instructive guide offers a wealth of insights that can help you write the perfect business plan. Review42 outlines the essential elements and provides tips to ease the challenge of the task. The guide also describes 7 different plan formats — one-page, strategic, and internal business plans are some examples.


‌LawDepot's easy-to-use business plan generator offers a faster, easier way to put your plan on paper. To begin building your plan from the ground up, select the appropriate industry category for your business and follow the provided steps. After filling out each section, LawDepot will provide a draft that you can download or print directly from the website.
7. Growthink's Business Plan Template


‌Growthink has an enormous amount of information that dives deeper into each section of a professional business plan. Their free PDF template organizes its structure, thus allowing you to fill in the blanks as needed. Additional customizable features and design elements are also available at an additional cost.


‌Several free templates are available from Jotform that include engaging graphics and color schemes. They cover every topic imaginable, ranging from a simple one-page business plan to creative briefs, strategic plans, and more. Aside from the numerous examples that are offered, Jotform also provides access to an enormous amount of tools and resources that can help any small business or startup hit the ground running.‌


This free template by PandaDoc is one of the more popular options available today. In it, you'll find several tips to help guide you through the entire process. PandaDoc's template also includes instructions for using Excel to create informative graphics to accompany your business plan's text.‌
Another valuable and free resource for small businesses is HubSpot, a helpful website where you can find templates like this simple one-page business plan. They include easy-to-follow instructions in each section. Once you're done, simply download the document to a Word document or PDF file. This template also makes it easy to add your own unique touch with logos or brand-specific images.
BONUS: Scorpion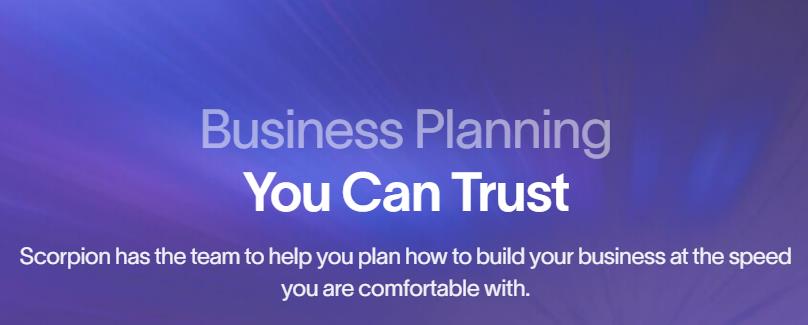 ‌If you're struggling to write the perfect business plan, our experienced team at Scorpion can help. We will work with you to create the perfect business plan to reach your target customer. We have considerable experience providing top-tier marketing solutions for law firms, franchises, healthcare providers, and even home services. Our team and technology will help you create a plan and produce the marketing to create growth for your business. Contact us today to learn more about how Scorpion can help your business thrive.
Let's talk about business planning. Schedule a consultation. Talk To Us