As a partner to some of the largest personal injury law firms in America, Scorpion has helped generate hundreds of thousands of cases. We manage hundreds of millions of dollars in advertising and work with some of the best attorneys on earth. With our experience, we know what works—and what doesn't—when improving your firm's marketing. If you want to improve the quality of cases you get or want to increase the number of cases, we've put together a few helpful tips from our experience doing this every single day.
Here are the top 10 things you can do to improve your online case generation:
1) Develop a focused strategy.
Define the types of cases you want to get and where your future clients will most likely come from (geographically) to ensure your efforts are targeted and effective. Many firms try to "boil the ocean" when it comes to their marketing; without a substantial budget, they are often not boiling much.
Focus on the cases that matter to you in the areas you believe you can win. If you don't have a large budget, your geographic target strategy is easy. It's your local area (aka your backyard).
Win there first.
Then expand.
Each firm's goals are different, so take the time to think about what you can win and why.
Ultimately, the key to developing a successful strategy is to focus on where you can succeed, whether that's a particular type of case or a specific geographic area, and align your marketing efforts accordingly. By doing so, you can maximize your return on investment and achieve your desired outcomes.
2) Optimize your intake process.
Sometimes, the difference between winning and losing comes down to who answers the call when a potential new client reaches out to your firm for the first time. Show them compassion, be caring, and schedule a consultation as quickly as possible. Don't make them wait on hold too long.
It's important to remember that many potential new clients have never hired a lawyer before. They don't know what to expect. They probably don't understand contingency fees.
They will feel intimidated, so your firm needs to step in and guide them.
It's essential to take the time to hear them out and assess whether they will be a good fit for your firm. Law firms often receive reviews (mostly negative) based on the receptionist's performance alone, so don't underestimate the importance of this position and treat it with respect. This person (or team!) is often the difference between winning and losing. It has a massive impact on the client's likelihood of choosing your firm.
The best firms have their intake process dialed in.
What can you do to make sure yours is dialed in too?
Take the time to listen to calls and provide feedback to your team.
You likely have an idea of how ideal intake works—how to talk to people, how to ask questions, how to show that you care, and how to sell the value of the great attorneys that work there. Evaluate whether your intake meets that high standard. If not, spend the time making it better. It's worth every cent.
3) Deliver great client experiences.
Strive to keep your clients informed, be accessible, and provide a positive experience. The happier your clients are, the more likely they will refer you to others and leave positive reviews.
(Great paralegals make a world of difference regarding client experience!)
In the world of personal injury, where the cost to market can be high, you want to invest in the clients you have. Let them share their stories with the world. You can do this by making them feel in the know and ensuring they're cared for. When you deliver results, they should want to tell everyone about you.
You can always ask your clients about their experience to find ways to improve. If you're open to improving your next client's experience, you'll learn a lot of valuable information from existing clients.
4) Use professional photography.
We've all seen them on personal injury attorney websites: stock photography that doesn't showcase the unique attributes of your firm or low-quality, bad photography that doesn't present it in the best light.
Although it may be cheaper, is it worth the risk of losing a case?
When hiring a firm, people want to "get to know" the attorneys. Attorney bio pages are frequently visited to learn more about who will represent them. Investing in high-quality photography for your firm can provide a glimpse into who you and your attorneys are, allowing potential clients to see why your firm is the right choice. Showcasing your firm through professional photography is a worthwhile investment.
This shows you care about quality. It's one of your firm brand's first touches for potential new clients.
5) Have a great, constantly updated website.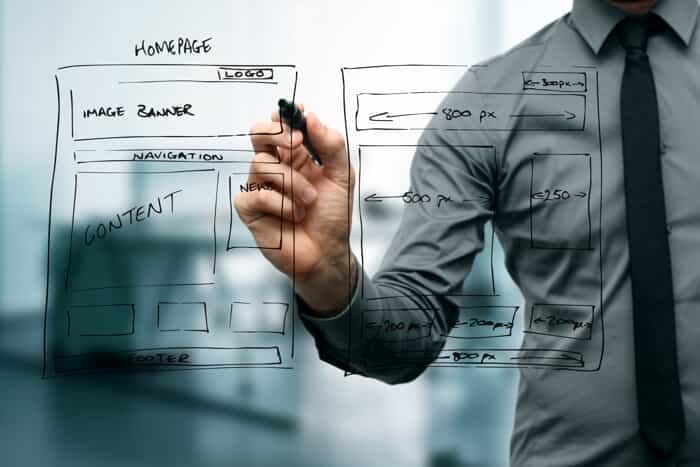 Your website should be fast, easy to use, and contain all the information potential clients need. It should talk about the cases you handle and sell the reasons why you are the right firm.
It should be clear about your focus and the areas you serve.
Don't build your website and stop though!
You should update your website with information on the cases you're winning and create news stories that journalists can pick up. In addition, you're likely doing something in the community—whether giving back, sponsoring a little league team, or being featured in a local magazine. Include that on the website.
Our advice? Think about your website as having a pulse. You want to ensure that the last time you tried to say what was happening at the firm wasn't 5 years ago. You're doing great things every day. Share it!
Part of having a great, updated website is keeping it fresh from a tech perspective. You absolutely have to take advantage of the latest technology, the latest best practices, and the recommendations that search engines make to improve your ranking. Things change online, which is why you should be putting out a fresh, new website every 24 to 36 months. Keep it fresh so you can stay relevant.
6) Ensure your great website loads fast.
With more people visiting your site on their phones than ever, your website must be optimized for mobile. It has to load quickly. That's non-negotiable. Visit your website on your phone right now and see what your experience is like. If it is fast and great, that's what you are looking for! As mentioned above, refreshing your website every 24-36 months will help you take advantage of new technology to keep your site fast.
As a note, you also want to avoid installing too many scripts that slow down your website. Similarly, you want to avoid having large images or videos that aren't adequately optimized on the site. These are also technical best practices you'll need to follow to ensure your website is safe and secure.
You will want to keep all of this in mind to have a website that continues to perform.
7) Offer multiple communication channels.
Allow potential clients to reach you through various ways—such as chatting with you online, texting your firm, sending an email, or even scheduling an appointment online. Make it easy for them to reach you however they feel most comfortable, which will, in turn, help you improve the number of leads you receive.
Nearly all your clients have a cell phone and use social media or text messaging. If you think they're too old to text, what about the kids who are likely doing the research for their parents?
The simple truth is the world is used to the convenience of technology like Postmates, Uber, and OpenTable. (If you've never tried them for some amazing reason, you should.) With an overwhelming majority of people who are used to getting things on demand, you want to get your firm to a place where it's easy for clients to communicate with you—especially when they're looking to hire a lawyer.
8) Invest in video.
Video is one of the best sales tools on earth for personal injury law firms. Use it to tell your firm's story, build trust, and showcase why your firm is the right choice. The best firms all use it. So can you.
You can use video to tell your firm's story, talk about your expertise, and give potential clients a glimpse into why your firm chose personal injury in the first place. If you want to take it to the next level, also have videos that explain the process after specific types of accidents or have individual attorney profile videos.
You're proud of your firm. So is your staff. On top of video being a massive part of your brand, it's how you can consistently tell that story. Bring it to everyone and share it everywhere. From your website to social media to YouTube. Video has many uses and is far less expensive than running paid search advertising.
While a picture is worth 1,000 words, a video is millions of pictures.
Nothing has more impact.
9) Highlight your case results.
Surface your wins and showcase the clients you've helped! People want to see that you've done it before, and sharing your results can help build trust and credibility with potential clients. We know that there are some instances where you can't share all the details, but there are ways you can show those successes without sharing too much.
It can also be powerful for potential clients to see stats about your overall successes too if you don't want to list them out case by case. Testimonials are also a powerful way to showcase your results. Make sure you consult your state's ethics rules to make sure you're using testimonials correctly.
10) Leverage social media.
Social media can be a powerful tool for personal injury firms, allowing you to tell your story to people in your local area and celebrate your wins. Ensure your social presence tells the right story and showcases your expertise.
Building a social media presence doesn't have to be a giant task. If you don't have a social media presence now, you'll want to find out which platform your ideal clients use the most. Facebook is a safe place to start. From there, you can post frequently asked questions, employee spotlights, notable wins, and more so potential clients can learn more about you. Use social media to build trust, engage with your audience, and build your brand online.
By implementing even just a few of these, you can improve your personal injury firm's marketing and generate more cases. It may take some investment and effort, but the payoff will be worth it.