SEO
Everything We Know About Google's $50 GMB Listing Upgrade
Last week Google quietly prompted some GMB listing managers to upgrade their profiles for $50 per month. The feature first surfaced publicly in a Tweet from Google My Business Product Expert Tom Waddington: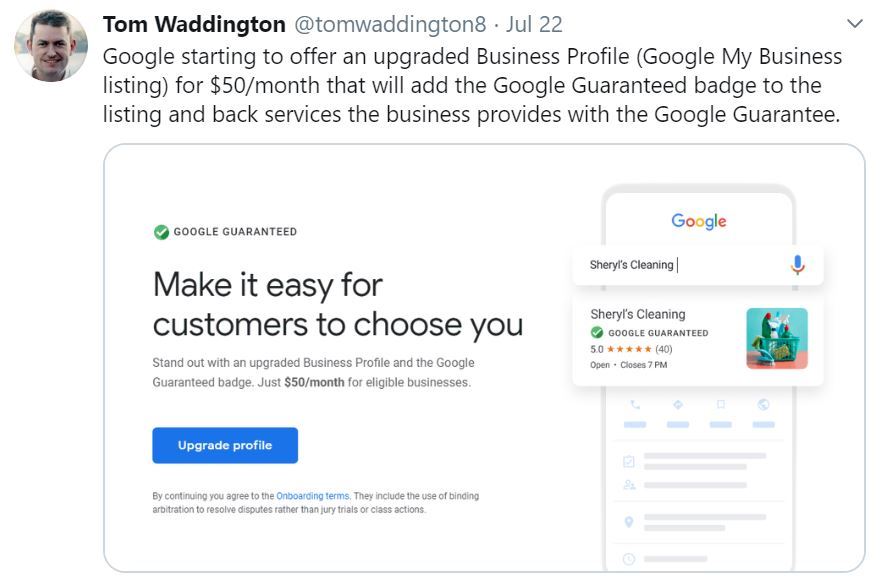 "Google starting to offer an upgraded Business Profile (Google My Business listing) for $50/month that will add the Google Guaranteed badge to the listing and back services the business provides with the Google Guarantee," the Tweet says.
This is what the upsell card looks like in the Google My Business dashboard:
What We Know About Google's $50 GMB Upgrade:
It costs $50/mo ($600 per year) per location.
It is a test and officially "unannounced."
The upgrade adds a "Google Guaranteed" badge to the listing profile, which will appear in local search results.
"Google Guarantee" isn't new, just new to Google My Business listings.
Only pre-approved GMB profiles will see the upsell prompt.
Only a small number of profiles are pre-approved at this point.
To get the upgrade, merchants will have to go through a screening process equivalent to LSA approval. 
What the GMB Profile Upgrade Is and How to Get It (If You Can) 
There have been a few somewhat official statements circulating the SEO-verse regarding what exactly the upgraded profiles are and how to get them. One of the most common iterations seen from Google representatives is this or something similar:
"We're always testing new ways to improve our experience for our advertisers, merchants and users. This experiment will show the Google Guarantee badge on the business profile. We don't have anything additional to announce right now."
In other communications, Google representatives have alluded to a few more specifics. For starters, only a select few pre-approved GMB listings will see the upsell card.
There is also no way to prompt the upgrade currently. While there isn't a public timeline for when the list of pre-approved merchants will expand, we may see the upsell opportunity presented to a larger pool of merchants in the coming months.
In other words, the only way to get the upgraded profile is by being on Google's pre-approved list, and there doesn't appear to be any action business owners can currently take to prompt approval.
Cost & Potential Benefit for Business Owners
For some businesses, a $50/mo subscription fee for a Google Guarantee badge is a no-brainer; for others, the benefit of the badge may not offset the cost - especially in the midst of a global pandemic.
While the only tangible upgrade the $50/mo appears to garner is the guarantee badge, it's possible (if not likely) that including a Google Guarantee checkmark could substantially increase a listing's click-through-rate.
The actual outcome, however, is unknown without testing, and the CTR benefit could be diluted for businesses whose competitors also have the badge.
Customer Benefit
Business owners aren't the only ones who stand to gain from the upgraded profiles, though. The Google Guarantee badge is also designed to help customers by backing screened businesses with a "Get it done right or Google pays you back" promise, which you can learn more about here.
The Google Guarantee badge isn't new, and until now the upgraded profile test was associated with Local Service Ads (LSAs).
Should Business Owners Opt for the Upgraded GMB Profile?
On the one hand, the upgraded profile option doesn't seem entirely fair as Google is historically uninterested in proactively suppressing spam / fake business listings on Google.
In other words, a Google Guarantee badge wouldn't be necessary in a world where customers could fully trust verified businesses found on Google Maps.
On the other hand, the badge could increase CTR for businesses. Additional clicks could create more leads, more calls, and more business. This means the badge could easily pay for itself under the right circumstances - even if the immediate benefit is diluted over time if/when more competitors opt in.