If you've heard about Google's Local Services Ads (LSAs) for attorneys, you're probably eager to get your law firm approved for the program.
After, approval means your firm can get:
Shown at the TOP of Google's search results (even above the pay-per-click ads).
A "Google Screened" badge that instantly boosts your firm's credibility.
More visibility to potential clients right in your local area.
More quality calls and new business.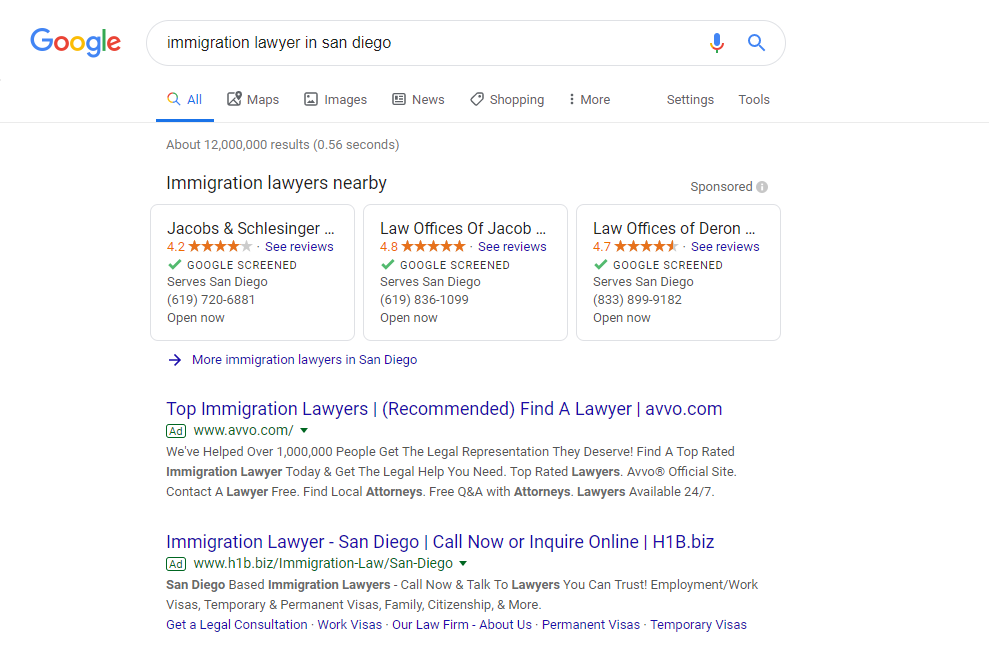 But as you may have heard, securing that coveted "Google Screened" badge requires, well...extensive screening by Google.
Here's what the LSA screening process includes for attorneys...
Verification that each attorney's state bar membership is in good standing.
Verification of the law firm's physical address.
A civil and criminal background check on each attorney at the firm.
A business background check on the firm as a whole.
Confirmation that the firm has an online rating of 3.0 stars or higher.
If your firm and attorneys pass the screening process, you will be able to advertise your practice as a "Google Screened" firm, which can help prospective clients feel more confident about putting their trust in your legal team.
And that can ultimately result in more calls, more cases, and more revenue for your firm.
Who is eligible to apply?
Right now, Google's legal LSAs is only available to estate and immigration attorneys in:
San Diego
Houston
Austin (starting in late September)
Atlanta (starting in late September)
However, in the past, we have seen Google expand into other verticals and markets when pilot programs attain good traction. So, we hope to see the LSA program expand in the future to more attorneys across the US.
LSAs originally made their debut in the home services industry, and they were at first only available to plumbers and locksmiths in San Francisco in 2015. However, since then, Google's LSA program for home services providers has expanded to 14 different industry sectors nationwide, and they're even available in Canada.
While it's too early to definitively state what Google has planned for LSAs in the legal industry, past experience tells us there's great potential for future growth. And we're already seeing expansion take place, With Google currently expanding its legal LSA program from two geographic markets to four.
As a result, attorneys across all US markets and practice areas should be sure to keep up with the latest developments concerning legal LSAs.
Want to make the LSA application as painless as possible?
Then you may want to consider working with a partner to help you streamline the process.
Scorpion can help your firm through each step of the LSA application and approval process—and after that, we'll assist with onboarding and campaign management to help ensure you're getting as many high-quality calls from your ads as possible.
We're one of the few companies selected by Google to assist law firms with LSAs, and we're also a two-time "Google Champion of Customer Satisfaction".
Let us handle all the details and busy work concerning your LSA application and campaigns so you can just focus on doing what you do best—representing clients!
Contact Scorpion today to begin your LSA application, or watch a replay of our LSA webinar for attorneys.