(This post was updated on 9/3/19 to reflect additional information provided by Google. See the "UPDATE" notice below.)
NEWSFLASH:
You may start noticing Local Services Ads (LSAs) somewhere new in Google…
In the map results.
Don't panic—it's not a mistake! Google's just trying something new.
In case you didn't know, LSAs are a newer form of paid search ads that have become known by their "Google Guaranteed" badge. Normally, they only appear at the very top of the search engine results page, but Google is currently experimenting with the new placement.
According to our research, the placement of these ads in the map results appears to be happening only on mobile devices, though we wouldn't rule out the possibility that they could be appearing on desktop search results as well.
Here's an example of LSAs placed in the maps results in a mobile search for "plumbing services houston":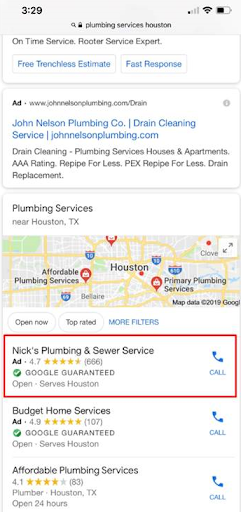 In contrast, here's another example of where LSAs normally appear.
See the ads with the "Google Guarantee" badge at the top of the mobile search results (top) and no LSAs in the map section that follows (bottom).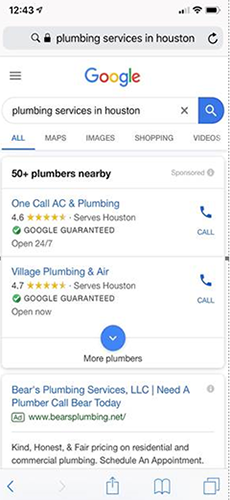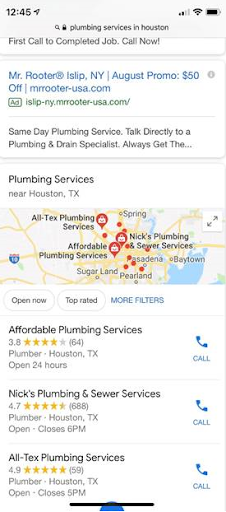 It's common for Google to run tests like these in order to determine whether adjustments need to be made to how its ads are being displayed. The goal is to provide search results that benefit both advertisers and searchers.
These types of tests usually run for a couple of months, so we will have to wait and see if there will be any permanent changes to where Google places its LSAs in the search results.
Previous experience with LSA beta testing tells us that this trial will likely continue in very limited geographic areas, and then slowly roll out to additional markets as Google gathers data if (and only if) the test produces favorable results for the map placement.
UPDATE:
Google has confirmed that this experiment will last 2-3 months, and that it is just an experiment. As of now, there are no plans to permanently move LSAs to the map results.
We'll make sure to keep you updated on any other significant developments concerning these experiments or home services LSAs in general.
How LSAs work and why they're important for your business
If you're unfamiliar with LSAs, you can read our blog on the topic, or call us and we can walk you through it.
Briefly, LSAs are a newer format of paid search advertising that Google has available mostly for home services businesses (though LSAs are also now also available for law firms, financial planners, and real estate companies as well).

In order to get the coveted "Google Guarantee" badge, a business must pass an extensive screening and qualification process. The approval process takes time, so you shouldn't expect to become Google-verified overnight.
BUT it's absolutely worth the time and energy. Why? Because...
The "Google Guarantee" provides users with an extra level of confidence in your business, and it is an excellent advertising opportunity.

In the home services industry, confidence and trust are key factors in winning a prospective customer's business, and showing you've been screened by Google is a HUGE differentiator in the space.
The "Google Guarantee" takes that confidence and trust a step further by reassuring your prospects that if your work isn't what they expected, Google may be willing to refund the money the customer paid for that job (up to a point, of course).
And having that extra safety net might be just what your potential customer needs to choose you over someone else.
So, what's the next step?
If you're not already advertising in the LSA program but you want to be recognized as a "Google Guaranteed" business, the best thing you can do is get verified.
We can't emphasize the importance of this enough.
Google verification is an essential part of your business' online marketing, and if you work with us, we can help you complete the application and approval process as quickly as possible. And once you're approved, we'll also assist with your program onboarding and management of your LSA campaigns!

If you want to speak with one of our LSA specialists, don't hesitate to give us a call or send us a message. We're happy to discuss the ins and outs of any digital advertising platform or opportunity, especially if it can help you grow your business.