In 2017, Google did something that completely changed the online advertising game for home services professionals…
It released its Local Services Ads (LSAs).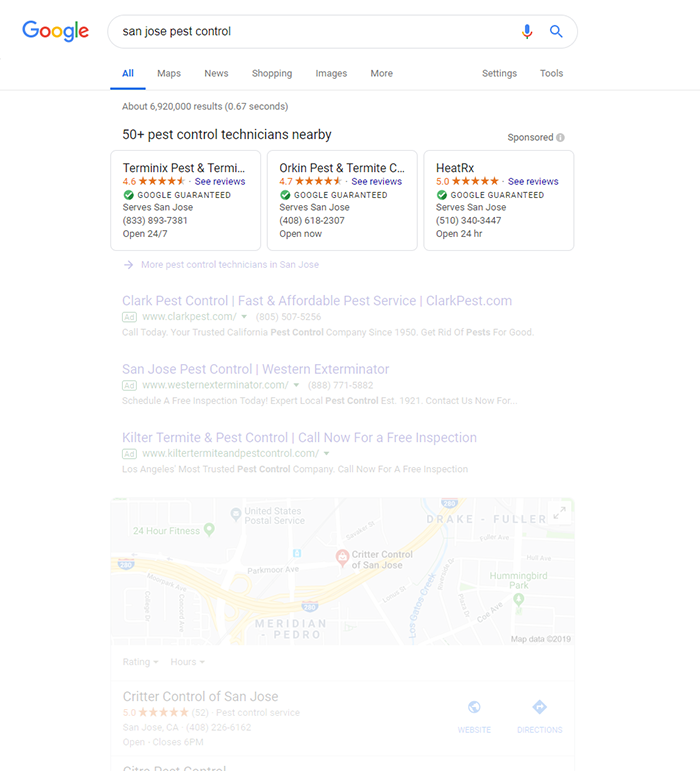 This additional form of paid search advertising has allowed home services businesses across numerous industries to:
Get seen at the TOP of the search engine results page (even above pay-per-click ads).
Capture the attention of potential customers right in their local communities.
Build trust through a "Google guaranteed" badge displayed on their ads.
Generate high-quality calls at a low, flat rate (paying by the lead).
But there was one problem…
The LSAs were only available in certain cities and geographic regions, meaning home services professionals all over the country were not able to benefit from this new strategy for growing their business.
But that has recently changed.
Google is currently in the process of expanding LSAs NATIONWIDE for 14 home services industries, meaning they are going to be accessible coast-to-coast for businesses within these sectors.
The 14 industries include:
Appliance repair
Carpet cleaning
Electrical services
Garage door services
House cleaning
HVAC services
Lawn care
Locksmith services
Moving services
Pest control services
Plumbing
Roofing
Water damage restoration
Window cleaning
Google ranks LSAs based on factors like the business':
Proximity to the searcher's location
Overall review score and number of reviews
Responsiveness to customer inquiries and requests
How LSAs have been helping home services businesses across the US
Prior to expanding nationwide, LSAs were available in more than 90 US markets and have rapidly become a way for home services businesses to gain a competitive edge in their local service areas.
(Which explains why Google has seen 5X growth in the number of advertisers in the LSA program since.)
LSAs not only make home services business more visible in desktop and mobile Google searches (helping them generate more high-quality leads at controlled costs), but the ads also make these businesses easier to find through voice search.
Google is currently featuring LSAs in Google Assistant voice results (in the US only), adding yet another layer of visibility for businesses that are trying to get in front of new prospects.
How does a business start using LSAs?
Home services businesses that want to begin advertising through the LSA program must apply and undergo screening by Google.
The screening involves:
Background checks
Insurance checks
License checks
Google will also evaluate factors like the business' reputation, including the volume and quality of its online reviews, as well as any history of complaints about the company.
Once the business passes the verification, it becomes "Google guaranteed" and is able to start advertising through the LSA platform.
Under the guarantee, Google will offer a refund to the customer up to $2,000 if they aren't satisfied with a service that was booked through an LSA.
Start getting more calls and new jobs for your business with LSAs
If you're interested in launching LSAs for your home services business, reach out to a member of our team at Scorpion to learn how to get started!
In addition to being a Google Premier Partner, Scorpion is among just a handful of companies approved by Google to assist home services businesses through the verification process.
Our team can help ensure your business is receiving maximum exposure on Google and attracting as many high-quality calls in your local area as possible.