A few months ago, we shared the news that Google was expanding its Local Services Ads (LSA) program nationwide for 14 business sectors within the home services industry.
Well, that number is now up to 17!
Starting September 10th, 2019, Google will make LSAs available to these three business types all across the United States instead of just in specific geographic markets.
These three business sectors are:
Junk removal
Tree services
Window repair
Which means businesses that offer these types of services will have yet another way to make their businesses more visible in Google searches, no matter where they're located in the US.
For your reference, here's a list of all 17 business sectors that now have access to Google LSAs nationwide:
Appliance repair
Carpet cleaning
Electrical services
Garage door services
House cleaning
HVAC services
Junk removal
Lawn care
Locksmith services
Moving services
Pest control services
Plumbing
Roofing
Tree services
Water damage restoration
Window cleaning
Window repair
How home services pros have been growing their businesses with LSAs
For the past couple of years, home services businesses across numerous industries have been using LSAs to bring in more calls and jobs from customers right in their local communities.
If you're not up to speed on LSAs and how they work, here's a quick recap…
LSAs are:
Ads for local businesses that appear at the TOP of the Google search results page (above all other results).
Ads that show your business as being "Google Guaranteed," helping you boost trust in your services.
Ads where you only pay for qualified calls, not clicks.
And here's what LSAs look like: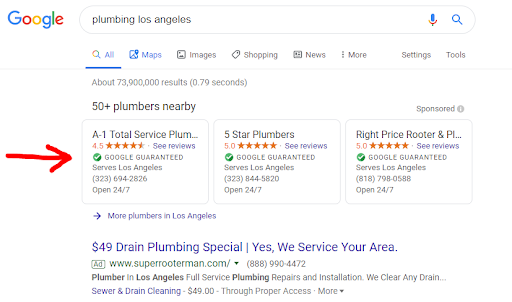 Ready to start making more money for your business?
Then it's time to apply to get your business "Google Guaranteed"!
Scorpion can guide you through the entire onboarding process (which includes your application), handling most of the heavy lifting for your business. We can also help you set up and manage your LSA ad campaigns to make sure you're getting as many high-quality calls as possible from your ads.
We're an official partner for Google's LSA program, so you can count on us to get you on the right track!