Mastering Social When Things Go Global
2020 is one for the books. This year has taught business owners so many lessons, and I want to focus on one of those lessons in this blog post. Keep this note in mind: when social events blow up online, when global pandemics hit the masses, when the weather shifts, all of these things change the physical circumstances of our customers, which impacts their digital habits.
And who is there to help customers when these things happen? Who are the businesses that are top-of-mind for the consumer? Here's the answer:the businesses that have been focusing on building their brand experience and brand authority so they are seen as the most authentic, genuine, and most trusted choice for customers.
One way to build up your company's brand to do this is through effective social media marketing. We'll explore the best way to go about that, but first, let's dive into the basics...
What is a brand?
To start, I want to clear up one common misconception: Your brand is more than just your company's logo and colors on your website. Your brand actually encompasses every potential interaction point that potential customers have with your business, from your business cards to your employees who are wearing their company polos at the grocery store. To create a next-level brand experience that propels your company into success, you need both a mission and vision that are clear, concise, and consistent across every aspect of your business.
Embracing the "Age of Assistance"
One of the best and most underrated ways to build that brand experience is by taking advantage of what Google calls the "Age of Assistance." Now, we're not talking about virtual assistants like Alexa or Siri — we're talking about trusted experts assisting in answering consumers' questions.
Just think about all the ways that Google has evolved over the years to better address the questions and needs of its users. Here are a few elements Google's search results now include as a result of that evolution:
Featured snippets: Sometimes, when a user enters a question into Google, the search engine will find a website that has what it considers to be the best answer and then shows a snippet of that answer in the search results. This is meant to help the user quickly spot the information they need.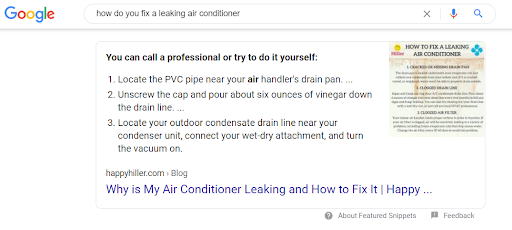 Videos in the search results: Google now incorporates videos into the main search results, providing its users with a wider variety of resources for learning about a specific topic.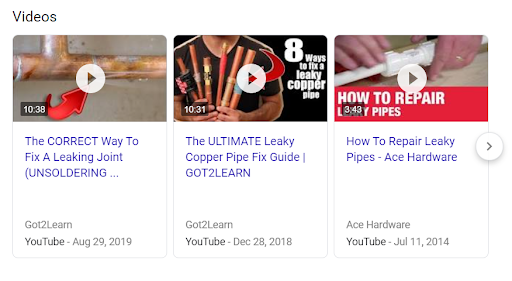 Local Services Ads (LSAs): These ads make it easier for customers to find trusted home services pros in their communities and connect with them directly from the search results.
The point of all this is just to illustrate that your target customers are looking for more than just someone to fix their broken AC or leaking faucet… they're looking for someone to help them better understand their situation and make them feel more confident about their next steps. It's something Google has adapted to, and it's something you should adapt to in your business practices as well — and that includes being present online when your potential customers are both looking for answers to their questions, and when they're ready to hire a professional.
Considering how much time people spend on social media sites like Facebook, Instagram, and YouTube (especially while they're stuck at home during the pandemic), these are excellent platforms for keeping your business in front of potential customers while also providing them with the helpful information and resources they're looking for.
A few things to know about social media
To give you a general idea of the importance and impact of social media, I'd like to share some interesting stats related to Facebook specifically.
Let's look at 10 stats that will change your perspective on social media for your marketing mix:
Here is are main points we should keep in mind with this data:
Social media is still a low cost leader for building brand exposure.
People are engaged with social media more so now than ever before with the pandemic forcing them to stay home.
Mobile traffic is the highest form of social media engagement.
Considering the last point, it's important to ensure that your content is optimized for mobile on social media. You can do this by:
Using square videos for Facebook and Instagram.
Posting your videos that have text so they can be watched without sound.
And if you want to know how to create social media content that will really capture the attention of your target audience and result in actual engagement (e.g., likes, comments, and shares), here are three tips to follow:
Talk about the social issues. This can range from directly talking about the big issues that matter to your customers today (like the pandemic, unemployment, or racial equality) to simply using imagery and language in your ads that are relevant to these topics (i.e., using an image of an HVAC technician wearing a face mask).
Focus on being helpful. In the Age of Assistance when people are looking to the Internet for answers for everything in their day-to-day lives, this is the time to offer helpful guidance through digital media. Many home services professionals think that sharing content like how-to videos and educational blog posts is giving away the secret sauce and may prevent customers from using their services. However, contrary to popular belief, this type of content actually increases your chances of bringing in new business because it gives you a foothold in the consumer's mind as the expert for their home services problems.
Use a three-step approach to creating content. For each question you answer in your content, you should create all of the following for maximum exposure and impact:
A video for YouTube / Facebook / Instagram
An image linking to a landing page
A branded quote card for Instagram
Social media isn't going anywhere. It's the primary medium that people use today to not only to stay in touch with each other, but also to find solutions to their problems. Isn't it about time you leveraged social media into your marketing mix? Contact Scorpion today to see how we can shape a custom plan for your business.