Encompassing businesses from fitness centers to beauty salons, the health and wellness industry has increasingly become a regular part of consumers' lives over the last decade.
As a whole, the industry has grown at roughly 6.4% per year from 2015 to 2017, compared to the global economy's growth of 3.6% for the same time period. Health and wellness expenditures now total $4.2 trillion annually and represent 5.4% of total global output.
With more and more consumers seeing health and wellness as a fundamental part of their lives, it's logical to conclude that though many wellness businesses have closed their doors due to the coronavirus pandemic, the demand for health and wellness is still intact. The realities of shutdowns and the shift in consumer behavior they have caused may mean a drop in business for many, but it also presents an opportunity to engage with new potential clients while maintaining relationships with current ones in new and meaningful ways.
In part two of our COVID-19 search trends series, let's explore what the data says for health and wellness franchises:
Fitness
Fitness centers and gyms have closed their doors due to social distancing rules put in place, but that doesn't mean consumers aren't looking to stay in shape. Many individuals see maintaining physical well-being as a necessity and one that needs to be addressed even if their local gym or fitness studio is closed. This explains the huge surge in online fitness and training searches over the last few weeks.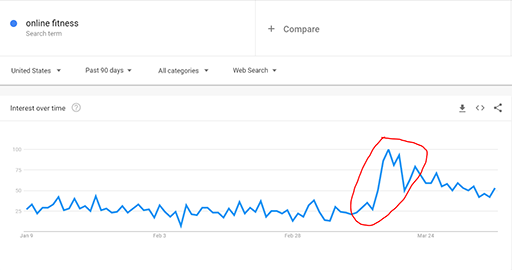 For fitness centers, gym coaches, and personal trainers willing to pivot in these new circumstances, this search behavior indicates a massive opportunity to meet a huge need in people's homes. Whether it be HIIT programs or yoga, fitness-hungry consumers are looking for ways to receive instruction and advice while quarantined in their homes.
Gyms that demonstrate a willingness to provide online content as a temporary substitute for in-person sessions and classes will not only maintain memberships, but also show that their brands are committed to their members. Keeping the relationships you have with your current gym or studio members means having to do less work to win them back from a competitor after all this is over.
Beauty Salons
From hair to nail salons, consumers have increasingly looked for beauty salons over the last five years, signified by a noticeable uptick in the cyclical search volume for such services. Of course, shelter-in-place regulations and the person-to-person nature of beauty services mean that many beauty salons have closed their doors as well. This is reflected in the dramatic drop in searches for beauty salons nationwide.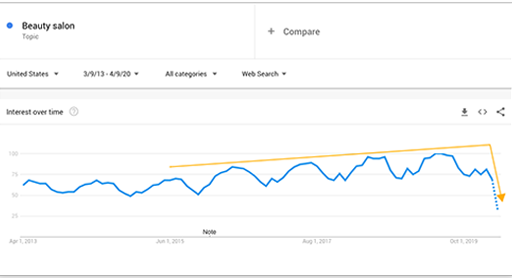 However, unlike fitness studios and gyms, which see members trying to meet their fitness goals at home, beauty salons provide professional services that consumers may not be able to replicate on their own. This is likely to result in an explosion in beauty services rendered once shutdowns across the country are lifted due to pent-up consumer demand.
Shuttered beauty franchises may see a win-win situation on their hands by offering discounted gift cards or prepaid services, generating much-needed cash flow while subsequently attracting new potential clients. Marketing such offers by shifting paid search advertising dollars to digital branding campaigns on social media sites like Facebook and Instagram will be an effective way to stay in front of audiences and customers while the general population is forced to stay indoors and is consequently spending more time online.
Staying engaged with customers and members during this time is crucial, as is ensuring that franchise brands stay top-of-mind so competitors are not able to encroach on brand loyalty. For example, one massage franchise Massage Heights has strategically crafted a YouTube wellness series to teach DIY massage and de-stressing techniques during this time of high anxiety and turmoil. Inevitably, consumers of their content will remember Massage Heights after this crisis is over and consider using their Retreats first for their massage needs.
___
To see the search trends we've analyzed for other types of franchises, visit our COVID-19 resource page. You'll also find videos, infographics, and other resources that you can use to build a marketing plan that will help your business persevere in these unprecedented times. If you have any questions about the information you find, just reach out to us here — we'd be happy to help you overcome any challenges you are facing.