After helping countless business owners launch their websites, we decided it was time to do a site relaunch of our own. The new Scorpion website is designed with you in mind. It is simple to navigate and packed with information to help you understand what we offer our clients.
As you scroll through our new website, you will notice a much more straightforward layout emphasizing our clients and how we help them. If you don't have much experience in the world of marketing, it can feel a bit overwhelming. We hope this new website will pull back the curtain for you.
Understand the benefits of working with Scorpion
You can see that our new website highlights the ways we help our clients, who we help, as well as why you should choose us to help your business. We know you have a lot of options when it comes to marketing, and we want to make sure you walk away from our site with all of the answers you need.
At Scorpion, our goal is to help you run your best business. If you select the "How We Help" tab, you will see the various ways we accomplish this. Each page is set up in a similar way so that you know what information you can expect and where to find it.


​
Our biggest goal is to help you reach your ideal customers. At the end of the day, many businesses are focused on one thing: getting more customers. Whether you need to convert traffic, show up in search results, get more of the right leads, attract attention with quality content, or manage your leads, we hope that these updates will help you feel more confident in what this could look like for your business.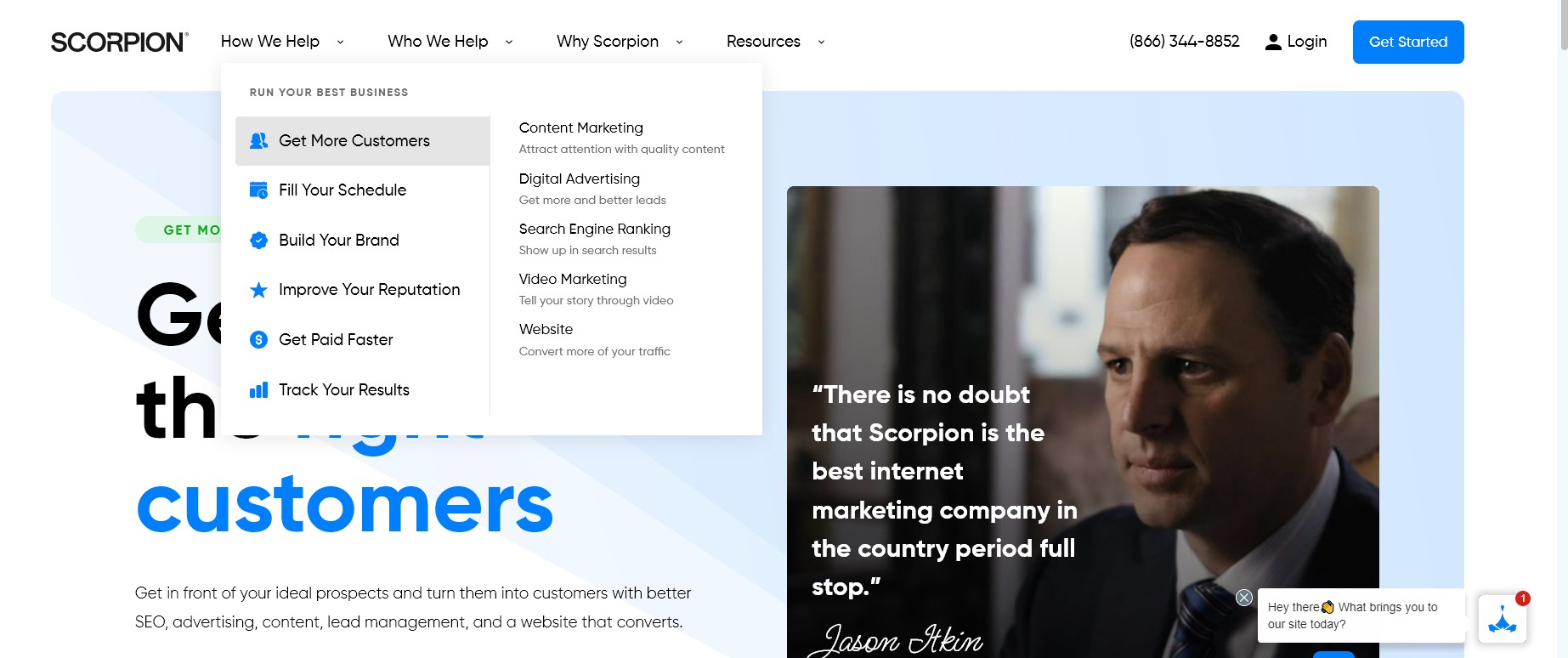 ​
With so many ways to communicate, it can be hard to keep track of customers, let alone your schedule with them. With Scorpion's technology, we streamline these modes of communication so you can access your chats, texts, emails, and team communications all in one place. Scrolling through this page will help you learn how we can make this work for your business and the benefits of staying connected.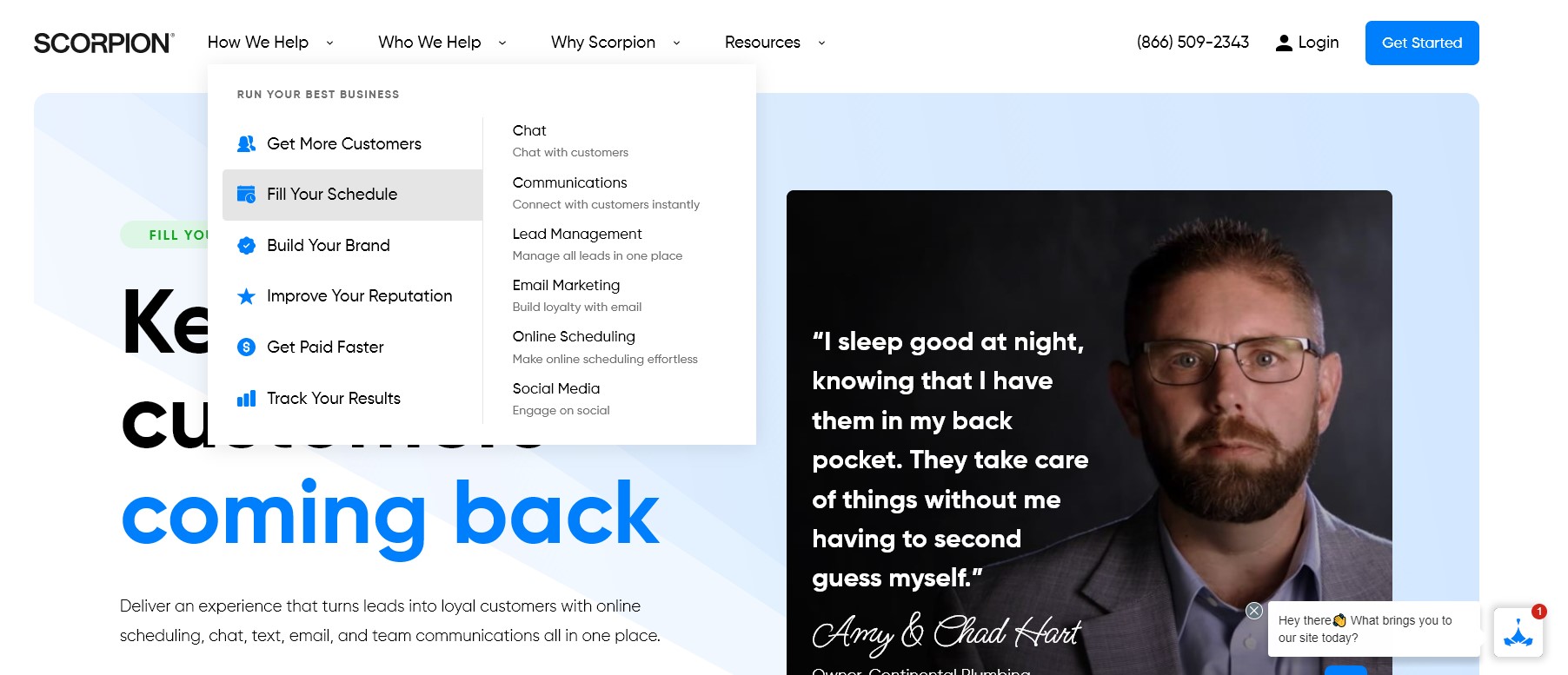 ​
On this page, we walk you through each of the ways that we will help build your brand. We begin with some client testimonials and results. We want you to see exactly how impactful Scorpion has been, and we don't want you to take our word for it. Instead, we show you the numbers, from the increase in leads we have brought to clients to the traffic and revenue. Then, we explain how we can do the same for your business.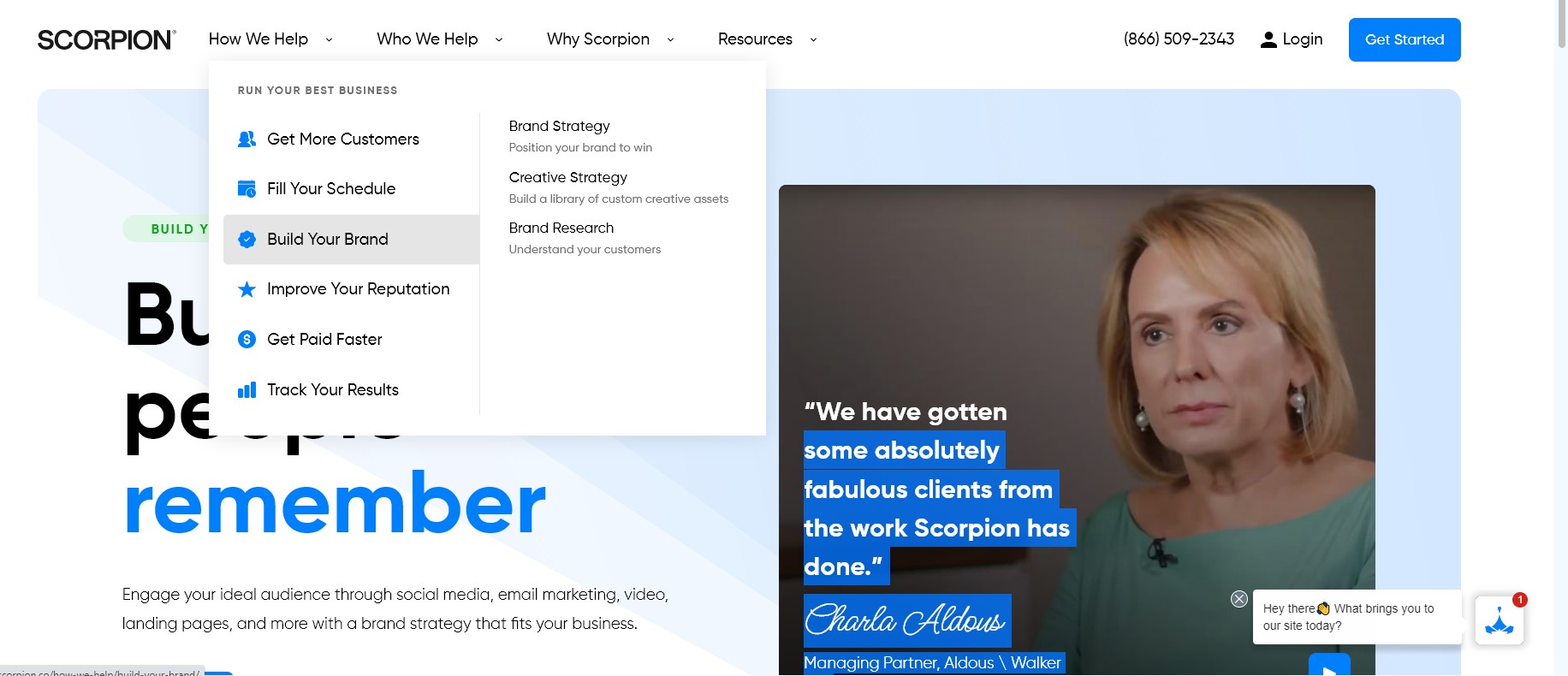 ​
Traditionally, accepting payments has been a bit of a headache for businesses. With our new website, we will show you just how easy accepting payments can be. We have included a word from our client Steven Dayo, Vice President of West Houston Electric, Inc., to show how our payment technology can improve your process.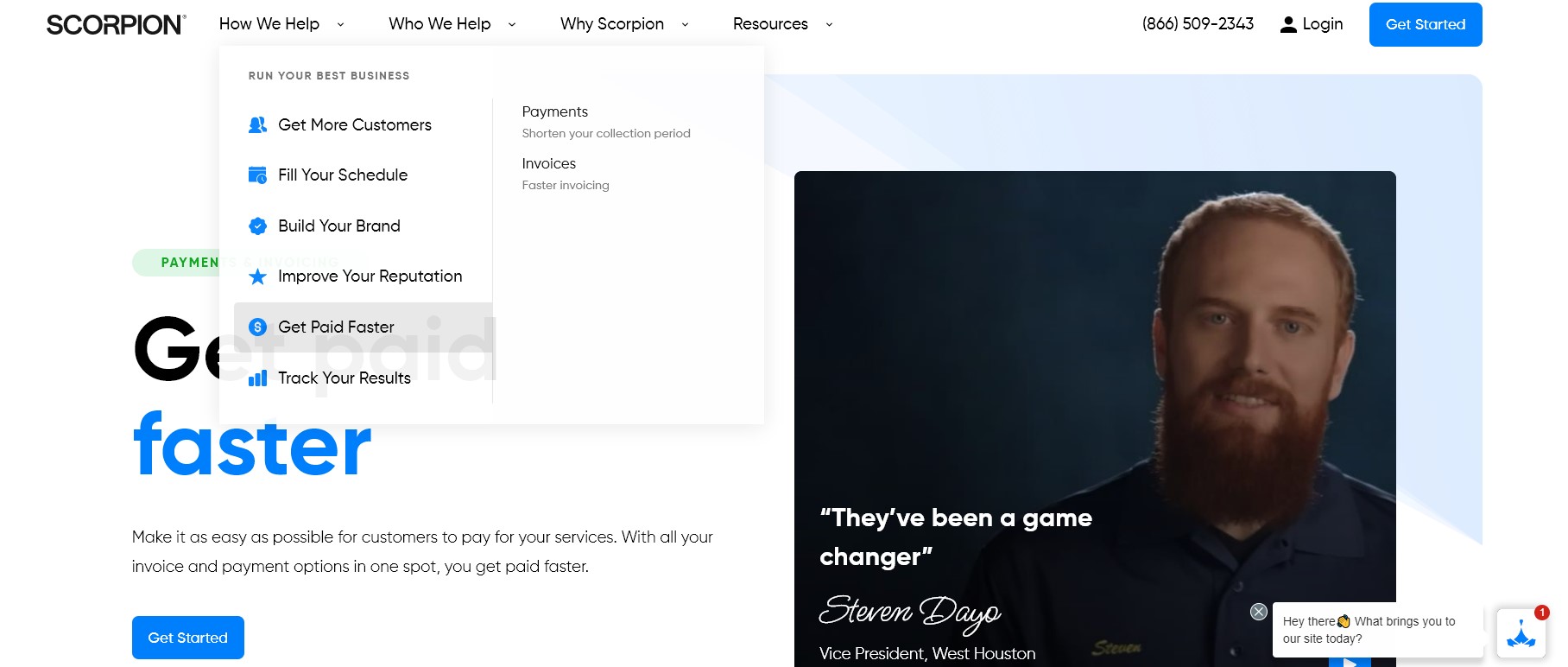 ​
How will you know your marketing dollars are being invested properly if you can't see the numbers that reflect this? At Scorpion, we believe in full transparency, and that is exactly what we set out to show you with this website update. Scroll through to find out how our technology allows us to customize your marketing campaigns to your specific needs based on what is actually working.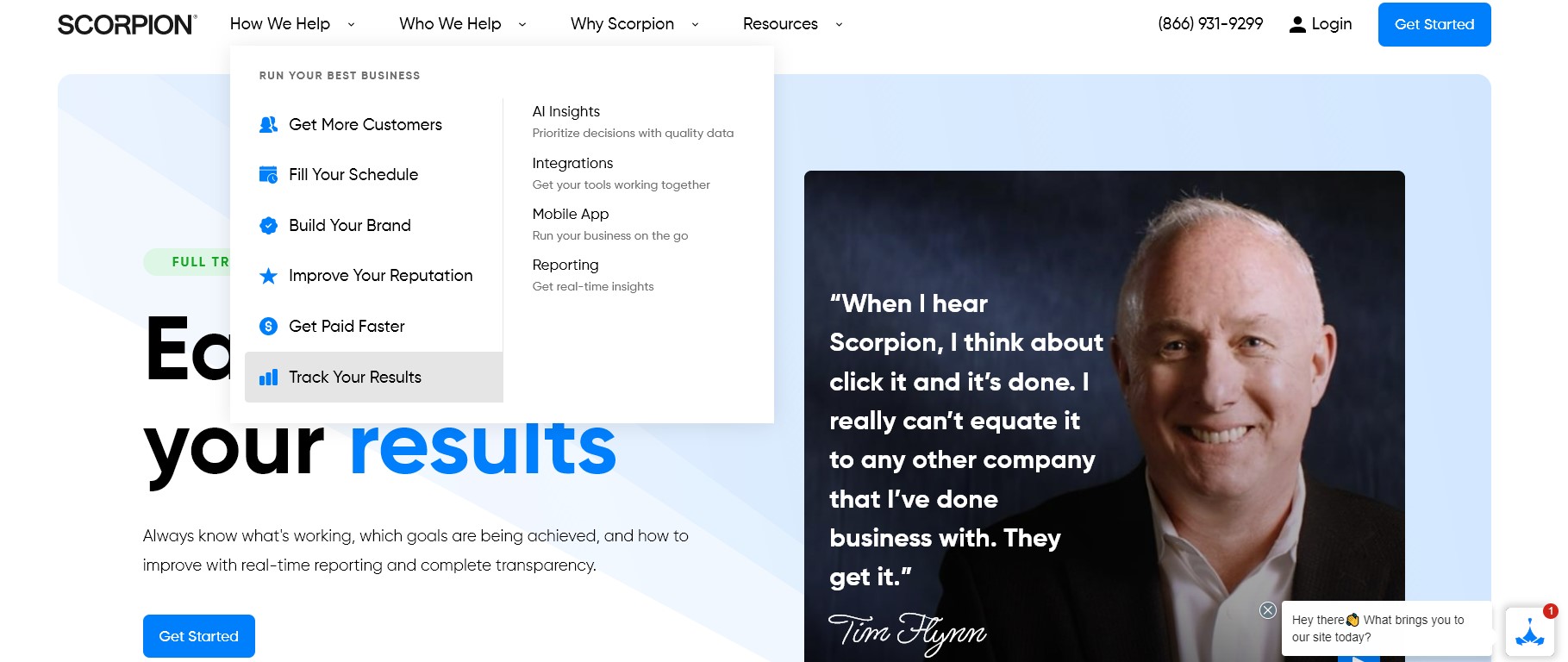 ​
Understand who Scorpion is and who we help
Next, if you scroll down to the "Who We Help" tab, you will see a rundown of the types of businesses we normally work with. This includes home services and healthcare businesses, law firms, multi-location brands, and franchises. We have dedicated ourselves to becoming experts in these areas. Unlike other marketing agencies, we walk in with a strong understanding of your business from the start, and these pages aim to show how we have accomplished that.


​
Similar to the "How We Help" pages, these pages begin with testimonials from our clients, followed by a rundown of the benefits you can expect from our marketing services and technology. Our goal is to give you clear insight into how we can customize our marketing capabilities to fit the needs of your business.
Choosing a marketing agency is not a decision that most businesses take lightly, so we want to make sure you have a good idea of who we are and what we offer before you even leave our website. Under the "Why Scorpion" and "Resources" tabs, we hope to clear up any remaining questions you might have before you are ready to contact our team. The "Why Scorpion" tab gives you a rundown of our past, our present, and where we hope to go in the future, both for our own business as well as our clients.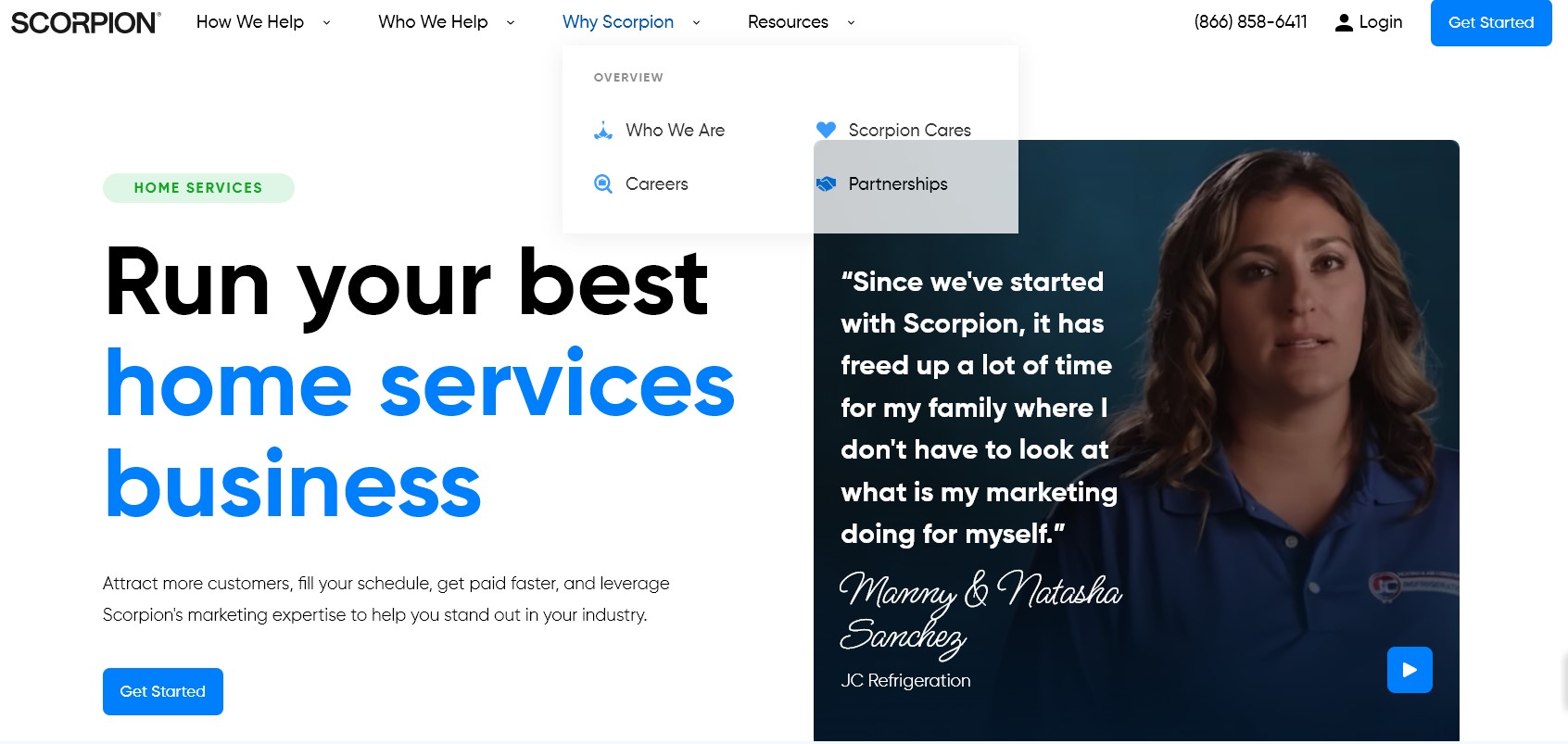 ​
Our "Leadership" section helps to put a face to the names of our executive team and who you will be placing your trust in when you work with us. We also want to take this opportunity to lay out our charity efforts and the causes we support, the employment opportunities we have available, as well as the partnerships that help us form a common vision.

​
Our marketing team works to create a host of resources, including blogs, videos, podcasts, growth studies, webinars, newsletters, and e-books. You can find all of this under the "Resources" tab of our new website. We hope that this simple navigation will help you better understand your own marketing needs, as well as how Scorpion can meet them, so that you can start exceeding your business goals today.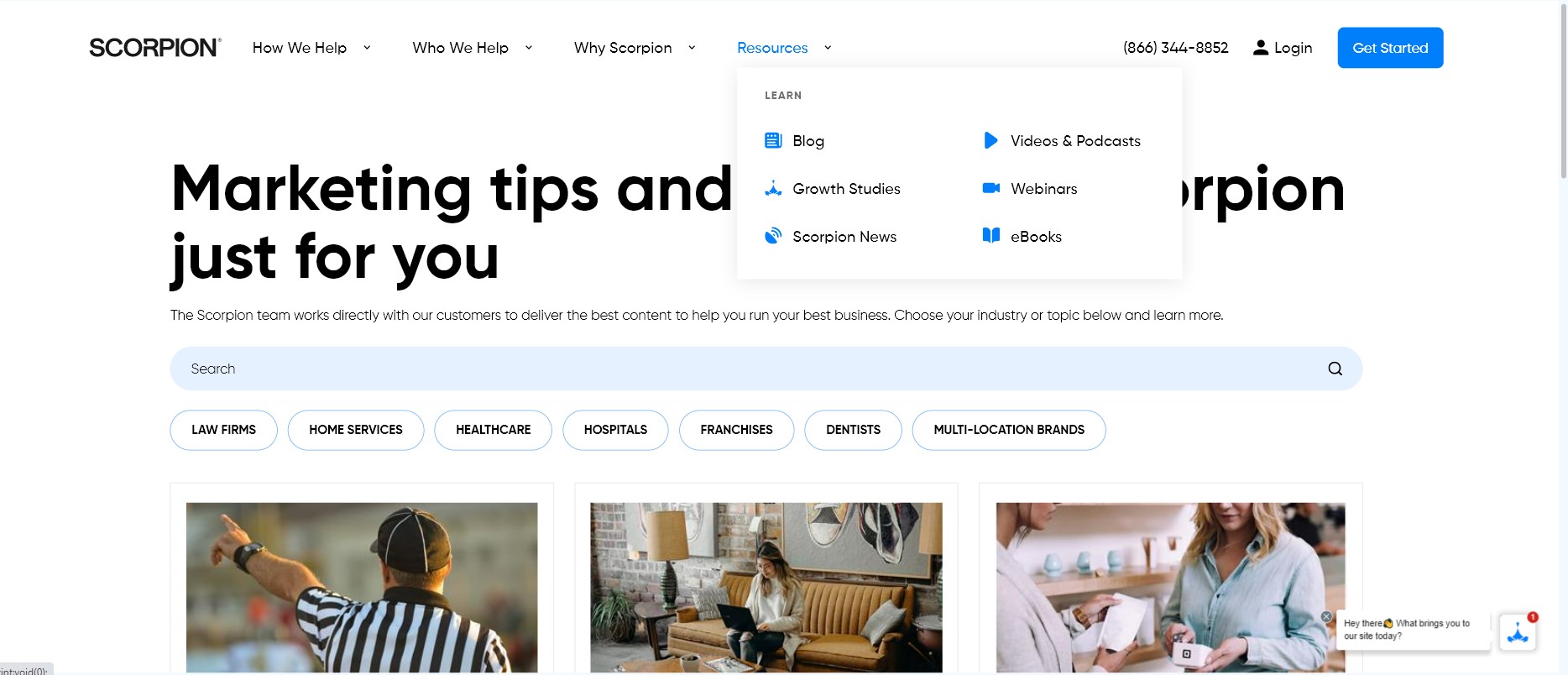 ​
Lastly, when you are ready to contact our team, you will be directed to the "Get started" page here. We have made this form simple and comprehensive so that we can start running your best business as soon as possible.