Weekly Marketing Update for Feb. 18, 2020
1. Yelp launches two new ad products that benefit multi-location businesses
Last week, Yelp launched some exciting advertising developments that are expected to help multi-location brands not only better promote their products and services on the Internet, but also measure the foot traffic they're getting from their online efforts.
Yelp introduced the following:
Showcase Ads: These are ads that are presented in a new video-centric format that allows national marketers to highlight their in-season promotions, new menu items, and limited-time offers. The new ad format is specifically designed to appeal to "high-intent audiences" (or, in other words, people who are already in the market for a specific service and are simply looking for a local provider). Here's an example of what a showcase ad looks like: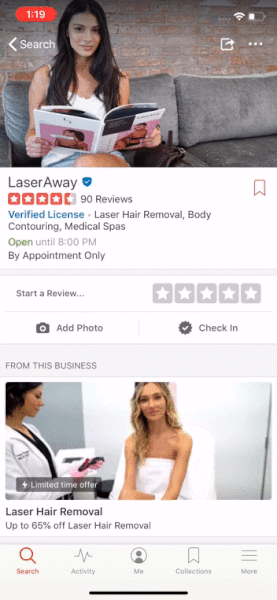 Yelp Store Visits (YSV): This is a first-party attribution tool that is available to multi-location advertisers to help them better understand the effectiveness of their Yelp ads. The tool leverages location information at scale (when the user opts in to provide this data) as well as other signals commonly provided by Yelp app users in order to measure store visits and attribute those visits back to specific campaigns. Brands that use the YSV tool are able to determine their cost per visit for their Yelp advertising, which gives them a clearer picture of their return on ad spend.
Both of these ad products were tested out by some of the nation's largest brands prior to their launch. The pilot program for Showcase Ads included IHOP, Starbucks, and T-Mobile, while Denny's participated in the Yelp Store Visit pilot program.
In citing results from the YSV pilot program, Yelp shared that a national casual dining restaurant chain that was part of the pilot was able to achieve a cost per visit of $1.17 from its Yelp ads, with 91% of those visits occurring within 24 hours of engagement with the ads.
Why are Yelp's new ad products important for businesses?
Yelp's updates are yet another reminder of digital marketing's ever-changing nature and present a perfect opportunity for multi-location businesses (including franchises) to hone their strategies. By focusing on consumers who are near the end of the purchase funnel and analyzing data about which ads are producing measurable results, businesses are less likely to spend their marketing budgets on ineffective campaigns.
2. Bing implements a new advertising feature, following in Google's footsteps
Bing recently announced a new feature for their ads that allows businesses more options for customizing their ad copy to specific audiences. With the addition of "IF functions" (also commonly known as "IF statements"), Bing Ads now allows you to deliver different ad text to different viewers based on certain conditions being met by the ad viewer. For example, if an ad is being viewed on a mobile device, the ad copy might be slightly different than if it was viewed on desktop.
Here's an example of what that setup looks like in Bing Ads: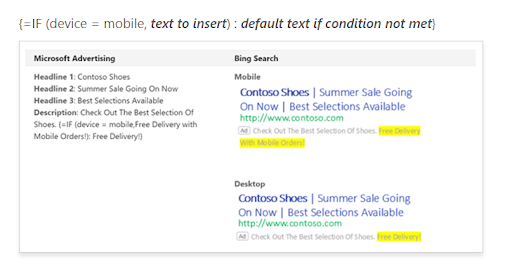 According to Bing, IF functions are meant to make life easier for advertisers by eliminating the need to set up multiple campaigns and ads. While this advertising feature is new to Bing, it's nothing new in the digital advertising space at large — Google has offered this functionality in pay-per-click ads for several years.
How do Bing's new advertising features impact businesses?
Giving marketers more options for customizing their campaigns is always a positive. Moving forward, marketers who take the time to learn simple programmatic tools like IF statements give themselves a leg up in campaign targeting and, in turn, effectiveness.
3. Facebook continues to diversify and innovate by acquiring an AR startup
This week, it was reported that Facebook has acquired Scape Technologies, an augmented reality startup focused on building a full-scale 3D map of the world. With their model, they aim to "build an infrastructure for the next generation of 'spatial-computing devices,' which includes wearables, autonomous vehicles and other devices." In more common terms, their goal is to make location recognition down to the centimeter possible without relying on current technologies like cell towers and GPS.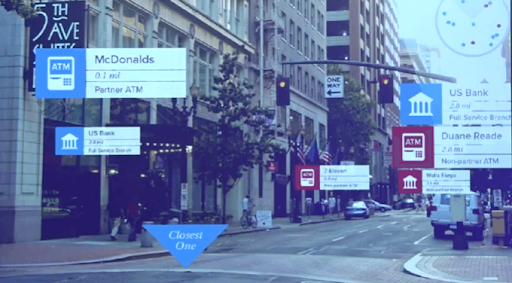 To date, the most widely recognized augmented reality applications have surrounded video games like Pokemon Go. These types of novelties, however, are only a small part of AR's capabilities — in the near future, this technology will revolutionize industries like tourism, education, and entertainment. And with companies like Google and Facebook continuing to invest in the space, you can bet innovative marketing and advertising tools will be introduced as augmented reality moves into the mainstream.
How will businesses be affected by Facebook's investments in augmented reality?
Facebook has frequently shown their mission to expand into diverse spaces across the internet (ecommerce and video, for example), and their acquisition of Scape may signal that the company intends to extend Facebook into the "real world." The ability to locate users down to the centimeter would be instrumental in creating new AR content, but also has more immediate applications like mapping and local search accuracy.
4. Preparing for a world without third-party cookies
Earlier this year, Google announced that its Chrome browser would block third-party cookies by 2022. Cookies have long been used by advertisers to target specific demographic groups and track campaign effectiveness, but by following in the footsteps of Firefox and Safari, Google is attempting to strike a balance between providing users with more privacy and marketers with effective tools.
What does a ban on third-party cookies mean for businesses?
Google is hoping to implement new solutions for less invasive cross-site tracking, but until more details come out, advertisers must consider the ramifications of a ban on cookies and ways to effectively reach their target audience without them.
Modern advertising tools like retargeting rely on cookies to determine which products or services a user has viewed, then serve them display ads for the same products or services across the web. They can also deduce how many times a user has seen a certain ad, enabling advertisers to stop showing ads to people who aren't influenced by them or, for example, introduce a better offer in the hopes of eventually convincing them to buy.
Interestingly, Google has stated that first-party cookies will still be allowed, meaning ads placed on Google's own services, like YouTube, might have an advantage when it comes to targeting and other customization options. In any case, marketers would be wise to keep a close watch as the conversation around cookies continues and to adjust their marketing spend based on its outcome.
Want more helpful marketing insights that you can use to grow your business? Stay tuned on our blog for our Weekly Marketing Updates!