If there was a way that your law firm could make an extra $70,000 a year, would you take advantage of it? Of course pretty much anyone would answer "yes" to that question. However, many attorneys miss out on this additional revenue because they cut the wrong corners in order to "save money." I'm specifically talking about lawyers who try to save cash by doing their own online marketing, only to miss out on significant opportunities to earn more revenue.
So how do you avoid falling into the same trap? You don't just look at the cost of service, but also at its opportunity cost. That means not just looking at how much Option A will cost you if you choose it, but also at the gain or benefit you will lose from Option A if you instead chose Option B. Opportunity cost is one of the most overlooked costs when it comes to business.
Example of How Ignoring Opportunity Cost Could Cost You $70K
Let's say you're an attorney who spends 8 hours a month working on your website, blog, online reputation monitoring, and social media. By doing the work yourself and not hiring an Internet marketing firm, you might save $1,500 a month from your bottom line, therefore saving $18,000 in your annual budget.
So you're saving money in the end, right? Well, not necessarily…
Now we're going to look at the same situation from an opportunity cost standpoint. Let's assume that if you weren't doing your own online marketing, you would be using those 8 hours a month to provide legal services to clients. If you charge $300 per hour for your legal services, you're are actually missing out on the opportunity to make an additional $10,800 per year ($28,800 in additional revenue - $18,000 for hiring a marketing professional).
And this is just the tangible opportunity cost. What about the intangible cost? Let's assume your average client is worth $5,000 in revenue, and you currently get 2 new clients from your website each month. However, with a team of experts who actually specialize in Internet marketing for law firms, you could end up getting 3 new clients from your site each month. In that case, you can add another $60,000 to your lost revenue.
The means your $18,000 in "savings" actually turns into an opportunity cost of over $70,000! What could your law firm do with $70K?
Leaving Your Marketing to the Experts & Getting the Best Results
It is often said, "He who represents himself has a fool for a client." Yet there are thousands of attorney who manage their own online presence, or worse yet, hire an amateur to handle it, only adding to the costs.
Want to avoid losing thousands of dollars in revenue? Give Scorpion a call. We are Google-certified law firm marketing experts who can help you get the highest return on investment from your marketing dollars!
If you'd like some helpful tips for tracking the ROI of your online marketing, download our free guide.
---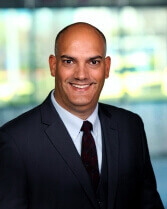 About the Author
As VP of Client Development at Scorpion, Rob Rodriguez helps law firms implement competitive Internet marketing strategies so they can grow their practices. He is highly knowledgeable of the best practices in website design, search engine optimization (SEO), and search engine marketing (SEM), and uses this knowledge to his clients' advantage. Rob has over 15 years of experience working in the areas of marketing, sales, and business and client development. His focus is on giving his clients the best possible results and experience.
Rob has a B.A. in business administration from California State University, Northridge (CSUN), and he is actively furthering his education at the University of California, Los Angeles (UCLA). Rob is a former professional golfer who enjoys watching sports. He also loves spending time with his daughter and doing outdoor activities, such as golfing, camping, fly-fishing, running, and competing in triathlons.