For many potential clients, your website will be their first interaction with your firm. That is why it is so important to create a website that showcases your firm in a positive light. This is true for all legal practices, especially for family law firms. As you know, clients seeking help with family-related legal matters place an additional level of trust in your team.
From divorce to asset division and child custody cases, the matters your clients are dealing with are very sensitive. It is important for your website to communicate that your clients and potential clients can trust you with highly sensitive information. That means when they go to your website, they should immediately feel at ease. Strong credibility and simple site navigation can go a long way for these clients. These are the elements you need to include to help your clients feel at ease and choose your firm to help them through these trying times:
When it comes to a strong home page, don't overthink it! There are a few important parts that every family law home page should include. The important thing is that the visuals appear welcoming and updated, and your visitors can navigate to the rest of the site easily. In an example from the Scorpion homepage below, you will see that we have laid out our business's offerings in a simple way, have given a quick preview into what clients can expect to see, and a clear path to contact us and learn more.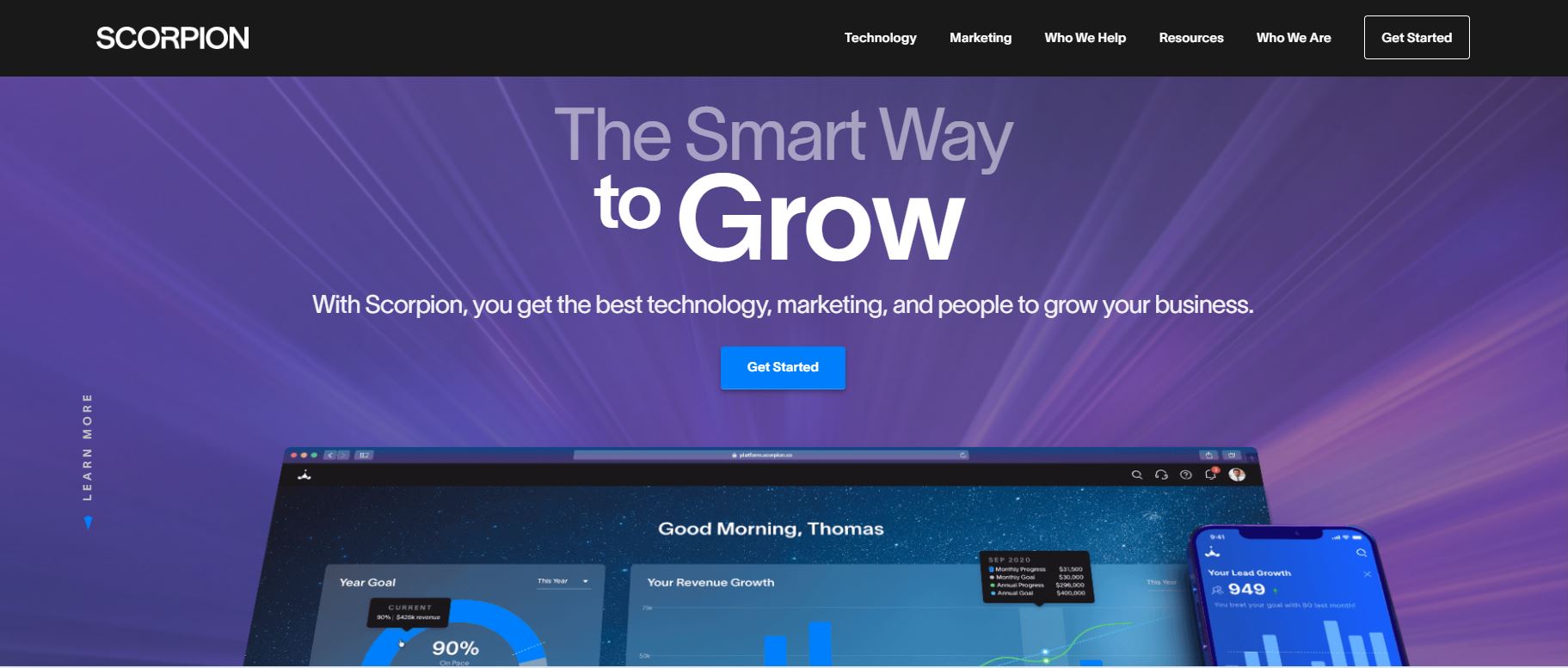 For starters, this means including a strong visual image to greet your visitor when they arrive at your site. It is up to you and the creative direction of your marketing team whether or not this should be a picture of your team. If you have a particularly aesthetically pleasing office, it could include that. It could even include an image of a family that sends a clear message that your office is working to resolve issues.
Regardless of the image you choose, it should be attention-grabbing and motivate your visitors to stay on your site. Although you do not want your homepage to be too cluttered, you might also consider including any testimonials about your firm or awards you have received here. Above all, you want to make sure that your homepage allows for easy navigation throughout the rest of the website.
The about us page is one of the most important pages on your website. It is your chance to speak to the client about who your firm is and why they should work with you. It can include some information about how you started your firm, what makes your firm unique, your mission statement, and what your clients can expect from you.
As you write this page, think about what audience might be reading it. For a family law firm, your most likely audience is those who are going through a divorce or are having some kind of child custody issue or any other related matters. While this can be a range of individuals, the common thread is that they need solutions. Not only will they be looking for a "can-do" attitude, but they will be looking for a team they can trust with highly personal matters.
At the end of the day, people likely hire your firm based on the expertise of your lawyers. Attorney bios are a great way to let potential clients know that your team is qualified and ready for the job. You can use these spotlights to showcase your attorneys' track records and instill more confidence in your potential clients. Wondering what you should put in your lawyers' bios? Here are some great starting points:
- Lawyer's name and official title
- Professional headshot
- Summary of what each lawyer can offer to clients
- Summary of why each lawyer has dedicated their career to the field
- Highlight of relevant accomplishments and awards
- Some personal touches to add a sense of relatability (i.e. hobbies, family, etc.)
- Direct contact information for each lawyer
The services that a family law firm offers might feel like common knowledge to you at this point, but for the average person, that is not the case. Each client will be looking for a specific service, and they will want to know you have expertise in that area. For example, if a client is under the impression that you only offer divorce-related services, they will likely not contact you for their child custody case.
For a typical family law firm, your practice areas might include child custody, child support, divorce, domestic violence and abuse, father's rights, grandparent's rights, paternity, prenuptial agreements, and spousal support. Each area of service that you offer should have its own dedicated page that provides detailed information about what you can provide. Not only will this let your clients know that you offer the services they need, but it will also demonstrate your vast knowledge of the topics.
For lawyers, there are so many benefits to having a strong blog on your website. For one, it allows you to showcase your expertise in your field. First and foremost, your blog should serve the purpose of answering questions for your potential clients. If they remember that you have helped them in the past, they will be more likely to choose you for legal matters in the future. Blogs also allow you to address interesting topics for your current clients and keep them engaged with your firm.
Although the primary purpose of a blog should always be to help your clients, it can also help your firm. That is primarily because of the SEO power of your blogs. You can take this opportunity to answer questions that your potential clients might be searching for. For example, as a family law firm, your potential clients might have questions such as, "How does the court determine child custody in [location of your firm]?" Tailoring to your location by weaving in local keywords will help increase your rankings with potential clients in your area. Here are some tips to help you craft informative legal blogs that help your website rank:
Write about a single topic per blog

Offer legal opinions and information rather than legal advice

Understand your audience and what is of interest to them

Listen to your clients and answer common questions in your blogs

Write between 800 to 2000 words per blog (but don't feel pressured to be exact!)

Weave in relevant keywords in a natural way (avoid keyword stuffing)

Use bullet points and lists when possible

Link to other resources on your website throughout the blog

If the idea of putting together your website seems like too much to handle as a busy family lawyer, the team at Scorpion is here to help. Not only will we create a website for your firm, but we will provide the tools you need to ensure long-term success in your digital marketing plan. Contact us to learn more.