Every home services business with a mind for growth wants to attract more calls, customers, and revenue to their business.
Which raises a dilemma:
Do you spend time developing your skill and quality of service OR learning how to market your business?
Why not both?
In the podcast, The Sharpest Tool™, we sit down with leading home services marketing experts to discuss everything from building and maintaining a family-owned business to creating a positive brand experience to land more customers.
Here's a sneak peek at what we covered in March...
Episode 8—Building a Successful Family-Owned Home Services Business
Running a family-owned business can be...complicated. Success takes more than hard work—it takes strategic planning, clear communication, and real-world experience.
In Episode #8 of The Sharpest Tool™, you'll hear a former plumbing professional turned Director of Business Development to discuss what it takes to keep a family-owned home services business happy, healthy, and profitable.
Click here for the full episode.
Episode 9: Creating a Positive Brand Experience to Land More Customers

When your technicians show up on time and in a clean uniform, and they're knowledgeable, helpful, and friendly, these factors create an experience—an experience that forms your brand.
In Episode #9 of The Sharpest Tool™ podcast, you'll hear from a home services marketing expert as he explains why businesses like yours need a signature brand experience to separate yourself from the competition.
Click here for the full episode.
Episode 10: Seasonality Strategy: How to Maximize Your Off-Season

Every business has its slow seasons. But when slow periods mean gaps in the work schedule, inconsistent revenue, and a whole lot of stress about your business' future, it's time to get more strategic about your off-season.
In Episode #10 of The Sharpest Tool™ podcast, a veteran home services marketer explains how to maximize your off-season with an effective marketing plan that delivers consistent jobs all all-year-long.
Click here for the full episode.
Episode 11: How to Build a Successful Home Services Business Online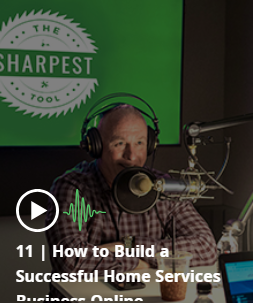 The home services industry is relatively new to online advertising. Which means for the digitally savvy business owner, there's plenty of market share for the taking.
In Episode #11 of The Sharpest Tool™, Tim Flynn, owner of one of Boston's most successful home services companies, discusses how to create a thriving plumbing business using digital marketing. As an entrepreneur who grew his business from one truck to twenty-one, Flynn knows what it takes to succeed. Join Tim as he dives right into the keys to success every business owner should use to grow their company.
Click here for the full episode.
Want to learn how to bring more jobs, revenue, and growth to your business?
Call (866) 616-0824 or send us a message.