Word of mouth has traditionally been thought of as the most important way for small, local businesses, such as HVAC or plumbing companies, to gain new customers. However, times have changed. Research shows that 97% of consumers use the Internet to find local products and services (BIA/Kelsey and ConStat).
You may have already invested in a well-designed, engaging website for your business. But even the best site can't attract new clients if it's never seen! So how do you make your HVAC or plumbing business stand out from competitors and get more visitors to your site? We provide four Internet marketing strategies below.
SEO: Get your website found in organic search results.
The organic search results are the natural results that appear on the search engine results page (SERP) in an online search. Here are examples of organic results for "Valencia AC repair" and "Valencia plumber."


If you want to improve your organic ranking (how high up your plumbing or HVAC website appears in the natural results), you can use search engine optimization (SEO). SEO is a set of best practices that make your website both search engine-friendly and user-friendly.
SEO strategies include:
Website copy that uses phrases that potential customers may be searching for, such as "[City Name] AC repair" or "[City Name] plumber" (keyword optimization)
Regular updates of your website and blog with high-quality, relevant content that your target customers would find valuable
The use of links to boost your website's reputation—especially inbound links from reputable, third-party websites
PPC: Improve your visibility through paid search advertising.
Today, the top results on most SERPs are paid search advertisements, also known as pay-per-click (PPC) ads. These are the results with the "Ad" label. With the presence of paid search ads, the number one organic result gets bumped down the page. Here are examples of paid search ads that appear for "Valencia AC repair" and "Valencia plumber."


For the highest level of exposure in search results, your HVAC or plumbing business should use both SEO and PPC. This helps you improve your chances of getting noticed by online users, and it gives you an advantage over your competitors.
With paid search advertising, you can:
Improve your visibility: By securing placement at the top of the page, you prevent your website from being drowned out by the competition in searches that are relevant to your business.
Target the right audience: When you set up your ads, you can choose to target specific audiences by factors such as location, demographics, device, and more. You can even target people who have already viewed your website at some point.
Capture web traffic while you are working on your SEO: High organic rankings can take a while to build. In the meantime, paid search advertising gives you instant visibility, which helps customers find your business even when it isn't ranking on Page 1 in the organic results.
Local SEO: Make sure your business is accurately listed on the web.
In addition to the paid and organic search results, Google and other search engines also feature local map results. These results show businesses that are nearby to the searcher's location. This is another important way that businesses such as yours lead interested visitors to their websites. Here are examples of map results for "Valencia AC repair" and "Valencia plumber."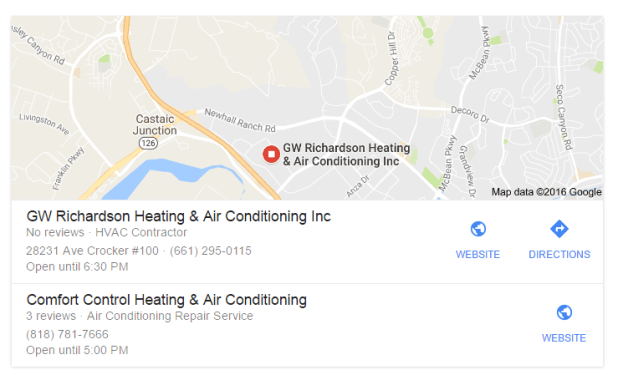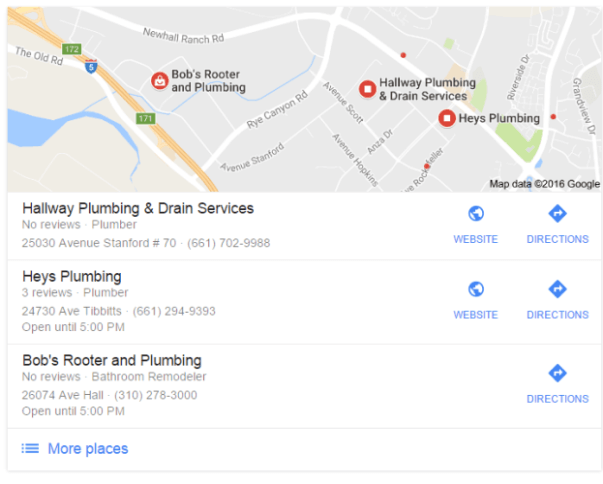 If you would like your business to appear in the map results, you will need to make sure you have accurate directory listings. You should start by setting up your Google My Business and Bing Places for Business profiles, as the search engines pull from this data for the map listings. Next, ensure that your online listings are accurate and consistent on leading directory websites such as Yelp and YP.com.
It's important to keep key business information—your business name, address, and phone numbers—up-to-date across all of your directory listings across the Internet. Conflicting information can hurt your local SEO and your placement in local map results. It can also confuse potential customers, which hurts business.
Social Media: Meet potential customers where they are most active.
Your potential customers are spending a significant amount of their time on social media. They're browsing through Facebook to unwind for the day and connect with friends, they're checking Twitter to stay in the know, and they're watching YouTube videos for do-it-yourself tutorials and other videos.
By being active on social media, your HVAC or plumbing business has the perfect opportunity to capture the attention of your target audience. You can use both organic and paid posts to reach potential customers, let them know about your business, and even get them to take certain actions, such as visiting your website.
Our HVAC & Plumbing Marketing Specialists Can Help!
Managing a comprehensive online marketing strategy for your HVAC or plumbing business on your own is difficult. With an ever-changing digital landscape, it can be easy to get left behind. Fortunately, Scorpion is here to help.
Our team of plumbing and HVAC marketing experts can handle every aspect of your Internet marketing, from the design of your website to the digital marketing campaigns that get your business more web visitors and new customers. We also offer an easy-to-use online dashboard that makes it easy to track the success of your online marketing. Contact our team to find out how we can get you more jobs from the Internet!