Almost every business benefits from social media - more than 91%, in fact. If you're not on board with social media marketing, you could be missing out on a big opportunity. But it isn't always that easy for home services businesses.
After all, how many people turn to social media platforms for plumbing-related content? What kind of content could you create to attract and engage new followers?
While it may seem like plumbing isn't compatible with social media, this isn't the case. With the right content strategies, you can reach - and convert - new customers daily.
Let's explore the world of social media for plumbers, including top strategies for content creation and some social media post examples to get you started.
The Basics of Social Mediafor Plumbers
The best way to start a plumbing social media account is to pick your platform. It can be challenging to commit to several pages, let alone create daily or weekly content to keep your audiences engaged. It's best to commit to a single channel to focus your strategy and establish yourself as an expert on that platform.
Let's break down the top three social media platforms for plumbers:
Facebook. As the biggest social media platform, Facebook is a great place to start sharing videos, photos, or text. It's also an ideal platform for building a community and hosting more functional business features, like reviews and ratings. If your target audience is homeowners, this is a good option - the majority of users are between 30 and 49.
YouTube. Another significant platform, YouTube, is perfect for video content where you can share helpful tips and behind-the-scenes insight about your work. Creating a channel can help you establish yourself as the expert in your field and offer tangible value to your audience.
Instagram. As a more visual platform, Instagram offers a chance to share photos on your social media feed and snippets of daily life through the Instagram Stories feature. It pulls in a slightly younger audience (most people between 18 and 29 use the app), so it can be a great option to appeal to a younger demographic.
Which one do you pick? All three of these platforms have the kind of demographics that could work for your plumbing company. It all comes down to which audience you're trying to attract, as well as the type of content you want to produce. If you're better at photography and text posts, Instagram and Facebook offer a great opportunity. If video production is more your forte, you can turn to YouTube to produce long-form video content.
Social MediaPostExamples: Plumbing Posts for Social Media
Establishing a social media presence can open new doors for your plumbing business. If you want to get your name out there, establish yourself as a professional in your field, and engage directly with your customers, there's no better way to do it.
However, when it comes to producing content for that social media, it can get a lot more complicated. Here are some of the best example social media posts that will help you kick off your content strategy.
1. Plumbing Tips and DIYs
One of the best ways to add value to the social media space is to offer plumbing tips and DIY tutorials. These posts will grab the attention of people already looking for plumbing help - and position you as the ideal expert.
For example, you can offer tips on saving water, preventing leaks, or choosing the best type of faucet. While YouTube is an excellent platform for video tutorials, you can also use infographics to get the information across quickly in an easy-to-read and entertaining format. Take a look at this example from Michael & Son: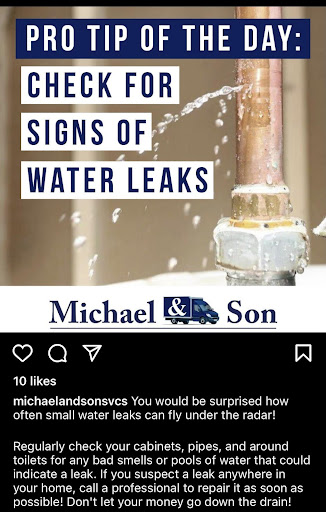 2. Share Plumbing Facts
Just because it's a plumbing page doesn't mean everything needs to be about business. Don't be afraid to offer something both fun and educational, like plumbing-related fun facts. While more casual and entertaining than plumbing tips, this can also help you establish credibility as an expert.
Try searching on the Internet for some fun facts to share. For example, this YouTube video posted by Dependable Service Plumbing & Air: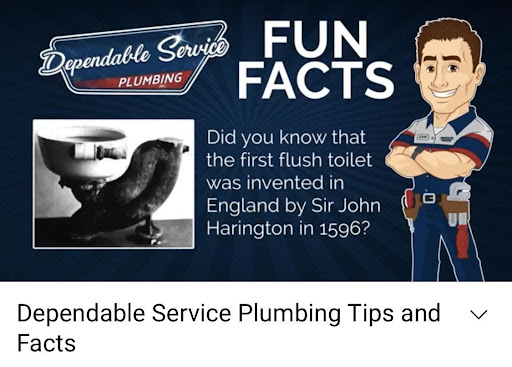 3. Go Behind-the-Scenes
Working on something especially interesting or impressive? Or just captured an engaging shot from behind-the-scenes of a job? This is the perfect opportunity to share your progress.
Sharing photos of your work is a great way to show off your skills. Don't be afraid to have fun with it. The more engaging the visual, the more social media engagement you'll have.
A great example of an attention-grabbing shot is this plumbing Facebook post by Classic Plumbing Inc. showing a worker going above and beyond: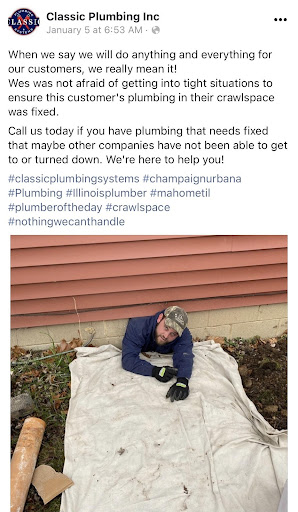 4. Put a Spotlight on Your Employees
A post highlighting the contributions of a long-time employee - or welcoming a new employee onto the team - can show that you appreciate everything your employees do for you while also demonstrating the expertise of your staff.
Share a picture of one of your employees in their uniform. Tell your followers a bit about them and thank them for their work. For new and loyal customers alike, this can shed light on the more human side of your brand.
Here's an example from Allbritten showing off one of their new apprentices: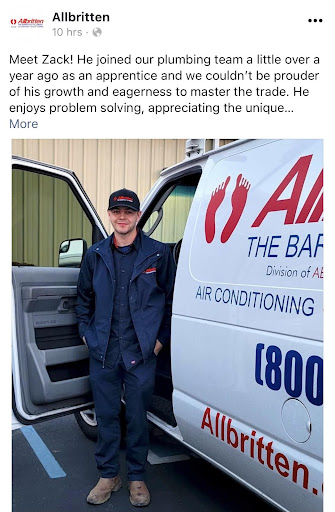 5. Show Off Your Tools
You probably have a wide array of tools to get the job done. Not everybody gets to see the equipment that goes into the job, so why not show it off?
Take a few pics of some of your favorite or most impressive tools - and what your employees can do with them. This great example from Plumbing Services Solutions Inc. shows off their equipment while paying homage to the local area: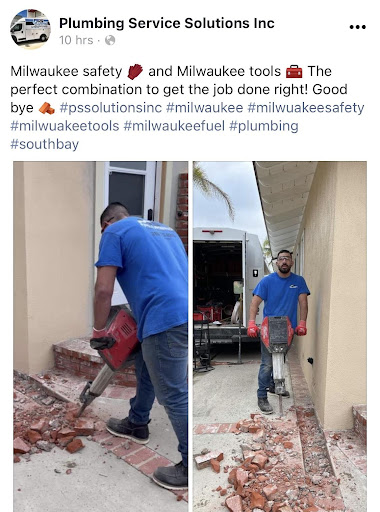 6. Share Your Best Work
Whether you're replacing drainage pipes or installing a kitchen sink, there's so much that you do every day for your customers. It can't hurt to ask your customers to take a picture of the results. If you can capture the right shot of a job well done, you can show your followers photo evidence of the great work you do.
Not everything will be photo-worthy - not many customers will want to see a photo of an unclogged toilet. But some visual jobs like installations in bathrooms or kitchens are great to highlight. In this shot from Bright Flow Plumbing, they show off the impressive results of unclogging a blocked pipe: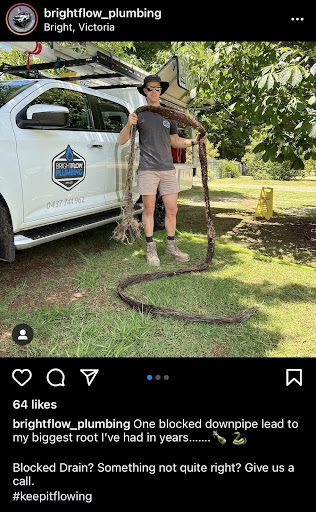 7. Make People Laugh
While plumbing isn't often associated with humor, you can still use your social media to have a bit of fun with your audience. Bring value to your audience just by making them laugh. Share some plumbing-related jokes or photos. You can even share memes or create some of your own to make people think about plumbing differently.
This kind of humor shows your audience that you can get the job done while being friendly, relatable, and funny. Just be sure to keep all humor professional and family-friendly for all audiences.
This classic meme posted by Works Plumbing shows you can explore 'toilet humor' while still keeping it professional: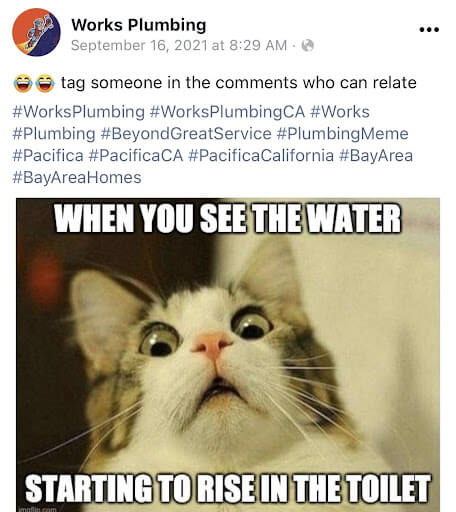 8. Promote a Good Cause
These days, people are looking for more from the brands they support. 70% of consumers want to know what businesses are doing for social and environmental issues. The bottom line is: They want to see that you're socially aware and socially conscious.
A great way to do this is by using your social media to promote a good cause. As a plumber, look for issues like clean water or hygiene fundraising campaigns. Sharing these issues and boosting fundraisers shows your followers that you care about broader issues.
In this Twitter post, Pimlico shares an informative video about the importance of basic sanitation worldwide for World Toilet Day: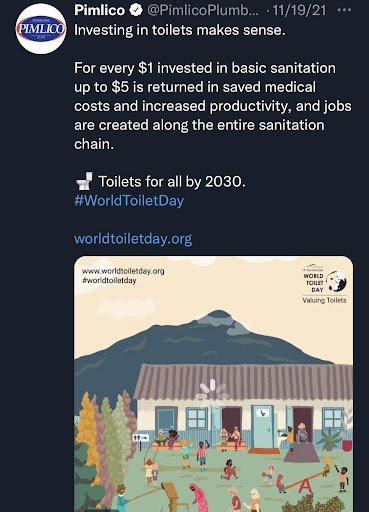 The Bottom Line
It isn't easy to get a foothold in the social media world as a plumbing company. It might seem impossible to have an engaging presence on Instagram, Facebook, or YouTube, but there are more opportunities for plumbing content than you'd think. With the right social media post ideas in mind, you can take advantage of everything the world of online marketing has to offer. Social media can take your plumbing business to new heights by increasing brand awareness, boosting your content marketing, and strengthening the bond with your target audience.
With all that being said, it still takes time and energy to make a social marketing strategy, let alone execute it.
At Scorpion, we can handle social media management for you. While you focus on your business, we use our marketing expertise to help you get the most out of each post. Our team of plumbing industry experts is here to help you get results, so you can rest assured your marketing efforts are paying off.