Email marketing is just as relevant today as it was ten years ago. That's why so many home services businesses use it to promote themselves.
Maybe you want to start sending emails, too, but you don't know how.
What should you say? What should your messages look like? Are there specific things each of your emails should have? Don't worry, we've got you covered!
This article will explain why email marketing is such an effective way to promote home services. Then we'll share five excellent email marketing examples to inspire you.
Does Your Home Services Business Need Email Marketing?
There are a lot of ways to promote a home services business. So, no, you don't need email marketing. But there's no doubt that email is an amazing marketing channel.
Why? Because it gives home services business owners like yourself direct access to their leads and potential customers, helps them book more appointments, make more sales, and has impressive ROI. Let's take a closer look at each of these benefits.
Direct Access to Your Target Market
Once you have someone's email address, you have direct access to them.
Have you just started offering a new service? Tell your email list to see if they want to book an appointment. Are you running a limited-time promotion? Start an email campaign and tell your email list about it. Are you expanding your service area? Share this exciting news with your email list in an email newsletter.
Once you build an email list, you'll be able to contact your audience regularly. This will allow you to build valuable relationships with them.
More Booked Appointments and Sales
Why is it important to build relationships with your audience? It will lead to more booked appointments and sales for your company.
As a customer, would you rather pay a complete stranger to work on your house or the person who's been sending you educational content via email for the past six months? You'd probably choose the latter option because you have a relationship with them.
Email is a wonderful way to build relationships with a potential customer. Your sales will go through the roof when you use it for this purpose.
Amazing Return on Investment (ROI)
Here's the really cool part: email marketing will help you boost sales without costing you an arm and a leg. In fact, studies show that email marketing ROI clocks in at 4,400%.
In other words, if you spend $1 on email marketing, you can expect to make $44 in return-provided you understand how to craft good emails that your audience actually wants to read, of course. Don't worry, we'll help you do that in the next section.
Get Inspired by These 5 Email Marketing Examples
There's no doubt about it, email marketing can be incredibly effective. To make sure you capitalize on this promotional channel, we've rounded up five email marketing examples. We hope they inspire you to craft amazing emails for your subscribers!
1. Terminix

Email Source: Really Good Emails
About the Company: Terminix is a popular pest control company with 300+ locations nationwide. The company services 50,000 homes a day with their custom solutions.
What We Love About This Email: This is a really great email from Terminix, and it all starts with the stellar subject line, "Termite swarms are now in your area."
Terminix automatically grabs subscribers ' attention by mentioning "termite swarms" in the subject line. Then, they create a sense of urgency with "now in your area." Homeowners are definitely going to open this email newsletter to learn more.
Terminix maintains this sense of urgency in the email campaign's body copy. They talk about how termites can cause thousands of dollars in damage, can easily access homes, etc.
Key takeaway: By the time subscribers finish reading this email, they only have one thing on their minds: "contact Terminix to protect my home!" Terminix makes this really easy with big green CTA button that say "Schedule FREE Inspection."
2. Portland Plumbing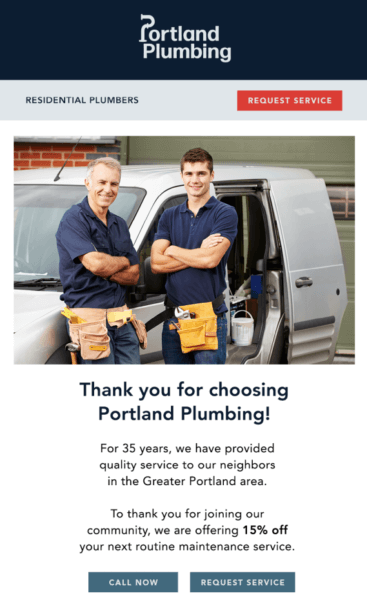 Email Source: Constant Contact
About the Company: Portland Plumbing is a family-owned business serving the greater Portland, OR area for more than 35 years.
What We Love About This Email: This next email marketing campaign example comes from Portland Plumbing. The folks who created it did a few things really well.
First, the email is well-designed. The image and text form a sort of "funnel" for the eyes that naturally causes subscribers to look at the email's CTA button, which is also well-crafted. Who wouldn't want to save 15% on their next plumbing service?
Key takeaway: Portland Plumbing does a great job building trust with their email subscribers. The image depicts company employees. And the body copy talks about how Portland Plumbing has been servicing the subscriber's community for the last 35 years.
3. Heaven's Best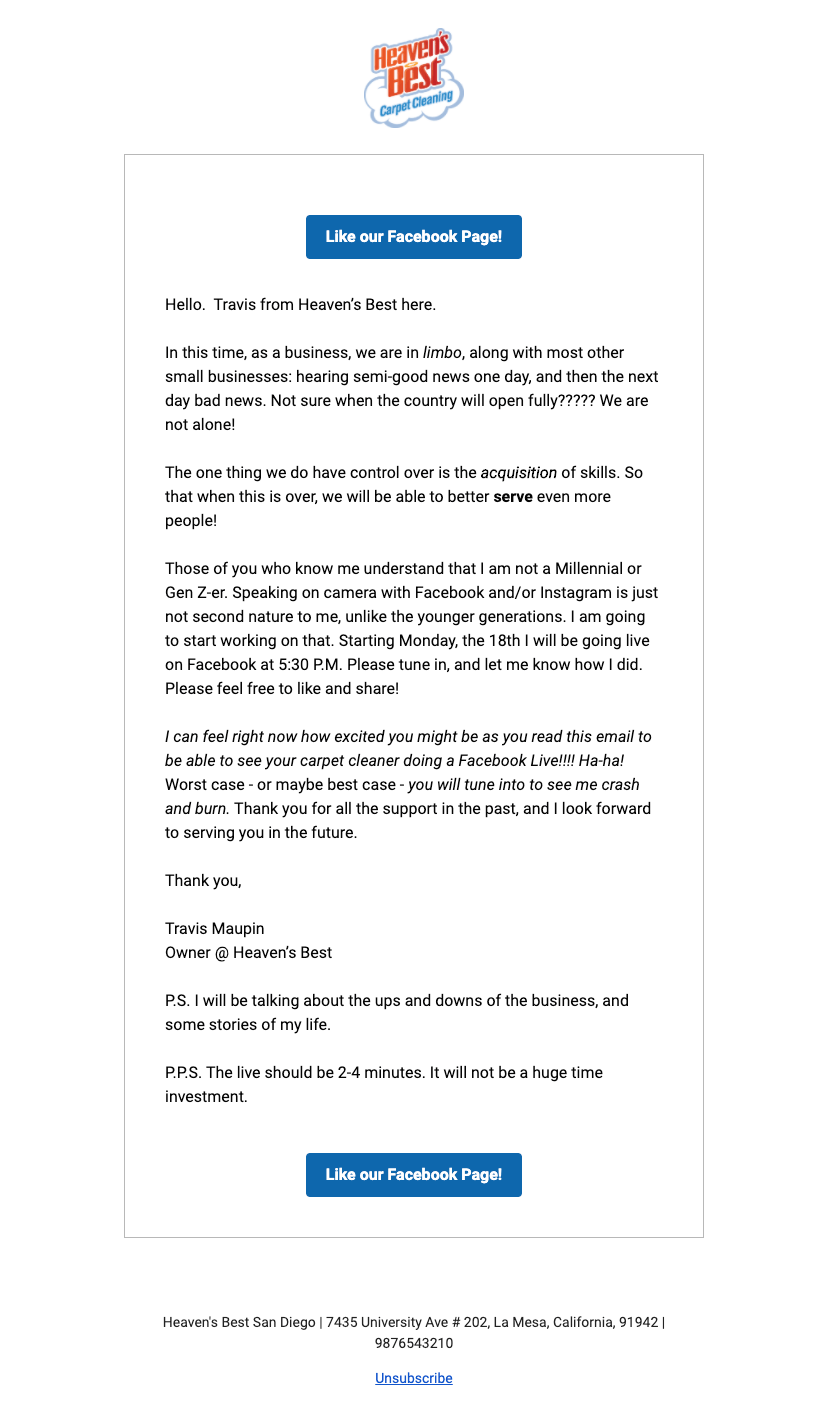 Email Source: Housecall Pro
About the Company: The Heaven's Best Carpet Cleaning franchise in El Cajon, CA, has been in business for more than 28 years.
What We Love About This Email: This email from a Heaven's Best franchise takes a different approach than this post's email marketing examples. It doesn't have a flashy design. And there aren't any pictures, aside from the company logo.
But the writer (presumably, Travis Maupin, the company's owner) crafts a really heartfelt message about pandemic struggles and wanting to learn new skills. He then invites his email subscribers to join him on Facebook via a big blue CTA button.
Key takeaway: The simple design, combined with the text's sincerity, makes this message a real winner. It also proves that email marketing is, more than anything else, about building relationships.
4. Handy

Email Source: Really Good Emails
About the Company: Handy is an online marketplace for home services. Those looking for cleaners, contractors, landscapers, and other professionals can connect with them on Handy.
What We Love About This Email: This Handy email does a lot of things right. It's well-designed, includes eye-catching imagery, and nails its CTA.
But there's one thing, in particular, that we want to talk about: the way Handy uses gamification techniques to make this email super engaging.
According to Wikipedia, gamification is: "The strategic attempt to enhance systems, services, organizations, and activities to create similar experiences to those experienced when playing games."
Key takeaway: Handy doesn't just talk to its subscribers in this email. It asks them to participate by voting for their "most hated" household chore. Even better, those who cast their vote are eligible to win up to 40% off the next service they book on the Handy website.
5. Angie's List

Email Source: Really Good Emails
About the Company: Angie's List is another online marketplace through which millions of homeowners can search for home services professionals to work on their homes.
What We Love About This Email: Honestly, there's a lot to love about this email, starting with its personalized subject line: "Congrats, Smiles Davis! Let's find the service you need".
Key takeaway: Personalization is key to email marketing success. This is why simple things, like adding a subscriber's name to a subject line, can boost open rates. (Note: email marketing software makes it easy to personalize all of your emails at once, saving you time.)
This email is also well-designed, helps drive home the benefit of using Angie's List service, and includes multiple, easy-to-see CTA buttons.
Supercharge Your Email Marketing Efforts
Email marketing is powerful-if you do it right.
Fortunately, there are plenty of email marketing examples on the internet for you to analyze and emulate, starting with the five emails above. We encourage you to study them!
One of the best things about email marketing is that anyone can do it. You don't have to have innate abilities. You just have to work hard and refine your skills.
Are you short on time? Then skip the learning curve and partner with Scorpion. We're email marketing strategy experts and would be happy to help you build and implement a winning email marketing strategy. Contact us today to learn more about working together.
Let's talk about email marketing. Schedule a consultation. Talk To Us