2020 has been a challenging year, and under the current circumstances, there has never been a more important time to think strategically about your medical practice's digital marketing.
Being more mindful with your online marketing plan will help:
Ensure that your patients feel safe
 
Drive patients to your office when they're due for an appointment
 
Create a more seamless patient experience,
 
And build brand awareness and trust in your community...
...which can all help you recover lost revenue and build greater momentum for your practice moving forward.
And when thinking about where you should be focusing your marketing investments, here are some points to consider...
Your patients are spending a considerable amount of time online
People today spend a good portion of their day in front of a screen, while they're:
On the computer at work.
 
Looking up information in search engines like Google.
 
Browsing, consuming, and sharing content on social media.
 
Watching videos on YouTube, Facebook, and Instagram.
And during the pandemic, people are only increasing their online activity. Research shows that average data usage spiked 47% in the first quarter of 2020 compared to the same period last year. Additionally, in a survey we did to gauge how consumer attitudes have shifted during the COVID-19 outbreak, we found that more than half of respondents (54%) said they spend five hours or more online each day.
This begs the question: why aren't more medical practices taking advantage of digital marketing?
With marketing and advertising tools available across so many cost-effective digital platforms, it's surprising to see that many medical practices are still relying completely or very heavily on traditional methods of promoting their practices, without really tapping into the potential that comes with reaching patients online.
Traditional marketing only covers part of the patient journey
There is nothing inherently wrong with traditional marketing channels like radio, television, magazines, and billboards. When done right, these forms of marketing can be effective for exposing your brand to a wider audience and building name recognition for your practice. It's possible that someone may see your ad in one of these placements and pick up the phone to call your practice.
The real problem with traditional marketing occurs when medical practices focus primarily on these offline channels without considering what else is needed to reach prospective patients at every stage of their patient journey.
Consider the fact that healthcare consumers are research-driven. Without higher out-of-pocket healthcare expenses, greater awareness of their healthcare options, and growing healthcare consumerism, many people today will see a billboard or a print ad and want to learn more before scheduling an appointment.
And where are they most likely to look for additional information?
They're probably going to do one of the following:
Look up the name of the medical practice on a search engine like Google or Bing
 
Check out the practice's reviews on a site like Yelp or Healthgrades
 
Visit the practice's website directly
 
Check them out on social media
As a result, medical practices that only invest in offline marketing are not able to meet patients at all stages of the patient journey and therefore have a more difficult time "closing the loop" in their patient attraction and retention efforts.
How digital marketing gives your practice a competitive advantage
In contrast to traditional marketing, which is designed to reach the masses (e.g., anyone and everyone driving through a street corner or tuning into a television program), digital marketing allows for a much greater level of precision in your audience targeting, making it easier for you to reach specific audience segments.
For example, in a Google Ads campaign, you can set your ads to appear to people in certain zip codes who are searching for medical services like yours. Or, in a Facebook campaign, you can target people within specific demographics, such as women between the ages of 25 and 55 who live within a 10-mile radius of your practice.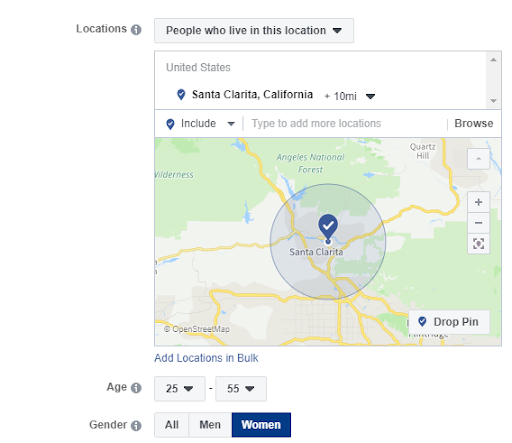 Plus, Internet marketing offers more comprehensive and accessible tracking and reporting, so you're never in the dark when it comes to what's working and what isn't in your marketing strategy. With your digital campaigns, you can easily track and measure a wide range of ad performance metrics in real time—metrics like:
Impressions (the number of times your ads are viewed)
 
Clicks
 
Click-through rate
 
Conversions
 
Social engagements (e.g. likes, comments, and shares)
 
Traffic sources (where your leads came from)
With digital marketing, you're not only able to target more of your most ideal patients—you're also able to see from beginning to end exactly how your campaigns are contributing to your business, which allows you to create smarter, more cost-effective strategies moving forward.
Digital marketing strategies to consider


If you're not sure where to start, here are a few highly effective digital marketing strategies to consider for your practice:
Modern web design — Your website is one of the first places patients go to research your practice. And the quality of your website can impact your ability to rank well on search engines like Google and Bing. To reach and impress more patients online, you need a site that is beautiful, modern-looking, fast, mobile-friendly, and filled with helpful content. Here are five signs you might need a new website.
 
Search engine optimization (SEO) — Having a beautiful website is just the beginning. Your site also needs to be easy for patients to find. SEO is a set of practices that make your website both user-friendly and search engine-friendly so search engines are more likely to feature your site high in their results. But common mistakes can also hurt your visibility. The higher your search rankings are, the more traffic you'll direct to your site, and the easier it will be to attract new patients.
 
Digital advertising — Internet marketing is becoming increasingly competitive as more medical practice owners are investing in their online presence. That's why it's important to use digital advertising, which gives your online visibility an added boost. You can place targeted ads for your practice through pay-per-click (PPC) in search engines, display ads that show up on other websites, social media ads, video ads, and more.
 
Content and social media marketing — People regularly turn to the Internet to find answers to common questions about their medical needs (e.g., "how often should I get my teeth cleaned?" "how do you fix a stiff neck?" "how long does it take to recover from knee replacement surgery?") By creating content that answers questions like these and then sharing it on popular social media sites, you'll help to educate your patients, inform them about your medical services, and build trust all at the same time.
 
Online reputation monitoring — Medical professionals have been relying on word of mouth to attract new patients for centuries. So, it's no surprise that one of the most popular places people go to find new healthcare providers is on review sites where they can receive advice from past patients. Research shows that 71% of patients use online reviews as their first step to finding a new doctor, and 76% trust online reviews more than personal recommendations. That's why it's important to be proactive in monitoring and managing your online reviews.
 
Video marketing — Video has quickly risen in ranks as the most popular form of media on the Internet. More than 1 billion hours of video are watched on YouTube each day, and the average person spends 88% more time on a website with video than one without video. Use video marketing on your website as well as on platforms like YouTube, Facebook, and Instagram to engage potential patients online and raise awareness of your practice.
To receive more helpful tips for marketing your practice and attracting more patients, sign up to receive updates directly to your inbox each month.