Urgent care centers are among the workers on the front lines of the fight against coronavirus, and they find themselves in a unique position to help patients deal with a variety of the pandemic's effects. They're able to treat patients' physical symptoms, of course, but they're also equipped to combat the mass confusion that many Americans still feel toward the virus.
This means that clear and consistent patient communication is more important than ever for urgent care centers. By employing the right marketing strategy during this pivotal time period, you can help keep the public informed, your staff safe, and your practice running smoothly.
Search trends for urgent care centers
Overall, urgent care centers are seeing relatively consistent search interest:

Google Search trends for "Urgent Care Services" (blue) and "Urgent Care Near Me" (Red) in the US from early January through early April

The biggest spike we've seen, however, has been in users seeking out urgent care services in order to get tested for COVID-19. We can see this by looking at related breakout terms Google has closely associated with searches for urgent care services.
Blue: coronavirus testing
Yellow: covid-19 testing
Red: covid 19 testing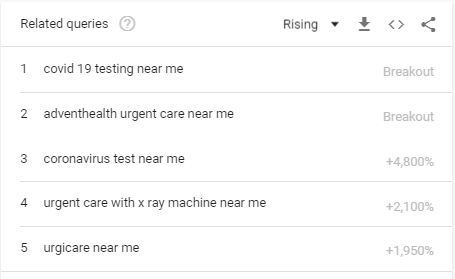 What should your urgent care center be doing?
First and foremost, urgent care leaders should double- and triple-check that their policies and processes are in compliance with the latest CDC guidelines. People are feeling more cautious than ever, and your practice is obligated to follow expert recommendations for both ethical and business reasons. You should also take steps to ensure your staff is up to speed and actually implementing the standards set in place.

Scorpion recently hosted a webinar in which we spoke with Yaman Subei, CEO of Urgentology Care, about how his practice has handled the pandemic. He told us that during the outbreak's early stages, he scheduled a meeting with his entire team to make sure everyone was willing and capable to handle an influx of patients. He also brought up creative ways his team is staying safe, including video visits and curbside check-ins to prevent crowded waiting rooms.
On top of strategic planning with your team, you have the responsibility and opportunity to inform the public about what they should be doing to stay healthy. Recent studies have shown that people trust local health authorities more than the federal government when looking for answers to their COVID-19, putting you in a strong position to build trust in your community.
So, how can you make sure your message is heard? For starters, urgent care centers should add a banner to their websites that points visitors toward a COVID-19 FAQ page.

Some FAQs your patients may be asking include:
Are you an official CDC testing site?
Do you offer COVID-19 testing at all?
If so, what are the requirements to qualify for a test?
If not, can you direct me to another testing site?
If I go to a testing site, what should I expect?
Should I come in for testing or just stay home?
If I stay home, what should I do?
What should I do if I have respiratory symptoms? Flu symptoms? GI symptoms? Fever?
What medicine can I take?
Urgent care centers should be prepared to answer all of these questions and provide regular updates if the answers to these questions change over the coming days and weeks. If your urgent care doesn't currently offer the services a potential patient is looking for or is unable to answer their question, send them a link with the most updated, accurate information related to their question. It may even be necessary to update your website every day to make sure your communication is up to date and consistent with the CDC, as well as the guidelines of your state and local government.
With as many questions as consumers have about coronavirus, the most ideal option is to have a microsite, allowing you to offer a more robust repository of COVID-19 information for your patients. Pages like these go much further in building trust and positioning your center as the go-to source for updated information in your area.
Beyond microsites, Scorpion is here to help urgent care centers put together marketing plans that bring order to the current chaos and pave the path for long-term success. For additional recommendations about how your practice should respond to COVID-19, visit our resource center and contact us here with any questions.