Every business owner understands that these are unprecedented times because of the coronavirus pandemic—but how has COVID-19 affected veterinarians specifically? What are the best practices to maneuver your veterinary clinic safely and successfully during this health crisis?
We want to help you put your practice in the best possible position to succeed safely and securely amidst COVID-19, so we put together the following information to help you understand how you should adapt to the current conditions to set yourself up for future success.
What's the state of business for veterinarians clinics right now?
With business closure orders varying from state to state, veterinarians across the nation are facing different levels of impact to their clinics. There are numerous states that consider veterinary care an essential service (meaning they're allowed to stay open when other businesses must close their doors), and others are only allowing vets to deliver emergency care.
If you're a veterinarian who is able to continue working, you will need to think about how to shift your strategy, find new ways to serve your clients in the current health crisis and adjust your focus to only the most necessary services at this time. And regardless of whether your clinic is open or closed, you will need to think about how you can continue to stay in front of your current and potential clients—both to provide them with the support they need, and to ensure that they know which clinic to visit when things finally return back to normal.
By paying attention to how consumer trends are changing due to COVID-19 and by implementing best business and marketing practices (which we cover below), you will be in a much better position to come through this business climate successfully.
Best health and safety practices for veterinary clinics
Undoubtedly, the spread of the deadly coronavirus is on everybody's mind—people are wearing masks, staying 6 feet apart, and being mindful of washing their hands—but what are the best practices for veterinary clinics when it comes to delivering care? What steps should veterinarians be taking to not only reduce the chance of spreading the virus through their human clients, but also through the animals they examine and treat?
Here are a few creative solutions many veterinary clinics have been implementing so far:
Veterinarians are assessing their clients' needs by utilizing telemedicine. The FDA has started to temporarily ease up on certain requirements for veterinarians to make it easier for them to prescribe medications via video chat.

Helping clients with their pets curbside has made visits more manageable from a health safety perspective. Many vet clinics meet clients at their cars, bringing the animals in via leash or carrier. This allows the owner to stay in the vehicle and reduce human-to-human interaction.

For pickups of medications or special foods, many vet clinics have owners put their orders in and pay over the phone. Then, once the client arrives and parks, the vet staff leaves the items outside the front door for the client to pick up.
As a veterinarian, consider what measures you can take to deliver quality service and care while complying with social distancing and health protocols, which helps to ensure the safety of both your clients and your staff. Precautionary measures also help to ease your clients' concerns.
Once you have figured out how to adjust the day-to-day operations in response to the coronavirus outbreak, the next step is to think about how you should be adjusting your marketing strategy, as staying in front of your target clientele is critical for the success of your business. The more top-of-mind and trusted you are, the more likely you are to build strong relationships with clients over the long run. And as some of your competitors are reducing their advertising buys, they are leaving more opportunity for you to capture mindshare from their patients.
Let's dive into the veterinarian search trends we are currently seeing.
How people are searching for veterinarians
As far as how people are searching online for veterinary services these days, search rates for veterinarians have remained relatively unchanged. They remained consistently high over the past 12 months and only saw a slight decline in March, coinciding with rising concerns and stay-at-home orders due to COVID-19. However, even with this dip, search interest is still on par with the activity we were seeing at the same time last year, which is a positive sign indicating that consumer interest in veterinary care is still strong.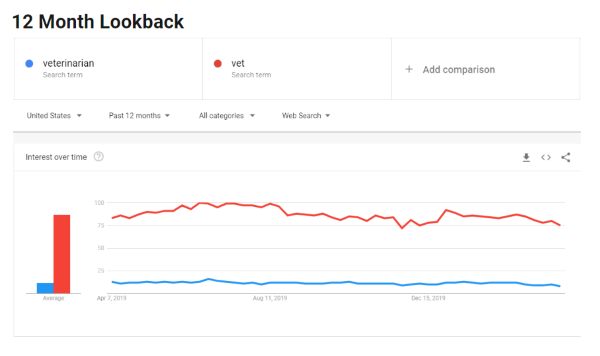 It is worth noting, however, that there has been a shift in the type of veterinary services consumers are prioritizing right now.
People are now searching for 24-hour and mobile veterinary care at higher rates. According to data from Google pulled on April 2nd, here's how search interest changed for the following terms over the previous week:
"24-hour vet near me" increased 150%
"mobile veterinarian near me" increased 100%
"24-hour veterinarian care near me" increased 70%
This makes sense considering the fact that in today's climate, people are generally only taking their pets to the veterinarian when they need urgent or emergency care (increasing the need for 24/7 availability), and they're also looking for ways to access care for their pets without leaving their homes. With this trend in mind, you should be featuring after-hours care or mobile care within your current marketing campaigns, if these are services you offer.
And as far as how people are engaging with veterinary clinics online, we're still seeing strong activity in this area. Here at Scorpion, our veterinarian clients' paid search advertising campaigns recently saw a 50% increase in click traffic over the span of just one week. This goes to show that even when extreme circumstances put a damper on business as usual, consumers are still looking for information and resources from their local veterinarians, and still researching veterinary services.
Now that you understand the mindset of your target clientele, it's time to consider the best way to move forward with marketing your clinic under the current circumstances. Below are a few points to keep in mind as you reassess and adjust your marketing plan.
Three things to remember for your marketing strategy
Realize that people still need you
The coronavirus crisis is difficult enough without the added stress of people having to worry for weeks on end about whether or not their pets are going to be able to access the treatment, medication, and care they need. That's why most vets are finding ways to maneuver within the coronavirus pandemic and assist their clients' animals however they can.
If anything, you may just find there is a shift in focus on the types of services your clients are looking for and the types of services you should be delivering. In your local area, you may be required to only focus on the services that are most essential to the immediate health of your clients' pets (e.g. treatment for serious ailments and conditions and prescribing of needed medications as opposed to non-essential services like neutering, grooming, and routine dental care). But first and foremost, you should continue to think about how you can continue serving as a helpful resource to your clients in this time of uncertainty.
Put yourself out there
This is not time to hunker down and wait out the current crisis. This is a time to step up in your community because your clients are concerned about the health and well-being of their pets and they're looking for information that can provide guidance and encouragement. Consider using social media platforms like Facebook and Instagram to position yourself as an accessible, safe, and professional veterinarian during this pandemic. You can do that by sharing updates related to your services, best practices for animal care during the COVID-19 outbreak, links to insightful articles, videos that answer common questions, and more.
Keep in mind that social media marketing will be an especially powerful tactic for your clinic during the COVID-19 pandemic, as stay-at-home orders are causing consumers to spend more time on social platforms. In March 2020, Facebook usage was up 53% higher than it's ever been before, which makes sense considering that people now have more time on their hands and they're looking for ways to stay connected with family and friends as they isolate themselves in their homes.
Social media marketing helps you keep your clinic visible to potential clients in your local area, even when they aren't actively searching online for a veterinarian. This helps you maintain a high level of business brand awareness that will pay off later when stay-at-home orders are lifted and people rush to their local vets to catch up on delayed treatment and services for their pets.
And don't forget that you can still invest in advertising on search engines to keep business coming in now if you're still providing services during the pandemic—you may just need to switch your focus to emergency-related search terms. Continuing your paid search campaigns is actually a smart choice right now, as advertising costs are dropping due to decreased competition with many clinics scaling back on their budgets.
Communicate the safety of your facility
Right now it's a scary time for everyone, but you can ease your clients' concerns by clearly communicating how your clinic has adapted and is exercising the CDC's recommendations for reducing the spread of the virus.
If the website for your practice has a blog, then use it as a platform to describe all the ways you have navigated through this pandemic to keep your clients safe. Your thoughtfulness in this area will go a long way with those in your community. Share this information through email communications to clients, social media updates, and additional pages or banner notifications on your website dedicated to COVID-19 information.
At the end of the day, you want your clients to feel comfortable and know that they can trust your clinic.
Take initiative now
Remember, this is not a time to sit idle; it's a time to act. At Scorpion, we are helping medical service providers find ways to stay visible in their communities, continue serving their clients, and safeguard their business during the current lockdown.
We can help you adjust your online marketing strategy to assist in mitigating the negative impacts of COVID-19 on your veterinary practice, both now and in the future. Don't hesitate to contact our team to get started, or visit our resource page for more helpful tips for getting through the coronavirus pandemic.