Wish you knew the secret to attracting more patients to your orthodontic practice? It helps to understand how people search for and select orthodontists today.
We conducted a survey to help you better understand what your prospective patients are looking for, and what you can do to win their trust and their business.
Check out the survey results and what they mean for your orthodontic practice.
Here's how new patients are finding you…
Question: How did you find your orthodontist?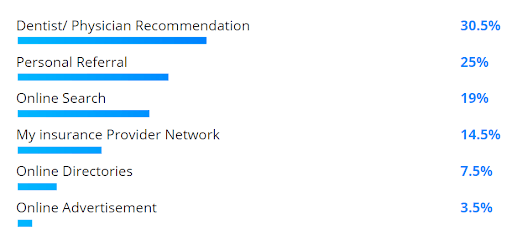 The result:
Nearly a third of patients (31%) will ask their dentist or doctor for a referral when looking for an orthodontist. The second and third most popular ways of finding an orthodontist include personal referrals (25%) and online search (19%).
The takeaway:
While physician referrals and word of mouth have long been powerful patient sources, a significant percentage of patients (nearly 1 in 5) are turning to search engines to find orthodontists—and others are using digital channels like online directories and digital ads. By investing in your digital presence (like creating a high-quality website, running digital ad campaigns, attracting more online reviews, etc.), you'll have a better chance of staying visible to prospective patients and winning their business.
Question: What type of services have you sought from an orthodontist?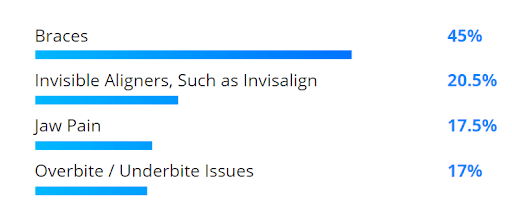 The result:
The most common services patients want from orthodontists are braces (45%), followed by invisible aligners, jaw pain, and overbite/underbite issues.
The takeaway:
It's important to know what types of orthodontic services typically bring new patients through the door. For most orthodontists, those services are braces and invisible aligners. Take some time to evaluate your practice and determine what types of services help you attract new patients, and which ones are the most lucrative for your office. Then, create marketing campaigns focused on those services. Use your marketing message to educate prospective patients about best practices in orthodontic care (e.g. why it's important to see an orthodontist instead of using DIY aligners), build exposure for your practice, and ultimately attract new patients.
Question: What made you want to seek out services from an orthodontist?


The result:
What are patients' motivations for seeing an orthodontist? For nearly a third (31%), it's to improve the look of their teeth ("personal aesthetics"). For the remainder of patients, the reasons are almost an even split of general checkups (25%), for pain management (24%), and preventative care (21%).
The takeaway:
Keep the needs and desires of their patients at the forefront of your mind, adjusting your messaging to appeal to prospective patients on a more personal level. This may involve using messaging like "Feel Confident About Your Smile" and "Put an End to Your Jaw Pain" that immediately shows prospects how they can benefit from your services.
Here's how prospective patients are engaging with your website…
Question: What are the first items you would look for on an orthodontist's website?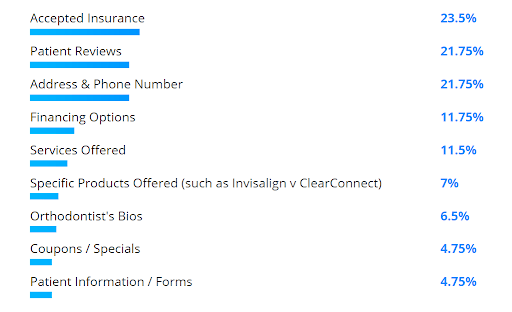 The result:
The first thing patients look for on an orthodontist's website is the type of insurance they accept (24%), closely followed by patient reviews and the office's address and phone number. Smaller percentages of patients look for other things like financing options, the products and services offered by the practice, the orthodontist's bio, etc.
The takeaway:
There are a few things that can be a deal breaker for a prospective patient, including if the orthodontist:
Is not covered by the patient's insurance.
Has been poorly rated by other patients.
Is not located close enough to the patient.
Which means if your website does not make this information readily available, a prospective patient may just leave your site and look elsewhere. Be sure to provide as much helpful information on your websites as possible to give your visitors the best online experience and keep them engaged with your practice.
Question: Which feature would be most important to you on an orthodontist's website?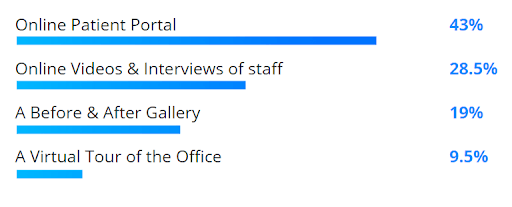 The result:
In addition to helpful information, patients are mainly looking for convenience when they visit an orthodontist's website. For existing patients, this means having access to an online patient portal is important (43% of patients). Through a portal, they can do things like schedule visits, access their records, pay bills, and so on.
Next, patients want to get a feel for what the orthodontic practice is like before physically coming into the office (e.g. watching videos that showcase the facilities and staff, seeing before-and-after photos of dental work, taking a virtual tour of the office, etc.)
The takeaway:
Think about how you can give your patients a more seamless digital experience, from the time they're first researching an orthodontic practice to the point when they're paying their bill for a recent visit.
Question: Which image would you resonate with most when researching an orthodontist?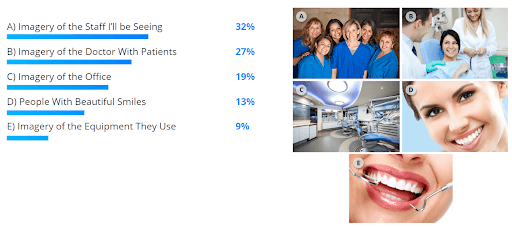 The result:
The two most popular types of imagery preferred by orthodontic patients include images of the practice's staff (32%) and images of orthodontists working with patients (27%).
The takeaway:
People connect most with people—not facilities or equipment. That's why people-focused imagery is preferred by most prospective orthodontic patients. They want to get a sense for who will be treating them, and they want to reassure themselves that they'll be receiving friendly, patient-focused care. As a result, you should make your practice's orthodontists, staff, and patients the focus of the imagery on your website, especially on key pages like the homepage and About Us page.
Here's how new patients are choosing you…
Question: When choosing an orthodontist, what is most important to you?

The result:
The top three most important factors patients take into account when choosing an orthodontist are affordability, patient reviews and ratings, and the orthodontist's awards and certifications.
The takeaway:
Considering that patients often have to pay out-of-pocket for orthodontic services like braces and invisible aligners, affordability is a top concern when they're comparing orthodontists. The cost is also why orthodontic patients are especially inclined to do their research before choosing an orthodontist, and that includes researching feedback from other patients, as well as the orthodontist's professional qualifications and accolades. Therefore, it's important to highlight these key selling points (like the fact that you offer financing, or that you're a top-rated dentist on Yelp) on your websites and in your digital advertising campaigns.
Question: What would set one orthodontist apart from another?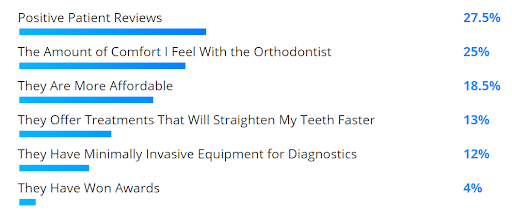 The result:
When a patient is on the fence between two orthodontists, what makes one stand out from the other? According to our survey results, the top tie-breaker is positive patient reviews, with the orthodontist's overall vibe (the level of comfort they offer their patients) being a close second, and affordability coming in third.
The takeaway:
If you want to gain a competitive advantage for your orthodontic practice, you should regularly remind happy patients where they can leave a review online (Google, Yelp, Facebook, etc.). The more positive reviews you have, the easier it is to build trust with new patients. Your marketing communication should mention things like your 5-star ratings, patient-centered care, and anything that makes your services more affordable and accessible for patients.
Question: What would set one orthodontist's office apart from another?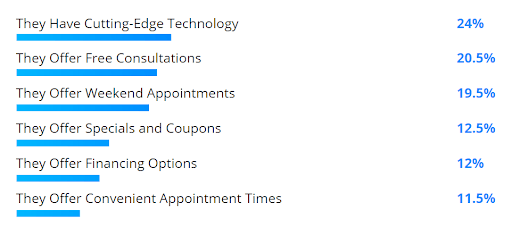 The result:
In terms of comparing orthodontic office facilities, patients are most interested in an office that offers the latest technology (24%), free consultations (21%), and weekend appointments (20%).
The takeaway:
Don't be shy to mention the information noted above, as well as anything else that would set you apart from your local competition.
Question: Which message would appeal most to you when choosing an orthodontist?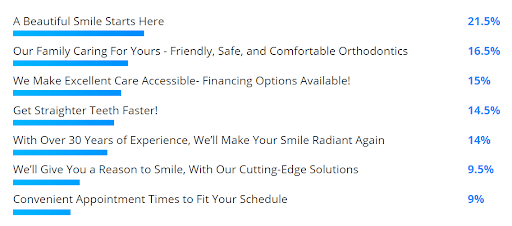 The result:
While the "beautiful smile" message took the lead for most popular messaging at 22%, the next several options were almost an even split. Those options included messages that promoted a friendly office environment, the availability of financing, fast results, the orthodontists' extensive experience, etc.
The takeaway:
There are a number of ways to appeal to your target patients. The key is to create messaging that speaks directly to your prospects' desires (e.g. a better-looking smile, comfort, affordability, etc.). Once you have narrowed down your top options, the next step is to test the copy and see what performs best.
Question: Would you prefer an orthodontist closer to your home or work?


The result:
The majority of patients (59%) want an orthodontist close to home, while a smaller percentage prefer one close to work (14%).
The takeaway:
Most patients prefer to see an orthodontist closer to home. As a result, you could benefit from marketing yourself as a local orthodontist, leveraging keywords like "[City] orthodontist" and "orthodontist near me".
Question: How far would you be willing to drive to see an orthodontist?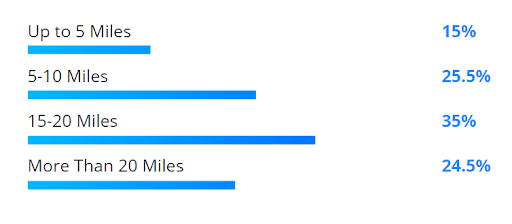 The result:
While patients' first choice is to visit a local orthodontist, they're not opposed to driving a longer distance if they find someone with the right level of expertise or who comes highly recommended. Our survey results show that more than half (59%) would be willing to drive 15 miles or more, with a significant percentage of people (25%) willing to travel farther than 20 miles.
The takeaway:
If you want more patients, think beyond their immediate area. In addition, targeting your marketing to people within your own city and zip code, try extending your focus to surrounding communities as well. As long as you can effectively demonstrate the value offered by your practice, patients will be more willing to make the commute.
Want to learn more about how to capture the attention of prospective patients and win their business?