With consumers having spent months confined in their homes due to shelter-in-place orders, the anticipation is quickly rising for the return of cosmetic procedures. People who have gone weeks on end without their usual facials, injectable treatments, and other beauty services are becoming more and more anxious about the toll it's taking on their bodies.
Therefore, it should come as no surprise that we're seeing a rise in online search activity for cosmetic procedures and services, along with DIY solutions. With the majority of the United States now focusing on rolling out their plans for reopening businesses and relaxing stay-at-home protocols, cosmetic service businesses such as plastic surgery practices, dermatology clinics, and medical spas are gearing up for an influx of new business due to pent-up demand.
Some providers have already started offering their services again due to certain states and local governments having approved the return of elective procedures. In one recent example, the Beverly Hills city council voted to resume elective and cosmetic surgeries almost immediately as California starts to move through its various stages of reopening.
In this article, we will review the trends we're seeing online that indicate increased demand, and we'll also offer strategies to help your practice, clinic, or med spa better prepare for the transition back into your usual operations.
Which cosmetic services are trending online?
Botox and other injectable fillers
Botox continues to be a highly popular cosmetic treatment that leads the way in terms of search interest for injectable fillers. As the Google data shows below, search interest for various types of injectable fillers in the US saw a dip in March 2020 in alignment with the pandemic, though it has been returning back to normal levels through April and May.
Search interest on Google for various injectable fillers from May 2019 to May 2020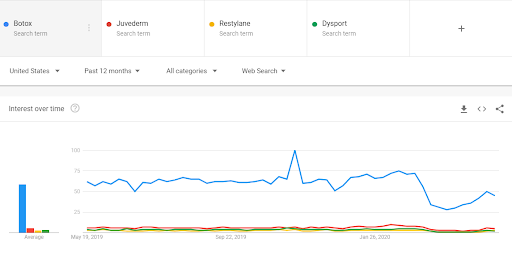 Additionally, Allure Magazine has reported that injectables at home are becoming a growing trend which explains why searches such as "Botox at home" are increasing online as patrons desperately search for ways to maintain their smooth skin during quarantine. While many dermatologists and medical spas are still turning down house-call requests, demand remains constant and is even on the rise.
Search interest on Google for "Botox at home" from May 2019 to May 2020

Considering the dangers of self-administered filler treatments (there have been reports of some providers offering consumers pre-filled syringes), dermatologists and medical spas should consider educating people in their communities about the potential risks involved with these DIY treatments and encourage them to come in for an appointment (upon the clinic's opening) for professional treatment.
Elective cosmetic surgeries
Google reported a number of breakout search trends (searches with tremendous and sudden spikes in volume) specifically relating to cosmetic procedures, such as platysmaplasty (neck lift surgery) which saw search interest increase by 300%, and breast surgery which saw a 140% spike in interest.
As can be seen from the Google Trends chart below, search terms for these procedures took a dip in March 2020 but started climbing back to normal levels in April and May.
Search interest on Google for multiple cosmetic surgery terms from May 2019 to May 2020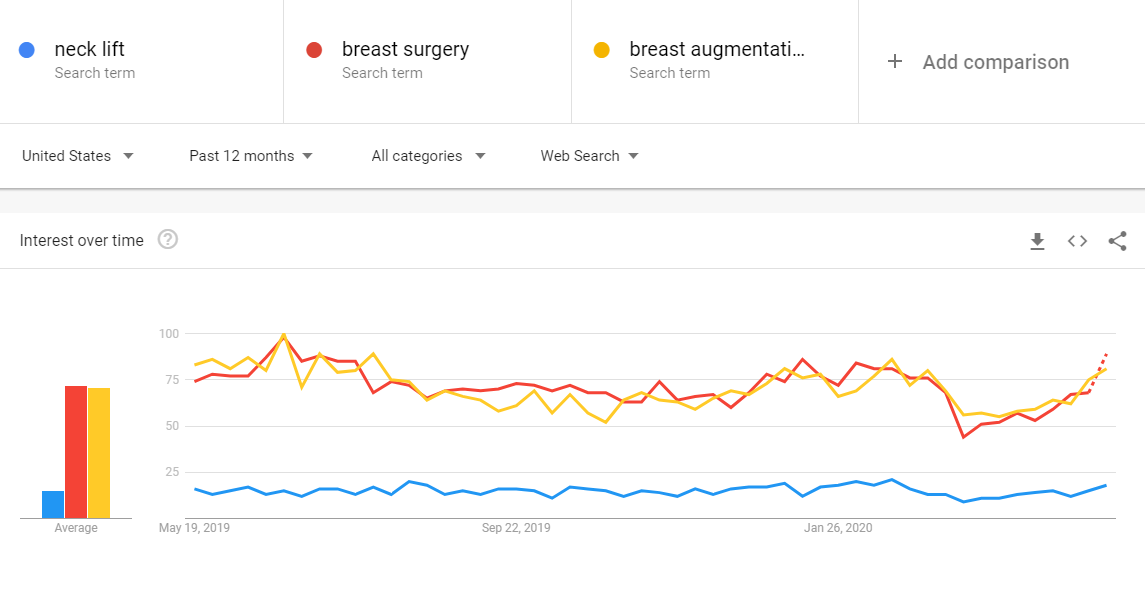 One trend we're seeing among prospective patients looking to get their elective surgeries scheduled is the use of the word "open" in their searches. The graph below shows the recent, sudden spikes in these types of queries.
Search interest on Google for "open for elective surgery," "elective surgery open," and "plastic surgery open"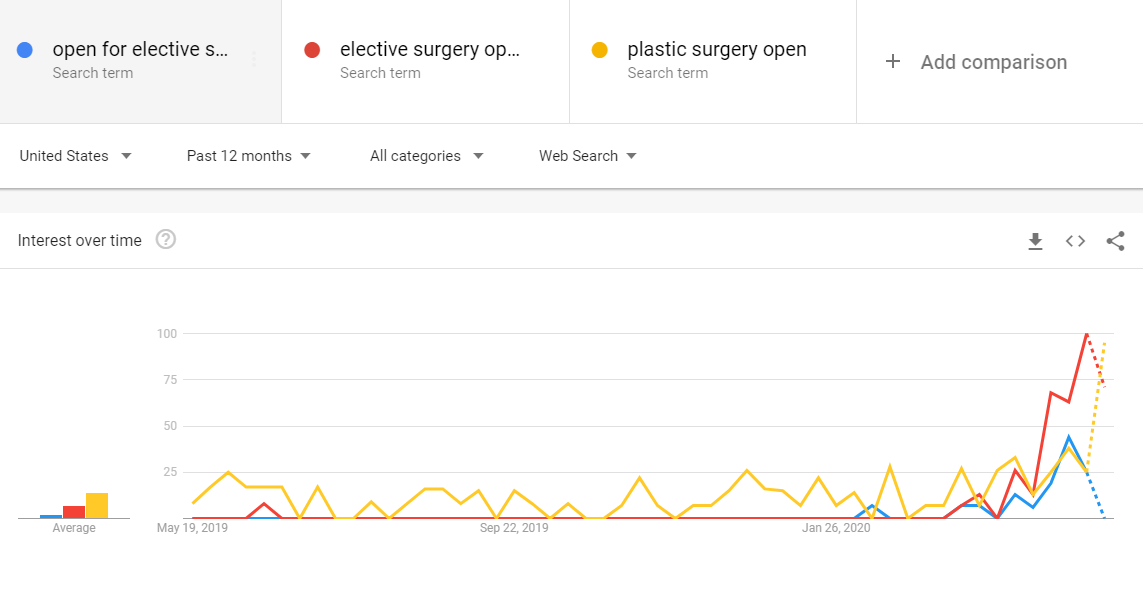 Facials and laser hair removal
Typically labeled too expensive or unpopular outside of the celebrity crowd, longer-lasting facials and youth-bearing treatments are rising in popularity. One practice in California, particularly popular with the Hollywood crowd, told Vanity Fair that "many of the procedures [they] specialize in—for example, [their] signature Diamond Facial procedure—lasts six to 12 months." For typical treatments, patrons could be seen as often as every month or every three months, and with longer-lasting options being more of an investment, they've never received the attention or traction they are now as a result of the pandemic.
Another clinic reported that while everyone else was panicking to find a way to get their facial treatments, their patients who opted for longer-lasting treatments were actually better prepared for the shelter-in-place orders in terms of their skin care. Not only are these longer-lasting procedures becoming more popular and more lucrative for dermatologists and medical spas, but nearly all consultations and check-ins can be done via telehealth — an especially popular trend that's not going anywhere, even after the pandemic ends.
Laser hair removal is another common procedure that is seeing increased traction. According to the search data below, search activity for this procedure is also bouncing back.
Search interest on Google for "laser hair removal near me" from May 2019 to May 2020


And similar to searches for elective procedures, we're also seeing a spike in searches for laser hair removal that include the word "open."
Search interest on Google for "Open Laser Hair Removal" from May 2019 to May 2020

Make sure you're prepared for a successful relaunch
People who have had to hold off on their cosmetic procedures due to the coronavirus crisis will be eager to get appointments scheduled as soon as services become available again. In fact, they may even be calling practices, clinics, and med spas prior to their reopenings to make sure they're able to secure a spot on the calendar sooner rather than later.
Whatever the status is of your business, it's important to ensure you're staying visible to new and returning clientele and that you're ready to accommodate their needs as seamlessly as possible. With that being said, here are a few best practices to consider for your marketing and business operations at this time.
Launch a recovery advertising campaign to show clients/patients that you're open or opening soon. Run pay-per-click (PPC) ads on search engines to make sure your practice, clinic, or medical spa is visible when people in your area search for your services — especially the ones that are rapidly growing in demand. You may want to consider targeting keywords that include the word "open" to capture the attention of people who are trying to figure out who can provide them with service at this time. You should also be advertising on other platforms, such as Facebook, Instagram, and YouTube, which are great for raising awareness of your brand and driving people to your website to book appointments.
Publish content on a regular basis that answers common questions about your services and your relaunch. Because business reopenings are occurring in a phased approach, patients are still likely to have concerns about COVID-19. You'll want to assure them that you're taking every precaution to keep them safe and healthy, whether that has to do with sanitation practices at your facility or continued social-distancing protocols. You can share updates about your reopening through a banner on the homepage of your website, answer common questions on an FAQ page on your site, post blog content about tips and trends relevant in the post-COVID era, and so on.
If you cannot open right away, consider creative solutions for generating revenue as you await your relaunch. Some clinics and med spas have started offering deals on gift card purchases or on the purchase of multiple service packages in order to lock in revenue for the future, encouraging their patrons to buy now at a discounted rate and enjoy their appointments later.
Offer telehealth services if you aren't already doing so, and consider incorporating them as a regular part of your practice. Due to COVID-19, many consumers have grown accustomed to the added safety and convenience of virtual appointments, so the fact that you offer telehealth could be a major differentiator for your practice, clinic, or medical spa moving forward. The recent rise of telehealth may have started out as a necessity, but it's a trend that's here to stay.
It's important to remember that you will be facing a lot of competition to capture new business once you're able to resume your services — and maybe you're experiencing this already. That's why you need a smart strategy for staying in front of your target clientele and winning their business. The time to start on your marketing strategy is now!
To learn more about how you can prepare your business for the transition into the post-pandemic world, contact our medical marketing specialists. Or, you can visit our COVID-19 resource page for medical practices.