What are the busiest times of the year for divorce?
What are the slowest times of the year?
And what is your firm doing to appeal to potential clients in both seasons?
By gathering a better understanding of how and when seasonality hits, you can craft a better marketing strategy that allows you to attract more clients and make more money for your family law firm.
Understanding the seasonality of divorce
Seasonality for divorce is closely linked with the family calendar. The off-seasons are usually during summer break and the holidays (around Thanksgiving and Christmas) when families are together the most.
Here's one sociological study that backs this up.
And that's the very reason divorce seems to SPIKE after these school breaks are over.
As you can see from this chart from the University of Washington researchers, spikes in divorce filings occur in March and August.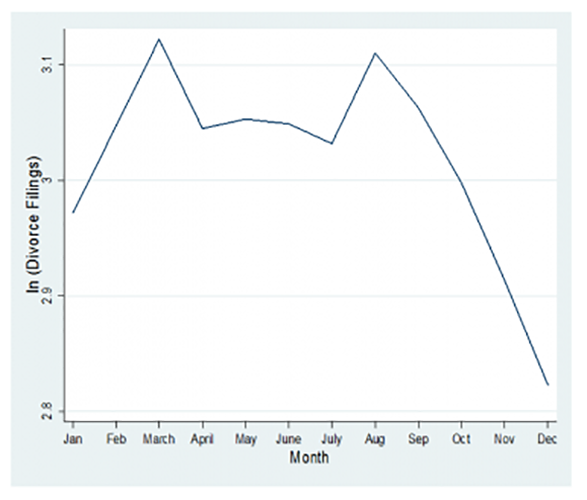 Furthermore, these breaks put families in close proximity for extended periods of time. With emotions and stress running at all-time highs during vacations and the holiday season, frustration, resentment, and disappointment can become amplified, which may ultimately illuminate why the marriage isn't working.
So the question stands:
What can you be doing to better market your firm and reach your prospective clients both in and out of "divorce season"?
Being in the right place at the right time during the busy season
Your busy season (after summer and the holidays) is when your potential clients are taking action to start filing for divorce. They're researching divorce attorneys, making calls, and figuring out how to get the paperwork started.
Which means you need to be in the right place at the right time to capture their attention.
The most effective way to get in front of more high-intent people and capture their business is to dial up your advertising in search engines like Google and Bing (where people are going out of their way to search for legal help).
You can do this with pay-per-click ads.
The busy season is the perfect time to increase your paid search budget so you can ensure you maintain a competitive advantage when every other divorce law firm is going after the same prospects as you.
Staying visible during the slow season
During your slower season, there might be fewer people filing for divorce, but that doesn't mean they aren't thinking about getting a divorce.
During this time, a lot of your prospects are spending time considering their situation, researching solutions, and weighing their options. This is the ideal time to introduce your law firm to these potential clients and earn their trust.
Think about it this way…
The more trust you build with prospects in the off-season, the more likely they will be to think of your firm first (or respond to your advertising) during peak season. You need to be in front of your clients when they are doing research so that they know exactly where to turn when they want to begin the divorce process.
Here are a few law firm digital marketing strategies you can use to get more visibility in the off-season:
1) Content marketing and social media
Your audience may not be ready to jump head-first into their own divorce just yet, but they are in the process of researching what the process entails and which attorney they are going to hire when the time is right.
The off-season is the best time to create more content that educates and informs your audience, and then promote it on social media.
This includes content like:
Blog posts
Articles
Videos
eBooks
Podcasts
Infographics
Email campaigns
Effective content marketing helps you build trust with potential clients, and it establishes YOU as the authority and the go-to divorce attorney in your area.
2) Video marketing
If you aren't creating and sharing video as a part of your marketing campaign, you are falling behind.
Video is THE MOST consumed and shared form of media on the web. That also makes it one of the most effective ways to reach your ideal audience, grow your brand awareness, build trust, and convert more visitors and viewers into leads and paying clients.
Don't skimp on quality when it comes to video and audio. Low-quality video attracts low-quality leads.
3) Search engine optimization (SEO)
The off-season is a great time to make sure you are improving your SEO. Creating and sharing new pieces of content is going to go a long way. Make sure you are also taking time to audit your website content to keep it relevant and up-to-date.
The future of the web is mobile, and in the not-so-distant future, the majority of searches are going to be done by voice (mobile artificial intelligence, smart speakers, etc.).
If you want to maintain top rankings in search engines, you need to make sure your website is fast and responsive on mobile devices. You also need to ensure your content is written in a conversational manner so your firm can get found in voice searches.
4) Refresh or redesign your website
The summer and the holidays are the perfect time to refresh or redesign your website.
Since the Internet changes rapidly (as do Google's standards and algorithm), you should really be refreshing your website about every two years.
5) Reputation monitoring and management
This is something you should be doing year-round, but if you can't make time in the busy season, make time when things slow down.
Online reviews are one of the first and last things your prospects look at when they are in the process of deciding which divorce attorney they want to work with.
In fact, roughly 85% of your clients trust online reviews just as much as recommendations from people they know.
As a result, your online reputation can be the difference between getting a new client and losing one to a competitor.
Take time in the slow season to analyze your online reviews. What you are doing well and what you can do better?
And make sure you are sending review requests to ALL of your happy clients.
Want to learn more about what you can do to increase your case volume? Call Scorpion at (866) 344-8852 or message us here.