Looking to use PPC advertising to try and get ahead of the competition in 2019?
If you are, then you need to be prepared to:
A) Spend an INSANE amount of money to overshadow your competition
OR
B) Take the time to build an intelligent PPC strategy that will allow you to outmaneuver (rather than just outspend) your competitors.
How do we know?
We know because we've seen personal injury law firms shatter long-standing client acquisition records through smarter PPC campaign management.
So, if you want to make 2019 one of the best years in the history of your firm, here are some smarter ways to achieve PPC success.
Be prepared: don't spend a penny on PPC until you have a strategy in place
The money wasted by law firms on substandard PPC campaigns is truly staggering. By some accounts, 61% of ad spend is wasted on faulty search terms and a misguided understanding of their audiences. That amounts to hundreds of millions of dollars tossed into the gutter every year.
Preparing a strategy is the only way to beat those odds. Here's what you can do to start:
Know your budget
Need to plan a PPC budget?
Answer these two questions:
What's your value per case?
What percent value of a new case are you prepared to devote to marketing?
If you know that, and if you know the number of new cases you want to bring in, you have your PPC budget.
Know Your Objective
Some questions to ask yourself
What's the objective of your PPC campaign?
How many clients will make the campaign worthwhile to your law firm?
How long do you want the campaign to last?
Is your objective to target clients who need your services immediately, or who are not yet ready to choose an attorney, but could be soon?
Know Your Campaign
PPC campaigns have a lot of moving parts
Ad copy
Ad design
Landing pages
Dashboards and reporting
And that's just the tip of the iceberg.
So, before spending a single penny on a PPC campaign, make sure you know what you need to be successful, including reserving budget for A/B ad testing and campaign optimization.
Know Your Keywords: Spend Time Researching Your Market's Search Habits
What are your clients searching for, when are they searching for it, and where are they performing those searches?
If you know the answers to those three questions, your PPC conversion rates will be through the roof.
1. What Are Your Clients Searching For?
You'll pay a premium for high-value keywords like "personal injury attorney" or "hire a personal injury lawyer." While your target cases are searching for those phrases, other keywords may be just as valuable or more.
You can find other valuable (and less expensive) keyword phrases with the help of Google's autocomplete function, or by visiting answerthepublic.com. Meanwhile, if you've run campaigns before and noticed keyword phrases which didn't convert, you should consider using negative keywords, which tell Google not to show your ad for searches involving those keywords.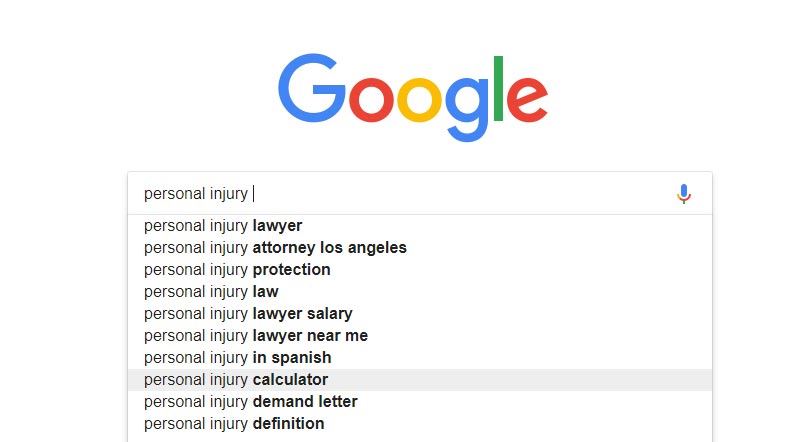 2. When Are They Searching for It?
Your ads could run 24/7. But if your highest-value leads are clicking on your ads during business hours Monday through Friday, you can reduce your costs by using ad scheduling—also known as dayparting—to ensure your ads are only shown at that time.
3. Where Are They Searching?
PPC ads published on legal review sites generate higher value leads and better conversions overall.
Just as important from a "where" standpoint, you should know where your customers are located, and how far they're willing to travel to make you their personal injury attorney. You can use site exclusions/site placements to target specific sites for more accurate leads. And using geo-targeting will only show your ads to certain states, cities, or zip codes.
KEYWORD TIP: Finding it difficult to break into an established market full of attorneys? Use the name of your competitor's law firm against them by outbidding them for it. With a convincing ad, you may just get them to reconsider their choice of attorney. You wouldn't believe how many professional service companies fail to bid for their own names, giving their competitors a last-minute opening to steal their business.
Hire An Agency With Creative Brand Experience
Branding and great ad copy routinely win clicks and conversions. The hard part is figuring out how to be different while remaining professional.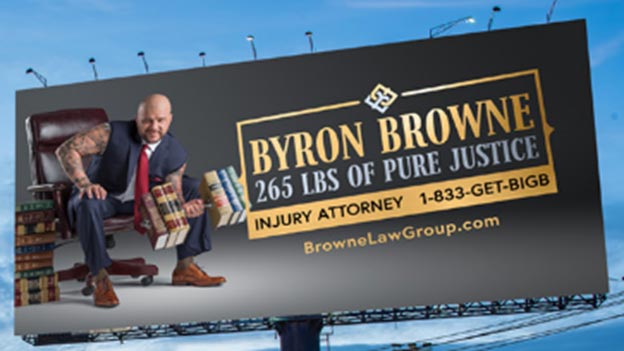 One way to do this is to get inspired by your brand. That's what Byron Browne, an injury attorney out of Phoenix, AZ, did by positioning himself as the "Anti-Lawyer's Lawyer."
An agency like Scorpion can help with brand development, creative advertising, and much more. Contact us to find out what we can do for your firm!