When's the busiest time for divorce? According to the findings of a new study by University of Washington researchers, we're in the busiest part of divorce season right now. The study of Washington divorce filing data from 2001 to 2015 showed that divorce consistently peaks in March and August—months that closely follow the winter holiday season and summer, according to UW Today. The researchers—an UW associate sociology professor and a doctoral candidate—say the data suggests the timing of divorce is heavily based on a "domestic calendar" of important family events.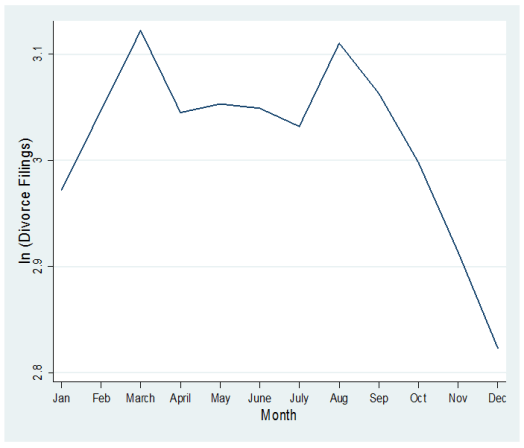 Planning Around the Holidays & Summer
The researchers explain that the timing makes sense for spouses who want to avoid starting the process of a messy divorce during the holidays or "summer vacation" season, which are considered times for family togetherness—especially when children are involved. In addition to that, the holidays tend to be a time when emotions are heightened, which can in itself lead to greater opportunities for disappointment or the realization that a marriage isn't working out. There's also the idea that many spouses may be use the holidays and family vacations as that last effort to reconnect with their spouse and "make it work."
While the study only looked at data from the state of Washington, it showed patterns that were "robust" from county to county and from year to year, even when other factors (such as those related to the housing market and unemployment) were taken into account. According to an article in The Atlantic, the researchers also pointed out that their findings match online search trends for "divorce" and "child custody," which are highest toward the beginning year, peaking in March. The UW researchers are now evaluating divorce data from other states to see if the trends match.
Boosting Your Divorce Attorney Marketing When It Matters Most
As we can see from this study, we're right in the midst of divorce season (or at least one of those seasons). If you haven't already started boosting your online presence, it's time to get moving.
Start blogging about divorce and posting about divorce-related topics on social media to get the conversation going and let people know you're available to assist them.
Start running divorce-focused pay-per-click (PPC) ads to get more exposure in relevant online searches in Google and/or Bing.
If your law firm website is outdated or not looking its best, get a website redesign. While it might take a while to get the new site launched, you will at least be ready for the next busy season after the holidays.
Our expert team at Scorpion can help you hit the ground running with your legal marketing strategy. We improve your web presence and help you maximize your opportunity to acquire new divorce and other family law cases. Contact us to find out what we can do for your firm!
To learn more about PPC advertising for your practice, check out our Legal PPC series (Parts 1 and 2).