"Prenup" used to be a taboo word.
Before, prenuptial agreements were commonly associated with self-doubt, greed, and marriages of the rich and the famous—so just mentioning the word in pre-marital planning was sure to bring up negative feelings and social stigmas.
But today, prenups are more common and accepted than ever before—specifically with Millennials.
Why Millennials?
Millennials are making more money now than young adult households did at any time in the past 50 years...which means they have more assets like cars, property, and bank accounts that they want to protect.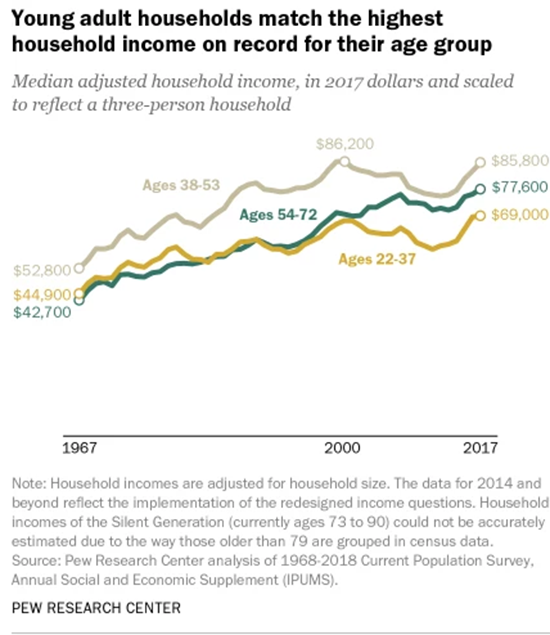 (The Millennial ages shown in this graph reflect the age bracket for 2018. In 2019, Millennials are between the ages of 23 and 38.)
Millennials are also marrying later than previous generations—and with that delay comes years of accumulating assets and debt, which they want to keep economically secure.
And attorneys say they're noticing the generational shift in their own practices.
In a survey conducted by the American Academy of Matrimonial Lawyers (AAML), more than half (51%) of attorney respondents cited an increase in the number of Millennials requesting prenuptial agreements.
So, what does this mean for your family law firm?
As a family law attorney, prenups are a relatively straightforward and transactional service, so attracting Millennials to your clientele is a fast and easy way to increase your firm's revenue.
Plus, if you provide outstanding service and care to these Millennial clients, you have the opportunity to win repeat business from them (and anyone they may refer to your firm) should they need a lawyer again in the future.
And how can you start attracting Millennials interested in prenups and premarital planning to your firm?
Start where they spend most of their time—social media.
It's no secret that nearly all (92%) of Millennials own a smartphone—and of that group, 85% are daily users of social media (the most frequent social media platforms being Facebook and Instagram).
(Source: Pew Research Center, surveys conducted 2005-2019)
Because Facebook owns Instagram, both platforms operate under the Facebook Ads Manager platform, which makes it easier than ever to run ads to both channels at once.
That comes with another huge perk to your advertising efforts—both have a lot of user information and data...information and data YOU can leverage to hyper-target the Millennials in your area who are in the process of getting married and are in need of a prenup (and any other legal services you offer).
Here are...
4 Ways Your Firm Can Target Millennials on Facebook and Instagram
Target them by...
1) Age
In order to attract only Millennials in your area, you first need to ensure you're targeting Facebook and Instagram users within that age bracket (ages 23-38). Of course, those ages aren't set in stone depending on your client history and experience with prenups and other legal services. If you want to refine your audience even further, you can target only men or only women with specific messaging and images to further convince each group to click on your ads
2) Location
If you already know where your current stream of Millennial and young-adult business is coming from, you can upload that data in bulk to a Facebook ad campaign. That will allow you to target the same lucrative geographic markets by way of:
Cities
Zip codes
Street addresses
Regions (i.e. county or designated market areas)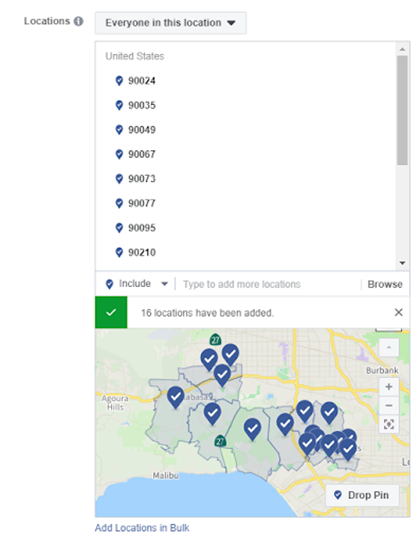 If you don't have this data ready, then you'll need to do some market research. Start by asking yourself questions like:
Which neighborhoods have new housing developments popping up left and right?
Which areas have the highest concentration of young adults and Millennials?
Where do most newlyweds or recently engaged couples want to move to most?
This process may take some time, but in the end, it will give your firm a much higher return on investment than if you just blanket-targeted large areas and hoped for the best.
3) Interests & behaviors
One of the most important things social media advertising offers that traditional channels like TV and billboards cannot is the plethora of data on their users' interests and behaviors.
On Facebook and Instagram, you identify the best users to target your ads to based on their profile data, as well as information about what types of pages and posts they typically engage with. For example, you can get as specific as targeting recently engaged, high-income females ages 23-38 who have been searching for wedding dresses, florists, and wedding cakes online.

In order to protect user privacy, Facebook does not give advertisers the ability to see every one of a user's interests and behaviors. But don't think that lowers your chances of showing the right ads to the right people. There are still plenty of useful user data points available, like job titles, employers, and more. Simply keep typing in terms in the target module, and continue to narrow down your audience even further as you deem necessary.
4) Lookalike audiences
It's one thing to know where your best Millennial clients come from, but if you know who your best ones are, that's even more beneficial to your ad targeting.
Using Facebook's lookalike audience tool, you can upload a target list of previous high-value clients using basic information like their first name, last name, and phone number. Facebook then creates a "lookalike" of your most lucrative clients based on matched user data like age, location, interests, and behaviors online.

The #1 Thing to Remember
When setting up your prenup services ad campaign, or any other social media campaign for that matter, you should remember one thing...
As intuitive and efficient as all of these targeting methods are for your advertising efforts, you should never take a "set it and forget it" approach to your Facebook and Instagram paid campaigns.
Why? Because you're spending money on your ads, so you need to make sure they're actually delivering the results you're looking for (otherwise, they're not worth investing in).
Some healthy habits you can start implementing right now to avoid wasted ad spend and lackluster results include:
Setting a definite campaign start and end dates.
Setting specific daily or lifetime campaign budgets.
Using campaign budget optimization to automatically spend your campaign budget on the highest performing ad sets.
Analyzing and optimizing your campaigns based on the performance of your main advertising objective (landing page views, clicks, form submissions, etc.)
By staying on top of all of your active Facebook and Instagram campaigns, you can quickly determine what's working for your law firm and what's not so you can get the best possible return on investment.
Does social media advertising sound like a lot of work? That's because it is. As a family law attorney who has clients to serve and a practice to manage, you may want to consider enlisting the help of social media experts who can do all the heavy lifting for you.
If you're interested in how social media marketing can help attract more clients to your family law firm, contact us today!