(This post was updated on 9/3/19 to reflect additional information provided by Google. See the "UPDATE" notices below.)
Google's Local Services Ads (LSAs) have been creating a lot of buzz in the legal industry.
Why? Because this brand-new form of paid search advertising (or at least it's new for the legal industry) is creating yet another way for attorneys to boost their visibility and claim a competitive advantage in Google search results.
LSAs are a game-changer for attorneys and they're quickly gaining traction within the industry, which is why it's crucial to stay on top of Google's latest news about these ads.
A more recent development has to do with where these ads are being placed within the search results...
Google is currently experimenting with the placement of LSAs in the MAP RESULTS instead of at the top of the page.
Right now, we have only noticed this test being performed on LSAs for home services providers within mobile searches. However, we're not ruling out the possibility that Google could be carrying out the same experiment in desktop searches, or with LSAs for attorneys.
Here's an example of a home services LSA that was spotted in the map results on a mobile device: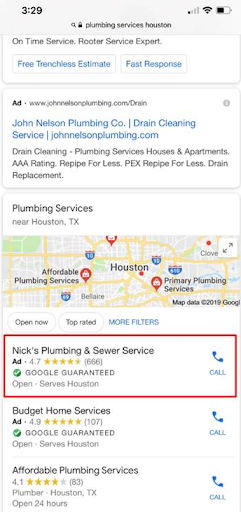 This type of activity is nothing new for Google.
The search engine regularly runs tests like these to determine how it can improve its search results for both advertisers and searchers, with the tests typically lasting for a few months.
UPDATE:
Google has confirmed that this experiment will last 2-3 months.)
Based on the way Google has carried out other tests in the past, this trial will likely continue in limited geographic markets, and then slowly expand to other areas as Google gathers data if (and only if) the test produces favorable results for map placement.
UPDATE:
Google has confirmed that they are currently only experimenting with the placement of LSAs in the map results, and as of now, there are no plans to make this a permanent change.
What does this test mean for law firms?
At this point, it's unclear whether Google is or will be testing legal LSAs in the map results. However, our team will be closely monitoring Google's experimentation going forward, and we will keep our clients and blog readers updated with any news.
If Google were ever to switch placement of LSAs to the map results in the future, it would be because the search engine has determined that this is the most ideal placement for helping prospective clients find local attorneys, and generating new calls for law firms.
This type of testing also indicates that Google is thinking long-term about how to improve its LSA products, which is a good sign for any attorneys currently investing in these ads.
How do LSAs help attorneys attract more clients?
If you're unfamiliar with how Google's LSAs work, here's a quick recap:
LSAs are ads that appear in the search results (currently at the top of the page) when someone searches for legal services in their immediate area.
The ad appears with a "Google Screened" badge, indicating that the advertised law firm has been thoroughly screened and verified by Google.
When a potential client clicks on the ad, they're taken to a profile page where they can learn more about the firm (services, hours of operation, overall star rating, etc.) and then call or message the firm straight from the ad.
The firm pays for each call they receive from their LSAs (and the call must be from someone who is actually seeking their services) instead of for each click.
Some of the main factors for how LSAs rank include the firm's proximity to the searcher, their online reviews (overall rating and number of reviews), and their responsiveness to LSA leads.
The purpose of LSAs is to make it easier for people to find attorneys they can trust in their local communities (with the "Google Screened" badge being an indicator that the firm has been thoroughly vetted) and also to help law firms attract more high-quality calls that turn into new clients.
LSAs are an exciting new opportunity for attorneys who want to attract more clients from the Internet.
While they're currently only being offered to estate and immigration attorneys in San Diego and Houston, they will be expanded to additional geographic markets in the near future (stay tuned on our blog), and they may even expand to other practice areas down the road.
If you're interested in getting your law firm "Google Screened," talk to a member of our team! We're an official Google LSA partner, which means we have all the resources needed to assist you with the application and onboarding process, as well as with the management of your LSA campaigns.
For more information, contact Scorpion today at (866) 344-8852.