We are just a few months into the new year, and already there's a tremendous amount of insight that we can glean from Google Trends data, as well as Scorpion's internal metrics.
For attorneys who are serious about growing their practices, having a comprehensive understanding of the legal markets is essential. Every available data point can help lead to better business decisions and more effective marketing.
Let's take a look at four fields of law — immigration, plaintiff-side employment, consumer bankruptcy, and estate planning & probate — to gauge recent public interest and get a sense of where the industry is going as we move further into 2021.
Consumer Trends in Immigration
Interest over the last 12 months for "Immigration Lawyer" (Google Trends)

Overall, we saw a huge surge in search volume for immigration attorneys in January, with a bit of a lull in February. We expect this volume to steadily grow in the coming months as new rounds of immigration-related legislation are debated in Washington. President Biden's immigration plan can be read here, and in the event it passes, interest in immigration law will likely rocket to new heights.
CPL trends over the last 12 months (Scorpion Data)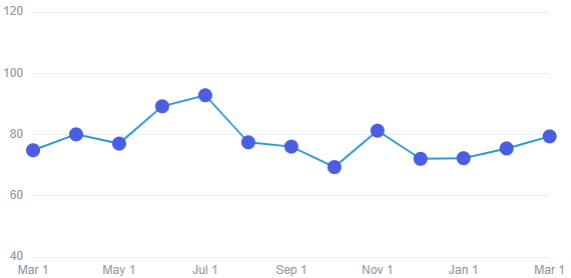 January had a strong showing for CPL, similar to what we saw in October and December. There was a slight increase in CPL in February, likely due to a slight dip in conversion rate. The reason for this could be that users are searching/clicking but aren't quite ready to contact an attorney until the new laws are put in place.
Consumer Trends in Employment Law
Interest over the last 12 months for "Employment Lawyer" (Google Trends)

Employment search volume has been very sporadic since the start of COVID, but there's been a solid improvement in volume from the beginning of February through the beginning of March. This uptick is likely due to an increasing number of businesses opening up and returning to normal operations due to the availability of the COVID-19 vaccine and the steady lifting of pandemic restrictions. This positive trend should continue into the coming months, as more and more people go back to work.
CPL trends over the last 12 months (Scorpion Data)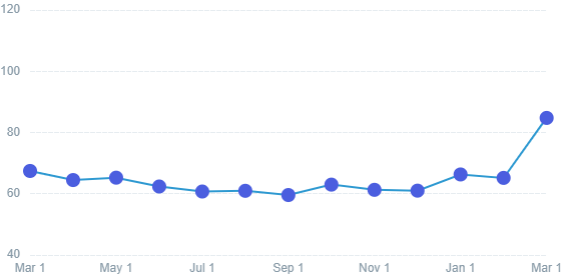 The reasoning behind the surge in CPL for March will become more evident as data becomes available. Despite the sporadic nature of employment search volume this past year, CPL has stayed remarkably consistent, which is great news for attorneys in the field. We also saw a slight improvement from January to February in CPL. It's not huge, but steady progress is significant, especially when looking at an entire vertical.
Consumer Trends in Bankruptcy Law
Interest over the last 12 months for "Bankruptcy Lawyer" (Google Trends)


Despite not having the expected surge in bankruptcy volume that we see every year in January, we've seen incredible growth in volume from the beginning of February through the beginning of March. Based on the data over the last year, there tends to be a steep drop-off in volume after any increases. Only time will tell if volume will continue to rise or at least plateau for a while. Since stimulus checks and unemployment benefits are still coming through for many, we don't expect bankruptcies to surge until most federal aid stops or slows down.
CPL trends over the last 12 months (Internal Data)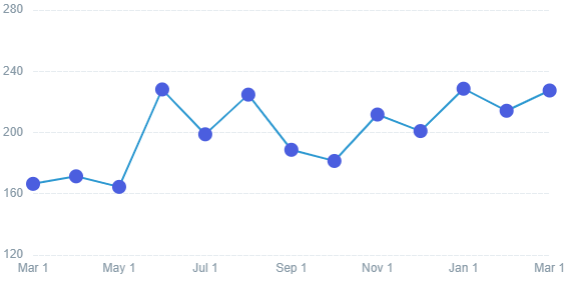 In January, poor search volume led to an unusually high CPL for a month that tends to be one of the best for this vertical. On the bright side, we saw a $14 improvement in overall CPL from January to February, which is a tremendous improvement. If search volume and interest around bankruptcies continue to rise, it should significantly improve the CPL for the vertical.
Consumer Trends in Estate & Probate Law
Interest over the last 12 months for "Estate Planning" (Google Trends)

Interest over the last 12 months for "Probate" (Google Trends)

Estate planning and probate saw a major surge in volume during January, followed by a bit of a slowdown in February. It's clear that these markets behave very similarly in terms of search volume since they have seen almost the same patterns for the last 12 months. We expect volume to stay consistent from now until we hit the holidays.
CPL trends over the last 12 months for Estate AND Probate (Scorpion Data)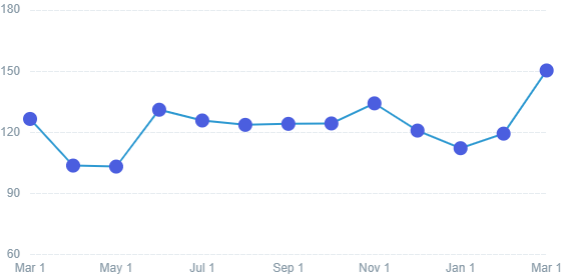 Similar to previous verticals, the reason for the notable surge in March cannot be determined until there is more data made available. We saw a rise in volume in January followed by a modest slowdown in February. Overall, this estate and probate law is off to a great start this year. This is the newest vertical on SAM, and the longer our systems gather data, the more our analysis will improve. But we are optimistic that this field will see CPLs continue to improve throughout the year.
Find Your Way with the Right Data
We hope that you can develop new ways to position your firm for maximum growth in the coming months with this information.
Like many other industries, the legal world is highly reactive to external events, political changes, and seasonal shifts. If you want to keep your practice thriving — and stay ahead of the competition — being aware of the ebb and flow of public interest in your legal field is invaluable.