Our Approach
Your Hospital Needs More Than Just a Website
Scorpion empowers you to manage your entire digital ecosystem.
How We Help
We Take a Different Approach
Our Mission

We are dedicated to building a better way – with tireless determination, genuine care, and innovation living at the core of everything we do.

Recognition

We are proud to have been twice awarded the Google Customer Satisfaction Champion and Technology Innovator of the Year.

Expertise

We are a dedicated team of experts across sales, development, and marketing trained in your industry, supporting businesses like yours.

Tech & Innovation We have industry-leading technology and analytics dashboard that successfully powers hundreds of hospital websites and campaigns.
Before Scorpion
Manage Your Entire Healthcare Digital Ecosystem. With Scorpion.
Before Scorpion

"Before Scorpion, we struggled to track and measure our results in ways our senior leadership could appreciate."

Ashley Trudo Cody Regional Health

With Scorpion

"I love the dashboard that we get with Scorpion... Proving that we were making money for the hospital and not just burning cash has been incredibly important."

Ashley Trudo Cody Regional Health

Before Scorpion

"Before Scorpion, on our old website we had a difficult CMS and I wasn't happy with the way the site looked."

Maria Bell Mary Washington Healthcare

With Scorpion

"With Scorpion, the new design for our website is so complete and self-explanatory. People can find what they're looking for, and we got compliments across the board."

Maria Bell Mary Washington Healthcare

Before Scorpion

"Our site was crashing on a regular basis."

Samantha Raftovich Saint Francis Healthcare

With Scorpion

"Scorpion was able to not only migrate our server to theirs, but they built us a whole new website within 10 days!"

Samantha Raftovich Saint Francis Healthcare

Before Scorpion

"Before Scorpion, our old web development company couldn't keep up with us anymore. They told me I needed to hire an 'in-house' person."

Kyle Hollinger Vibra Healthcare

With Scorpion

"Scorpion gives us the bandwidth we need without having to hire additional people."

Kyle Hollinger Vibra Healthcare
How It Works
Step 1
Technology Built for the Healthcare Industry. Digital Marketing Built for Your Needs.
Scorpion has created a CMS that's custom-built for the healthcare industry—not a generic version adapted from e-commerce or general industry. Our powerful but intuitively simple CMS is designed to integrate with your online marketing so you can see the entire digital ecosystem in one, simple dashboard. We also offer custom technical solutions and integrations.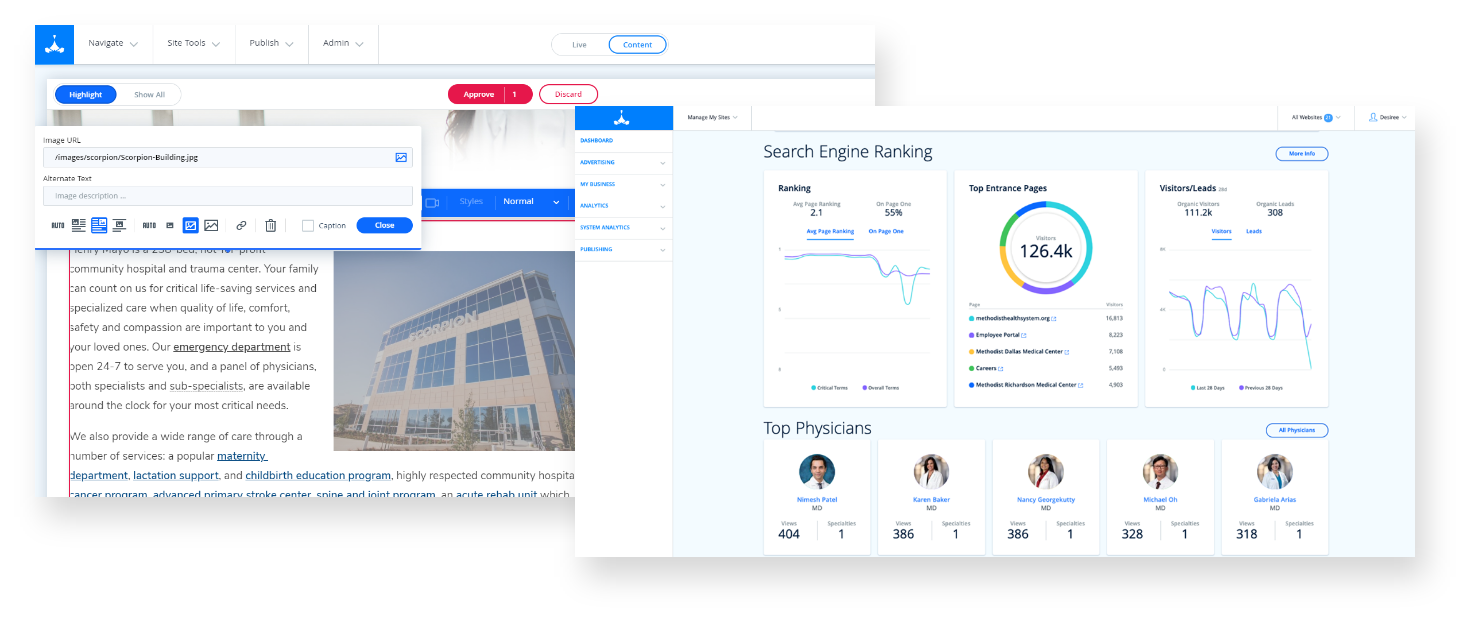 Step 2
Beautiful, Conversion-Friendly Web Design. Like You've Never Seen Before.
You need a website that's patient-first, intuitive, and never out of date. We build sites that are future-proof and designed to constantly optimize their own performance.
Step 3
Technical Support & Digital Consulting. Real Fast, Real Easy.
We have a dedicated technical solutions team to make website edits for you in real time. We also provide an account manager ready to provide any kind of consultation on website optimization, digital marketing, SEO, listings, or anything else in the digital realm.
Services
Marketing Solutions. That Finally Work.
Depending on your needs, we will determine the most effective
way to allocate your budget and reach your goals.
Our Promise
Superior Service Your happiness and satisfaction is our top priority. We strive to treat every client like they are our only client.
Expertise In Your Field With Scorpion, you will be paired with a group of marketing experts who know the healthcare industry inside and out.
A Step Ahead From current events in your area to breakthroughs in your field, we stay in-the-know on what's going on to increase the effectiveness of your marketing.
A World-Class Experience Through a combination of innovation, results, efficiency, and care, you get to experience working with a digital marketing partner in a way you never have before.
Command Your Online Presence. Scorpion Makes It Possible.
Contact Us