Twenty years ago, almost 100% of Americans called their doctor from a landline phone.
Today, there's a 57% chance your patients don't even own a landline.
The point?—patient behaviors and patients expectations are changing, and they're changing rapidly.
Which means it's time to take an honest look at your healthcare practice and evaluate how well-positioned it is to appeal to what will soon be the largest adult demographic in America…
Millennials.
How new is your equipment?
Does your office have an online payment portal?
When was the last time you updated your website?
Is your office monitoring and responding to online reviews?
These are just a few of the important questions you should be asking yourself, and how you answer will determine if your millennial patients walk out of the doctor's office saying…
"This place sucks!" or "This place is great!"

Here's why you need to care about this...
Today, millennials (who are between the ages of 22 and 37) don't go to the doctor all that often.
The biggest spenders in healthcare are Americans over the age of 55 (Baby Boomers and Gen Xers).
But that doesn't mean you and your practice can wait another 17 years to start marketing to Millennials.
Why?—because Millennials are starting to put down roots (get married, buy houses, and have children) in the communities where they'll spend the rest of their lives.
Which means right now is when Millennials will start forming the long-term relationships with the individual medical facilities, practices, brands, and practitioners they'll be using for them (and their families) for the next 20+ years.
If you wait to modernize your practice and adapt your marketing for millennial appeal, you're setting yourself up for long-term trouble.
Moreover, at over 80 million strong, Millennials are a demographic that will hold a combined buying power of more than $1.4 trillion dollars by 2020.
And contrary to popular belief…
Millennials will spend money on healthcare when they deem it necessary.
In fact, millennials are spending more on healthcare in their 20s than baby boomers were at the same age.
Which is why NOW is the time to understand Millennials.
To successfully market to Millennials, you need to understand them...
As healthcare consumers, Millennials are shifting towards self-diagnosis and self-care (conducting their own research, Googling symptoms, trying home remedies, etc.) before seeking out a professional consultation thanks to the proliferation of the Internet and health-focused consumer technology (smartwatches, fitness trackers, apps, etc.)
Just take a look at these Millennial-specific statistics: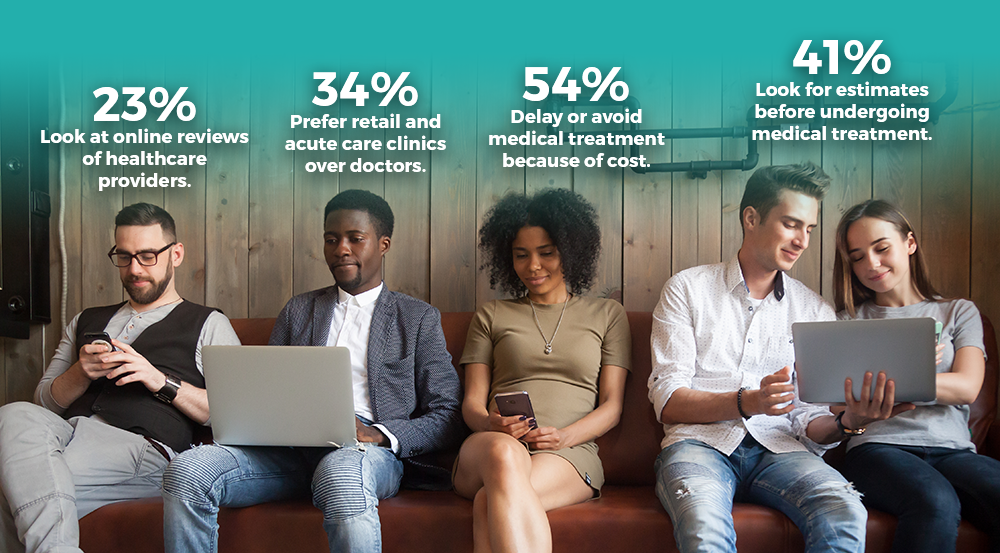 You should also know...
Millennials prefer walk-in clinics to primary healthcare providers.
Email and text are the preferred modes of contact for Millennials.
45% of Millennial respondents don't have a primary care provider.
Millennials believe in up-front pricing and total transparency in their health services.
Millennials focus more on preventative (diet, exercise, etc.) rather than reactive healthcare.
Online health portals, easy self-serve options, online scheduling, electronic medical record review, online payments, and digital health services are services that Millennials expect.
How to get ahead
Although aging baby boomers are spending more money on healthcare today, Millennials are the future, which is why their needs and preferences cannot be ignored.
By taking the time to better understand their tastes and address their pain points through strategic action (embracing new modes of patient communication, building health plans around preventative care, etc.) healthcare organizations big and small can position themselves for long-term success amidst a swarm of competition.
Remember—Millennials are the next windfall in healthcare.
Want a better way to get your healthcare practice in front of Millenials? Read the 3 Key Takeaways for Hospitals Marketing to Millennials Ebook.