The COVID-19 pandemic has made it hard for hospitals to grow their revenues, but there is good news: many states have started allowing patients to schedule elective procedures once again.
This presents an opportunity to capitalize on pent-up demand and open new revenue streams for your hospital. But healthcare marketers must use caution. An effective service line campaign requires getting a lot of things right:
Ad placement and objective
Search engine optimization (SEO) strategy
Content creation and promotion
Missing the mark in any of these areas will hamper your efforts and could actually end up costing you money.
Diving deep into all of the data hospitals have at their disposal can help marketers make better decisions. For example, Google search trends can be used to hone in on the optimal messaging strategy for your specific audience.
Take a look at the charts below to get an idea of general consumer interest in a number of service lines throughout the course of the pandemic: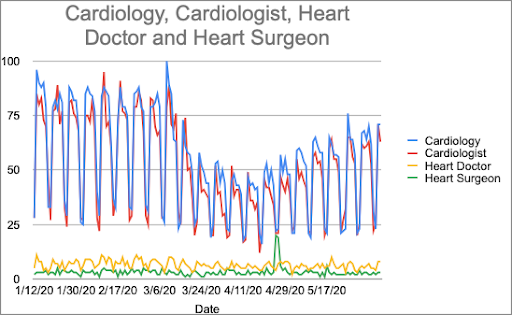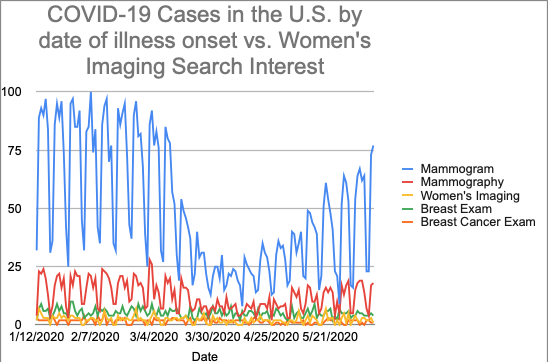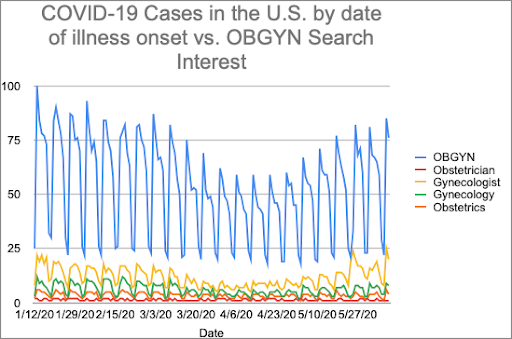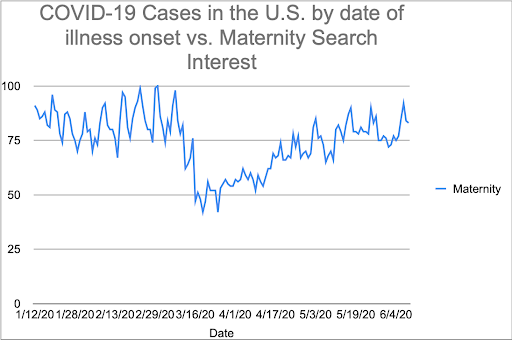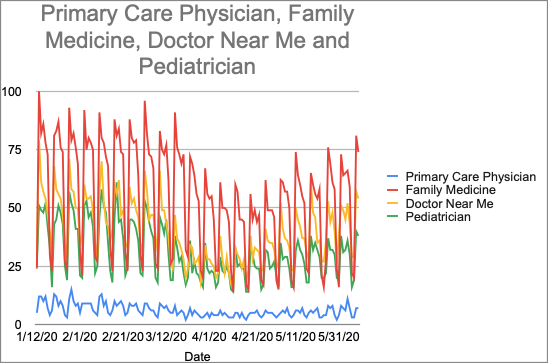 So, what can hospitals do with this data?
Spiking search interest means focus on conversion.
If your hospital or health system intends to ramp up any of the services below, now is the time to advertise. Potential patients in these areas have shown a willingness to start scheduling appointments again, and providers have a strong chance at bringing them in the door with the right marketing mix.
Cardiology
Primary Care
Women's Imaging/Mammo
Maternity
OBGYN
Orthopedics
Neurology
Tactic Ideas
Run pay-per-click (PPC) ads that encourage appointments.
Emphasize "safety" messaging to quell users' anxieties surrounding COVID-19.
Produce blog content detailing your health system's capabilities in these areas.

For service lines that are still showing lower search interest than usual, awareness and education are key.
Hospitals that want to bring in more patients for the following procedures will probably struggle to get the ROI they're looking for:
Audiology
Bariatrics
Urgent Care
Gastroenterology
Endocrinology
Instead, use your marketing tactics to build your brand and introduce yourself to a wider audience.
Tactic Ideas
Create educational blog posts, videos, and other helpful content to foster trust with your community.
Use digital ads and social media to put your name in front of as many potential patients as possible.
Implement strategies that enable your hospital to reach large numbers of users in an effective and affordable way.
A Better Way to Run Campaigns
While the general recommendations above will give your service line campaigns a better chance at success, there is no one-size-fits-all strategy for hospitals and health systems that want to grow. Marketers need to know:
The platforms their ideal audience prefers
The topics they're searching for online
The message that will elicit the strongest response
The competitive landscape for key service lines
The way search behavior changes in response to COVID-19 breakouts
The location-specific ways that users search to find the service they need
Scorpion's platform enables you to quickly make data-backed decisions to maximize your digital advertising initiatives.
Machine learning-powered SEO leads to more potential patients to your site.
Automatic campaign optimization maximizes your marketing budget.
Real-time performance data helps you make more informed decisions.
Getting healthcare marketing right is never easy, but it's an especially daunting task in the midst of a pandemic. Scorpion's goal is to help your hospital navigate the complex situation we're in and emerge stronger than ever.
If you'd like to learn more about how we can help you build more effective campaigns and open up new revenue streams for your health system, visit ScorpionHealthcare.com or contact us today.