In our book, the State of Internet Marketing, we take a look at how marketing for the home services industry has changed, what advancements in technology mean for the future of your business, and the steps you can take right now to get ahead of your competition.
Here's a recap of Chapter Two…
The average home services customer sees more than 10,000 marketing messages a day, but that doesn't mean those ads are having a lasting impression.
For example:
If you want homeowners to actually pay attention to your marketing, you need to give them a message (and an experience) worth remembering.
Danger 1 - Banner blindness
Display banners are the ads that run on the top, bottom, or sides (rails) of a webpage.
They look like this: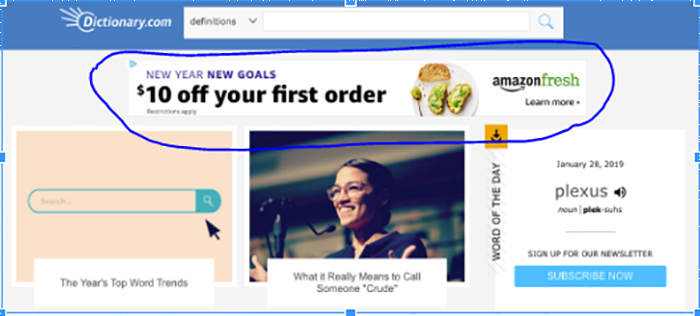 And if they aren't done well, many of your customers aren't seeing them.
Aside from using ad-blockers to automatically hide these advertisements, your customers have naturally learned to ignore them in a phenomenon called banner blindness.
In the example above…
Do you think about groceries when you're looking up a definition in the dictionary?
Probably not. So, this ad gets ignored.
Instead, if you want your ads to work, they need to be relevant to the consumer.
This means if you're a plumbing business, you'd present a digital banner ad for plumbing on a webpage that's relevant to plumbing customers—for example, the plumbing section of a home renovations website.
Danger 2 - Wanting more relevance
Your customers want a personalized experience, and when interacting with your business they…
Expect to see your business in a local search.
Want you to be proactive in fixing their problem.
Hope to be remembered if they've been a previous customer.
If you can give deliver on these expectations, your customers will be willing to spend more on services from your business.
Danger 3 - Customer expectations are HIGH
More than 76% of consumers expect home services companies to understand their "needs and expectations."
That means if you want to gain (and hold) the attention of new customers, you have to deliver an experience that raises the bar.
Here are two things that will help you deliver such an experience…
Answers and speed.
Smartphone users are 69% more likely to buy from businesses that provide easily accessible answers to frequently asked questions.
Almost half of the consumers will abandon a website if it takes more than three seconds to load (speed).
Quality, speed, convenience, and value are the metrics your customers are grading you on. If you can deliver on those, you'll set yourself apart from your competitors and earn more business.
Want to learn how to get more jobs and revenue for your business?