Running your own home inspection business can be very fulfilling. You get to decide your working hours, rates, and the projects you'll take over. But you also have to juggle several other tasks that come with running a business, such as digital marketing.
If you're unsure how to market your business, or you're just getting started with marketing, it can feel overwhelming. But it doesn't have to be. Here are the top 10 home inspection marketing ideas that will give you an edge over your competitors, help you attract new clients, and grow your business.
1. Network With A Real Estate Agent
Many inspectors inspect homes during the home buying or selling process. According to a study by Porch, nearly 55% of home buyers find home inspectors through recommendations from real estate agents. That means you could miss out on numerous clients if you aren't networking with real estate agents.
You can connect with other realtors around you by contacting them via phone or email. Alternatively, if you have time to spare, consider attending industry events or visiting open houses. These are great places to meet agents and build personal relationships with them.
When attending industry events or visiting open houses, here are some best practices to keep in mind:
Carry business cards: You never know when you could meet a potential lead and interest someone in a sale. So, don't forget to carry your business card to distribute to the agents you interact with at the events. Your business cards should include your logo, website, social media handles, and other important contact information for your home inspection business.
Develop an elevator pitch: Many agents you'll meet at industry events or open houses are looking for a new inspection service just like yours. You may not have much time to interact with them, so consider developing an elevator pitch to communicate your key points as quickly as possible. Ideally, the elevator pitch should be a short, persuasive speech that describes what your business does without coming across as salesy.
Request for follow-up meetings: Developing a deep relationship with the agents you meet once is rare. So, request to meet for lunch or coffee after the first encounter to build a rapport with agents.
2. Partner With Other Businesses
When searching for home inspectors, many people look for companies providing multiple services. If you don't provide such an offering, one piece of advice is to connect with other businesses in your area that deliver complementary services. A partnership like this can benefit your potential clients.
For instance, you could partner with a pest control or plumbing repair company. Not only will partnering with other businesses allow you to set yourself apart from your competitors as an all-in-one service, but it will also help you provide extra value to your customers.
3. Join a Home Inspection Association
Consider joining a professional home inspection association like the American Society of Home Inspectors (ASHI) or the International Association of Certified Home Inspectors (InterNACHI).
These associations often host meetups where you can get invaluable tips on marketing your business from experienced inspectors and marketing professionals. They also give their members access to resources to support service promotions. For instance, both ASHI and InterNACHI provide their members with a free logo creation service.
4. Sponsor Local Events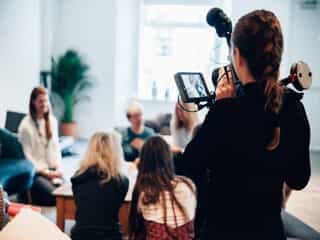 Sponsoring events in your community is an excellent way to increase the visibility of your business. It also helps your business get exposure on TV, radio, print media, and other marketing channels without spending too much money.
When choosing what events to sponsor, consider doing so with events that align closely with your business goals. For instance, you could support a home buyers expo to increase your chances of reaching home buyers. If you can't find suitable options, consider visiting an events sponsorship marketplace website to search for events near you.
5. Request Online Reviews
Besides adopting strategies to market your business offline, you'll also need to do the same online. Nearly 98% of people read and trust online reviews for local businesses, so asking for reviews is a great way to promote your business online.
After home inspections, send a thank you email to your clients and ask them to leave reviews on sites like Google, Yelp, Facebook, and the Better Business Bureau. If you provide excellent service, many clients will be glad to oblige. Getting many positive online reviews can boost your business's credibility and increase its visibility online.
6. Develop a Social Media Presence
You can also promote your business online by creating business accounts on social media platforms like Facebook, Twitter, Instagram, and LinkedIn. Once you create social media business accounts, follow these tips to boost your social media marketing efforts:
Post consistently: You'll need to publish content frequently if you want to grow your following on social media. While there isn't a hard-and-fast rule on the number of times you should post content, aim to publish content at least once daily.
Publish helpful content: Most social media users go on social media to get entertained, educated, or informed. So, if you only post promotional content, you may put off your followers. As a rule of thumb, use 80% of your content to provide value and 20% to promote your business.
Engage with other users: Social media is a two-way street. If you want people to take an interest in your content, you'll also need to show a genuine interest in theirs. You can engage with other users by responding to their comments, liking their content, and leaving thoughtful comments on their posts. Active engagement with other users will help you build relationships online and grow your audience.
Follow relevant brands: Follow relevant businesses and professionals in your industry. For instance, as a home inspector, you could follow real estate agents, stagers, or appraisers. Doing so will not only help you keep abreast of the latest trends in your industry, but it could also increase your brand's visibility.
Mix content formats: When it comes to social media marketing, there isn't a one-size-fits-all content type. So, try experimenting with different types of content formats until you find the ones that resonate with your audience. For example, if you post images for one week, consider posting videos the following week. Then, you can see which format worked better for your followers.
Use a social media marketing tool: Managing your social media presence can be time-consuming. If you want to save time, consider using a social media marketing tool. Such a tool can help you quickly create posts, monitor performance, and interact with customers from one convenient dashboard.
7. Invest in Digital Advertising
Posting content on social media allows you to reach a wide audience. But if you want to expand more, take advantage of digital advertising. Organic reach on social media is declining, so investing in social media ads is a great way to increase the visibility of your content.
Moreover, since social media networks gather a huge amount of data about their users - investing in digital advertising can help you reach higher-quality leads. For instance, with Facebook ads, you can serve ads to potential clients based on factors like gender, location, age, income, and interests.
8. Create a Website
Whether you're a new home inspector or a seasoned one with several years of experience, you need a website. If you don't have one already, now is the time to change that. A website can help you generate more leads, improve brand awareness, and enhance your credibility.
Here are some best practices you should follow to ensure your website converts more leads:
Ensure responsiveness: These days, many people browse the web on their mobile devices. That's why you should ensure your website is easy to navigate on both desktop and mobile devices.
Display your contact information prominently: Place your contact information at the top of your homepage. Alternatively, create a dedicated contact page so customers can find your contacts easily.
Use customer-centric copy: Potential customers visit your website to learn more about your business. However, this doesn't mean the content on your website should focus solely on your services. Instead, the content should provide visitors with all kinds of helpful information. For example, you could add a blog to your website reflecting on common home inspection challenges customers face, or you could add a frequently asked questions section.
Develop an SEO strategy: No matter how visually-appealing your website is, it will fail to be an effective marketing tool if people can't find it. That's why you need a search engine optimization (SEO) strategy. An effective SEO strategy can make your website more visible, drive more traffic, and create more opportunities to convert leads into customers.
9. Invest in Search Advertising
While SEO effectively improves your website's ranking on search engines, it can take a long time to yield results. If you want to rank higher on search engine results pages (SERPs) faster, consider investing in search ads on search engines like Google or Bing.
Also known as search engine marketing (SEM), search advertising (like Google ads) can get your services in front of people already looking for them, making it an excellent way to reach high-quality leads.
10. Host Webinars
Many potential clients want to know what you know. Hosting online webinars is an excellent way to share knowledge and build relationships with prospective customers. It also allows you to demonstrate your expertise and build credibility.
For instance, some of your topics could be "Red flags to look out for when reading home inspection reports." A webinar on this subject can help you attract home buyers or sellers in your area and even create word-of-mouth awareness.
Get Started With Home Inspection Marketing Today
Home inspection marketing can sometimes feel daunting, especially to beginners who may not know how to determine what works with their customer base. However, as long as you follow the listed ideas and tips, you'll see impressive results over time.
If you need expert support to increase the effectiveness of your marketing efforts, Scorpion is here for you. We provide custom marketing solutions in all areas that matter, from website development to digital advertising. Check out our services to learn more about how Scorpion can help you grow your home services business.